The activities, culture and dining scenes on the Outer Banks are unlike those of any other location. This week, in particular, you'll have the chance to experience an assortment of events that enliven your ears, wow your taste buds, spark your activism and entertain your inner history nerd. With the bulk of these events happening this weekend, you'll want to keep your schedule clear so that you can enjoy all of them. Whether it's the peaceful pastime of sheep-shearing or an impassioned gathering to protect our planet, this week's activities offer a taste of it all. Check it out.
Spring Restaurant Week
Reminiscing about the good old days of Fall Restaurant Week? Not only are you in good company, but you're also in luck as OBX Spring Restaurant Week kicks off this week. From Friday through next Saturday, about 30 restaurants collaborate to help you eat your way through the Outer Banks. Between the three-course menus for lunch and dinner, you'll never go hungry for long. Each participating restaurant offers prix-fixe menus, to ensure you get the most bang for your buck. You and I both know that the Outer Banks plays host to an array of talented chefs and restaurants sought out by visitors from all over the country. Before those summer crowds return, get your fill of pan-seared scallops with a spring veggie risotto, smoky fall-off-the-bone barbecue and so much more with this week-long event. Whether your favorite restaurants are featuring their best dishes for a bargain price or you're looking to check out that new South Pacific Island fusion joint, OBX Restaurant Week is a great way to satisfy your cravings and enrich your foodie adventures.
Outer Banks Chorus Concerts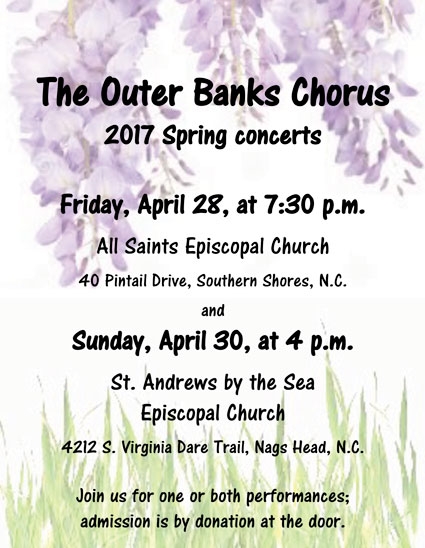 The Outer Banks' finest voices will add to springtime's auditory carnival of songbirds this week. Nothing short of musical reverie will evoke everything from emotion to humming to foot-tapping. But don't just take my word for it — experience the talent of the Outer Banks Chorus this weekend at its spring concerts. Check it out on Friday at All Saints Episcopal Church in Southern Shores or on Sunday at St. Andrews by the Sea Episcopal Church in Nags Head. Come to one performance or even both. Admission is by donation at the door. Friday's event is at 7:30 p.m., and Sunday's is at 4 p.m.
Sheep Shearing Day at Island Farm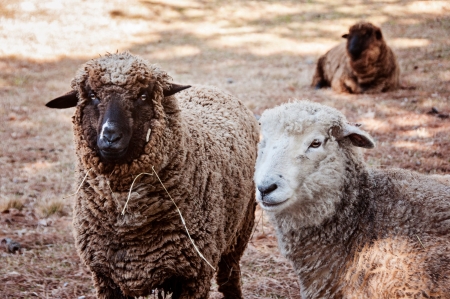 Get your dose of nineteenth-century living while also lending a hand. This Saturday Island Farm on Roanoke Island is getting its sheep ready for the summer. This means helping them exchange those wintry wooly coats for a new summer 'do. Learn about the importance of sheep to the early islanders as you watch the shearing process. After the fleece is off, you get to help wash it. Then comes the mesmerizing part, where the cleaned fleece is spun into yarn and woven into cloth right before your eyes. In addition to shearing the sheep, don't forget to check out Island Farm's daily offering of activities like hearth cooking, toys and games and ox-drawn wagon rides. Sheep shearing will be happening all day, so visit the farm any time between 10 a.m. and 4 p.m. to give it a try. Admission is $8 per person, and children age 5 and younger are free.
Climate Rally at Jockey's Ridge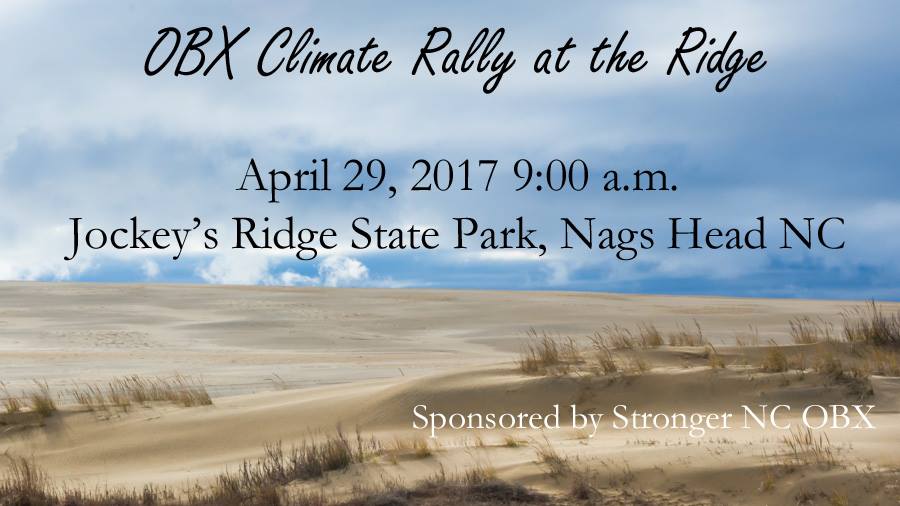 Just because Earth Day was a week ago doesn't mean that you can't be an environmental activist year-round. Join Stronger NC OBX this Saturday at Jockey's Ridge State Park as they climb Jockey's Ridge in solidarity with the People's Climate March happening in D.C. Display not just your support for the environment but also your passion for protecting all of the singular and valuable ecosystems local to our home. From the sand dunes to the maritime forests and the rolling ocean waves to the quiet marshes, this march shows the amount of support and love that exists for our beautiful Outer Banks. Arrive at 9 a.m. so that the march can begin at 9:15. Bring your mom, bring your dog, this Outer Banks event welcomes all.
---
If these events leave you wanting to experience even more of what the Outer Banks has to offer, browse through our Daytime Events listings to see what's coming up over the next couple of weeks. And when you finish with the work day, unwind with some live music at a local restaurant or stir up some laughs at game nights and trivia; you can learn more about what's going on in our Nightlife listing.