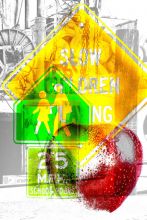 Yesterday Americans successfully conducted another Presidential election, the 57th since the founding of our nation. Now, after months of endless campaigning that at times seemed more like a political version of the movie Groundhog Day than the rational political process one might expect of a civilized nation, it is finally over. Isn't it? All the rancorous debates among the pundits, the discussions and arguments between family and friends, the daily torrent of e-mails seeking campaign donations? Fini? The End? Please let it be so. Hopefully, we can now, as one people, get back to the business of working together to make our nation a healthier, happier, greener and more prosperous place for all its citizens. A less rosy reality may intrude soon enough, but for now, let's just enjoy the fact that, given our differences, we do this every four years in a relatively organized and remarkably peaceful manner.
Working together is something we Outer Bankers know a bit about. As we watch fellow citizens just a few states north of us struggle to recover from the devastation wrought by Hurricane Sandy (and yet still make the effort to get out and vote!), we can empathize. We've been there many times before. Sitting here as we are, just a few tens of thousands of permanent residents perched on a sandbar at the edge of the continent, somewhat isolated and without much in the way of infrastructure, we have learned to depend upon one another in times of crisis. While we may be contentious regarding one issue or another, when community difficulties arise we help each other out, no matter what one's politics, socio-economic status, race or religion.
But, it's not always a crisis that brings us together. Sometimes it's an effort on the part of concerned citizens who band together to help alleviate a chronic or systemic problem that lessens the quality of life for us all. "Food For Thought: A Shared Promise & Responsibility," a photographic exhibit currently showing at the Dare County Arts Council Gallery in downtown Manteo, is a collaboration between local photographer Bill Lease and the all-volunteer non-profit organization Food For Thought headquartered in Manteo. The exhibit is the third installment of an evolving project created by Lease to highlight issues of hunger, poverty and homelessness within our communities. Proceeds from the exhibit will directly benefit Food For Thought.
It is well-established that hunger affects children's ability to learn and develop. School breakfast and lunch programs may provide nutritional meals for needy children on school days, but what happens on weekends? Food For Thought was founded in 2006 to fill this gap left by existing programs. Since then, Food For Thought's 330 volunteers have put in more than 4,500 volunteer hours to package and distribute more than 299,200 nutritious weekend meals to more than 2,260 children in Dare County.
Lease, who splits his time between Manteo and New Bern, has crafted an exhibit of powerful and beautiful mostly black and white images (some featuring tints of strategically placed color) that, along with accompanying text panels, simultaneously engage the eye while increasing the viewer's awareness of these challenging issues. The photographs are lushly gorgeous, full of texture and tone; the explanatory text, informative and easy to digest. Together, they create an illuminating, thought-provoking and ultimately uplifting exhibit. The show will run through Dec. 5. See it if you can.
To learn more about how Food For Thought works to reduce hunger and academic risk facing children in Dare County, and how you can help, visit the Food For Thought website.
Also featured at the DCAC Gallery through Dec. 5 is the artwork of popular Outer Banks artist Munroe Bell and his students. Their work includes a range of styles, media and subject matter.
The big event for the coming weekend is, of course, the 7th annual Gateway Bank Outer Banks Marathon Weekend, which includes the marathon, half-marathon, the Outer Banks 8K, a fun run and a bevy of other races with varying courses and distances. Consult the marathon website for complete details of the weekend's events.
Saturday's races include the Outer Banks 8K, the Buccaneer 5K and the Outer Banks Fun Run. Four events are split over the two days of the weekend: the Blackbeard Challenge combines an 8K run on Saturday with the Half-Marathon on Sunday; the Queen Anne's Revenge is a 5K on Saturday packaged with the Half-Marathon on Sunday. New this year are the Pamlico Jack Challenge, which combines an 8K on Saturday plus the Half-Marathon on Sunday, and the Rum Runner Challenge, a 5k/Half-Marathon combo. The Gateway Bank Outer Banks Marathon and Half-Marathon are scheduled for Sunday. Also on Sunday is the Southern 6, a new run that covers the final six miles of the marathon course.
The marathon course provides runners and spectators with a scenic route that winds its way through the natural beauty of the Outer Banks, beginning in Kitty Hawk and continuing past the Wright Brothers National Monument in Kill Devil Hills, the maritime forest of Nags Head Woods and the imposing sand dune of Jockey's Ridge before providing a sweeping view of the Roanoke Sound as runners cross over the Washington-Baum Bridge to Roanoke Island and complete the final stretch to the finish line in downtown Manteo.
Throughout the weekend, in addition to cheering on the competitors, Outer Bankers will be working hard to provide a positive experience to runners and other participants, supporters, event support staff and volunteers and all the spectators and other visitors who will be here this Veteran's Day weekend. The weekend's race events help provide financial resources to the Dare Education Foundation and the Outer Banks Relief Foundation, promote athletic competition and healthy living resources and create a positive economic impact for the Outer Banks.
Hurricane Sandy did not affect race routes or event locations, but race organizer, Outer Banks Sporting Events, recommends that you check with your hotel or rental company to be sure your accommodations are secure as some areas were flooded during the storm.
Here's a brief look at other Outer Banks happenings over the coming week:
Are you a writer, poet or storyteller or just someone who appreciates thoughtful, expressive writing or a good yarn? Then the Literary Open Mic Night presented by the Dare County County Arts Council is the venue for you. Held Thursday, Nov. 8 at 6:30 p.m. at Glenn Eure's Ghost Fleet Gallery in Nags Head, open mic participants may share poems, essays, humor, stories and more! Refreshments will be available while you listen or maybe even step to the mic yourself.
Activities continue in the 16th annual Wings Over Water Wildlife Festival through Sunday, Nov. 11. The festival, a celebration of wildlife and wild lands in eastern North Carolina, features diverse outdoor activities including birding, visits to historic sites, kayak tours of a number of coastal waterways, nature photography seminars and much more! Events conclude with the Keynote Reception, held Saturday, Nov. 10 at 6 p.m. at the North Carolina Aquarium on Roanoke Island. The cost of $35 covers dinner, drinks and a presentation by keynote speaker and acclaimed artist and naturalist John Sill. All proceeds from the event go to the Coastal Wildlife Refuge Society, a nonprofit organization established and incorporated in 1989 by a group of local citizens to provide support for National Wildlife Refuges in eastern North Carolina. For complete details of the many remaining activities visit the Wings Over Water website.
If shopping is more to your liking, check out the Holiday Open House and The Cottage Shop in Duck, Saturday, Nov. 10 from 8 a.m. to 6 p.m.
Foodies may be interested in the next installment of The Elizabethan Gardens' Cooking Series to be held Saturday, Nov. 10 from 11 a.m. to 1 p.m. Call Nancy Harvey at (252) 473-1554 or visit the website for more details.
History buffs will want to take in the Outer Banks History Center's current exhibit, "The Civil War Comes to Roanoke Island: Fishers, Fighters & Freedmen." The exhibit tells the story of how an important engagement early in the war resulted in Union control of the waterways in northeastern North Carolina and how Roanoke Island became home to thousands of runaway slaves who flocked to the area for protection.
Whatever your interests, there's still plenty to do on the Outer Banks in November and as we move toward the holidays.

This week you have a chance to win a on-the-go pedicure & mimosa for you and a friend from Aqua Spa plus a $50 gift certificate to Artspace Gallery!
For more information about Aqua Spa, check out their website.
For more information about Artspace, check out their website.
Last Week's Winner
Congratulations to Lisa Ambrose Kalbflesh‎!!!

You won a two night stay at the Outer Banks Inn & a $35 gift certificate to the Outer Banks Brewing Station!
For more information about Outer Banks Inn, check out their website.
For more information about Outer Banks Brewing Station, check out their website.