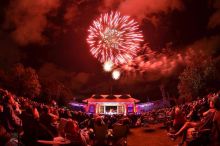 It's here! Fall is finally here – the season of pumpkin patches and apple picking, golden cornfields and hayrides, pumpkin spice galore and bluegrass. Huh, bluegrass? But of course. These cooler mountain-like temperatures demand the accompaniment of finger pickin' mountain music, which is exactly what you'll find on the Outer Banks this week. The annual Bluegrass Island Festival returns to Roanoke Island, bringing a wave of activity with it. People come from all around for the main event, but they also like to check out the smaller programs extending from it. And while this time of year brings in autumn, it also means we must say goodbye to the summer season activities ... enjoy them while you still can!
2016 Bluegrass Island Festival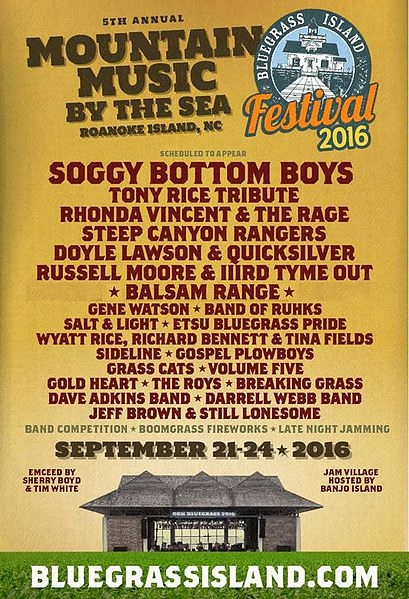 Tuesday evening's Bluegrass at Island Farm performance kicked off this year's annual Bluegrass Island Festival, and the festival itself starts Wednesday morning. Head over to the Outer Banks' renowned music venue, Roanoke Island Festival Park, for four days of bluegrass and fun. There's a great line-up this year, including bands like Soggy Bottom Boys and Rhonda Vincent and The Rage. Many bands perform original work, and others are tributes to the bluegrass legends. And no festival is complete without some delicious eats. The mountain vibe in the air meets the coast, and you'll find vendors from local restaurants offering fresh seafood, barbecue and more. And don't forget to bring a blanket or low-back chair to sit on while you enjoy the sounds of steel guitars, fiddles, mandolins and pitch-perfect voices filling the air. If you plan on seeing every act, a four-day pass, $140, for Wednesday through Saturday is the deal for you. If you have your heart set on just one day, single day admission tickets are $35. Learn more about the Bluegrass Island Festival's schedule and featured performances on the event's website.  
Kelly's Karaoke with Hambone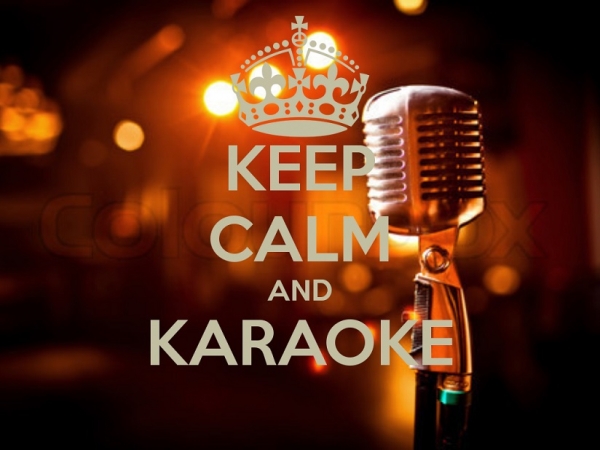 When the start of the Island Bluegrass Festival inspires you to showcase your own musical prowess, Kelly's Restaurant and Tavern is the place to go. This Wednesday night's Karaoke with Hambone lets you bring out your inner superstar from Madonna to Pharrell Williams. Ace those four-part harmonies with a group of friends or take the stage solo. And who am I to judge if you feel compelled to belt out Wonderwall? The philosophy at Kelly's karaoke is anything goes. Karaoke runs from 8-11 p.m., and admission is for those ages 21 and older.
Oktoberfest at the Outer Banks Brewing Station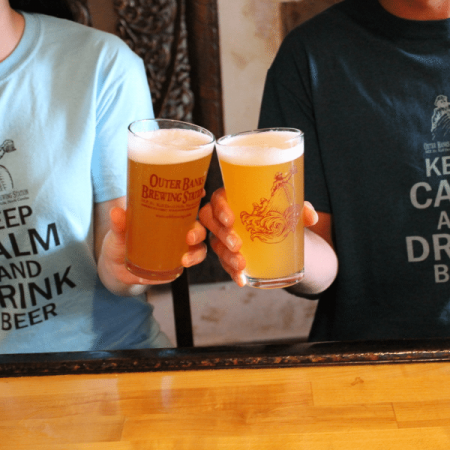 Don your lederhosen and prepare your beer stein – it's the Outer Banks Brewing Station's first annual Oktoberfest. Held in the Brewing Station's backyard, this Oktoberfest is your opportunity to welcome fall with specialty brews and camaraderie. The festival features special beer releases for the season that you can sip while checking out the art tent with locally made arts and crafts or while enjoying the live bands' performances. There will also be carnival games, so bring your best ring toss skills. And the Brewing Station knows nothing complements a chilled beer better than a freshly grilled bratwurst, so grab a brat plate with locally produced meat. This event is on Sunday from 3-8 p.m.
Tuesdays in Manteo

Tuesday, September 27th marks the final Tuesday in Manteo for the year. In case you missed it in the past weeks or just really love the event, make a trip to downtown Manteo and check out what's going on. If you're new to Tuesdays in Manteo, it's a weekly event that offers a bit of everything. Downtown's plentiful shops introduce special deals and prices, so browse and buy to your heart's content. When you work up an appetite, follow your nose to the waterfront's restaurants, featuring specials and treats just for Tuesday. Businesses also have special programs and activities, and a stroll down the waterfront's boardwalk lets you check out all of their offerings.  Downtown Manteo is quite walkable – all you have to do is set out and see what you discover. For more information about Tuesdays in Manteo activities and programs, check out our listing.
OBX Chorus Weekly Rehearsals

What's that? The Bluegrass Island Festival has left you craving more music? I understand. Whether you want to hear music or create it, channel that energy into a productive activity at the OBX Chorus' weekly rehearsals. Every Tuesday evening from 5:30-7:30 p.m. this fall, let your voice join others in filling the Kitty Hawk Methodist Church's Fellowship Hall with harmonious tunes. All levels of experience (including no experience) are welcome to attend. Dues for the season are $40 for individuals, $65 for married couples and $20 for high school and college students. Contact director Kyle Cook at kylejacobcook@icloud.com if you're interested.
---
If this week isn't a fine way to ease into fall, then I don't know what is. These events are just a few of the Outer Banks' usual events happening on a weekly basis in addition to a few new ones. To learn more about others, check out our Daytime Events listing for activities focusing on arts and crafts and local culture and history. For evening entertainment, our Nightlife listing makes finding nearby and exciting events quick and easy.