Thanksgiving is my favorite holiday because of its focus on gratitude. There's no pressure to decorate or shop, and there are no Thanksgiving songs being piped into our lives for two months before the big day. All we need to do is make good food, tell people how good their cooking is, think about what we appreciate about life and maybe take a nap. This year I am feeling sad about not spending Thanksgiving with my family, but I'm also feeling very grateful that all of them are healthy. Life in a pandemic is not easy for any of us, and for many people it's downright cruel and horrific, but hopefully we can all find something to feel thankful for on this holiday. Even just a few thoughts of gratitude and appreciation – on this day and every day – can transform our outlook on the current 2020 situation.
Here on the Outer Banks during the pandemic, I have felt overwhelming gratitude for my health, my family's health and for my easy access to nature. The beach, woods, ocean and sound have been my greatest source of healing and hope in 2020. In the spirit of Thanksgiving, I decided to reach out to some fellow Outer Banks locals to find out what they are feeling thankful for about the Outer Banks this year. Here are their responses.
Ben Cahoon, Architect & Mayor of Nags Head
I am grateful this year for the ways we support one another in times of crisis. There are so many examples. Feeding programs during the shutdown. Patronizing our locally owned businesses during the shutdown. Uplifting the friends and family of Ravann and Sebi after their tragic deaths. And on and on and on.
Scott M. Lawlor, Produce peddler and owner of Kind Yoga
Clearly as a resident and small business owner on the Outer Banks, 2020 has posed some challenges to say the least, but as much created opportunities. Throughout the phases of quarantine, I feed we had, finally, the time to collect ideas, implement new priorities, take care of ourselves and our families first. We had opportunities to explore this gem of a sandbar, reacquaint with our home, dip our toe into the unknown – be it the world of virtual meetings, socialization through distance or just the practice of being present for the ones we love. I suffered financially in 2020 but I've never been personally wealthier – happiness is priceless.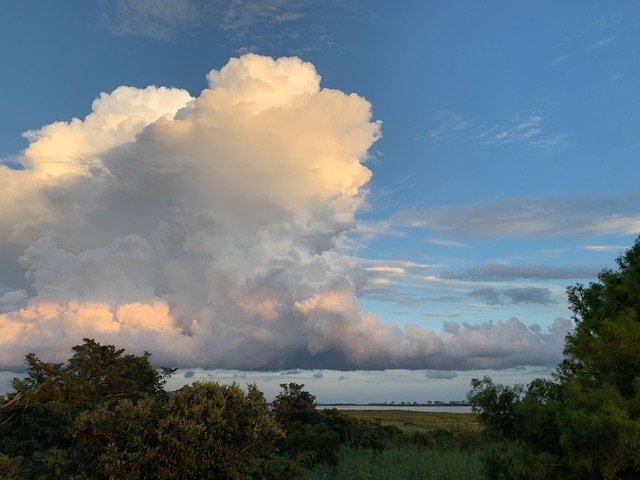 Heather Vandermyde, Realtor
I'm most thankful for my health and family. The idler I get the more I realize how valuable these things are.
Denise Turner, Jewelry designer
I'm most thankful to be able to raise my family in what I consider a very special environment. One that we are able to find plenty of outside activities to please everyone. Creating our own work ethic and making a decent and impactful living at it. And pretending we are on vacation on those rare days when we pause and simply enjoy our lives together. Happy and grateful!
Danny Couch, Realtor & Dare County Commissioner
2020 brought thankfulness that I have gotten to spend so much needed time with my immediate family.
Jamie Anderson, Owner of Downtown Books
I'm thankful for the way almost everyone has come together and worked so hard to try and keep the OBX a safe place for our visitors and residents.
Donna Greenlee, Owner of French Door
I'm thankful for our beautiful outdoors and wide open spaces. The beaches and Wright Brothers National Memorial, which I've pretty much walked every day. And my family's health too, of course.
Morgan Vuyovich, Owner of Little Wildflowers Art Studio
I'm most thankful to live in a place that feels secluded from much of the craziness in the rest of the world. I used to wonder if I'd rather live in a city, but this year I've felt extreme gratitude for being a part of a tight-knit, small community that has handled the insanity of 2020 without bullying, anger and fear in our streets. I still see lots of smiles (even if they are behind masks), creative ways to keep our kids home … there's a dedication to peace and nature on the Outer Banks that I've never felt in a city.
Kathleen Brehony, Clinical Psychologist
I am thankful to live in a community that cares. Although the Outer Banks is spread over more than 100  miles, there is a deeply held sense of belongingness among most people here. You can see how this springs into action when someone is in need. Fundraisers begin immediately, events and planned and there is a palpable vibe that we are all in this together.
Gee Gee Rosell,  Owner of Buxton Village Books
I am always thankful for Cape Hatteras National Seashore. Fresh air, an empty beach and a night sky so dark there are stars as far as the eye can see. A  wonder-filled counterpoint to all the crazy in the world today. 
Eric Reese, Co-owner of Outer Banks Brewing Station
The thing that I am most grateful for regarding the Outer Banks in 2020 is our semi detachment from the rest of the world. Our only real connection to the rest of the world is tourists, and they just come and go. Which makes the problems of the rest of the world seem surreal here.
Nancy Proctor, Founder of Outer Banks Common Good
Being part of my grandchildren's lives. It has been harder this year. I miss baseball, basketball, volleyball, plays, birthday parties, adventures and family dinners. Looking forward to an outside Thanksgiving at two tables, silly hats, bocce ball and pumpkin pie.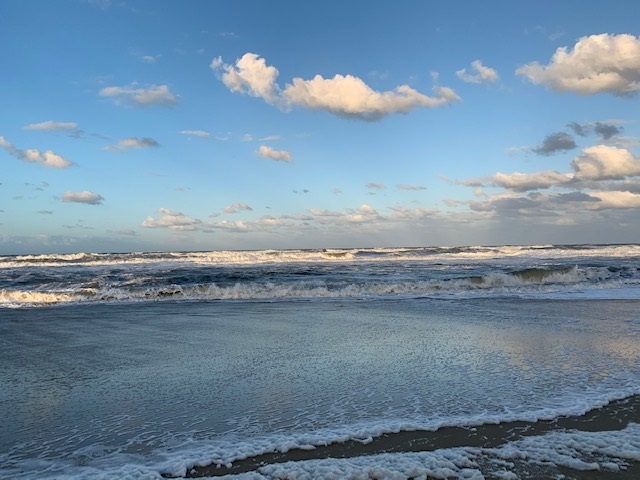 Carl Curnutte, Executive director of The Elizabethan Gardens
I am thankful for an amazing and giving community set in a truly beautiful natural setting of God's world.. What a generous and caring community we live in, with people who step up to the challenges of the whatever times we have been given. We are truly blessed by the sunrise and sunset each day and what a beautiful sight it is.
Marcia Cline, Artist
This year I am more grateful than ever for the sky, the ocean, the wind and the sounds of the Outer Banks.
Bob Woodard, Chairman of Dare County Board of Commissioners
Aside from being fortunate enough to live where we do with so much history, I'm grateful for how giving our community is to the many nonprofit groups we are blessed to have in support of those in need in our community.
Lee Nettles, Executive Director of Outer Banks Visitors Bureau
The resilience and creativity of our tourism community.
Michelle Lewis, Founder of Peace Garden Project
I am grateful for the abundance of love and the giving spirits of the people of the Outer Banks. It makes me glad to call this place home. 
 
---
What are you feeling thankful for, about the Outer Banks or otherwise? Please comment below and let us know.
If you're looking for fun things to do this week on the Outer Banks, be sure to look around this site. Our Daytime and Nightlife sections have lists of things to do. And if you decide to shop this weekend, please shop local! Here is a list of local art shows and art markets coming up this month.
---