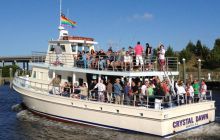 It seems like you never have to wait too long between festivals on the Outer Banks. Case in point: The area welcomes three festivals to our beach this weekend alone! There's something for everyone, whether you're looking for a place to take the whole family or an adventure with your closest friends. With the two returning annual events and the debut of a new one, this week invites everyone to come together to celebrate people, art and local culture.
OBX Pridefest
It doesn't matter if you're out and proud, an ally or someone looking for a good time, OBX Pridefest brings three full days of prideful fun to the Outer Banks this weekend. This weekend, members and friends of the local LGBTQ community are invited to the festival's events happening through the day and night. Kick off the festival on Friday with the annual favorite sunset booze cruise aboard the Crystal Dawn. The evening continues with a concert and Pride and Joy Drag Show at Pamlico Jack's Restaurant.
The penultimate event, the pride festival itself, will be held on the Manteo waterfront on Saturday, September 23. This free event invites all ages to enjoy the live music, entertainment and range of local vendors. Saturday night features comedy entertainment and DJ dance parties.
And is there a better way to close the weekend than with a Sunday brunch? Perhaps a drag brunch? Visit the event's website to learn more about the scheduled activities. All these events have a price at the door except Saturday's festival. Evening and night programs are for attendees ages 21 and older.
Surfalorus Film Festival
Surfers, outdoorsy types and artists unite for the return of the Surfalorus Film Festival from Thursday, September 21 through Saturday, September 23. This three-day event showcases independently made international, regional and local surf films and documentaries that capture a glimpse of the magic we see on the water. Screenings will be held in the evenings at Jennette's Pier (Thursday), Dare County Arts Council (Friday) and Outer Banks Brewing Station (Saturday). Accompanying the film festival is a surf art exhibit at Dare County Arts Council, which you can check out any of the days. The Surfalorus Film Festival is free and open to all ages.
Crabdaddy Seafood Festival
It's hard to beat an outdoor festival at the start of autumn, which is why you won't want to miss the Crabdaddy Seafood Festival at Sanctuary Vineyards this Saturday, September 23. Celebrate the Outer Banks' abundance of delicious and fresh seafood with all-you-can-eat steamed blue crabs. Pair them with local beers and wines from Sanctuary Vineyards. Other vendors will be around too with wares you can check out. Kick back and enjoy live music provided by Susto, Zack Mexico, Sensi Trails and Phantom Playboys. Explore the vineyards on a festive hayride. And everyone's competitive side will emerge during the Crabdaddy Olympics, where people compete for cash and prizes. This event is on Saturday from 12 to 6 p.m. in Jarvisburg. Tickets cost $40 and can be purchased on the event's website.
---
The best part about this week is that you won't even have to pick and choose events since the festivals happen over the course of multiple days. So you can marvel at incredible cinematography on Thursday, booze cruise with a live DJ on Friday and eat all the fresh steamed crabs you could ever want on Saturday. It's a great week to be on the Outer Banks, and be sure you look through the other programs and activities happening in our Daytime events listings. And for nightlife opportunities beyond the Pridefest's offerings, our Nightlife listings are your guide to dance parties, live music, karaoke nights and much more.