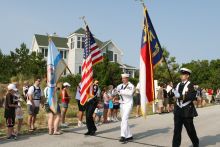 Summertime peaks around the 4th of July on the Outer Banks (so it seems), and everyone I talk to – visitors and locals – all want that extra oomph that creates a festive occasion full of fanfare. When it comes to the 4th, I'm a stickler for tradition. I crave that smoky aroma of a fired-up grill and blast Creedence Clearwater unabashedly. Those quintessential small-town festivities charm the sandals off of me, and I love closing the day with a fireworks display over the water.
Spending the 4th of July on the Outer Banks fits the bill. It has it all – the parades, fireworks and other festivities. No matter where you wind up around these towns, you're never far from the fun.
Location, Location, Location …
First things first, we'll address the biggest question: Where can we see fireworks? Short answer: Everywhere!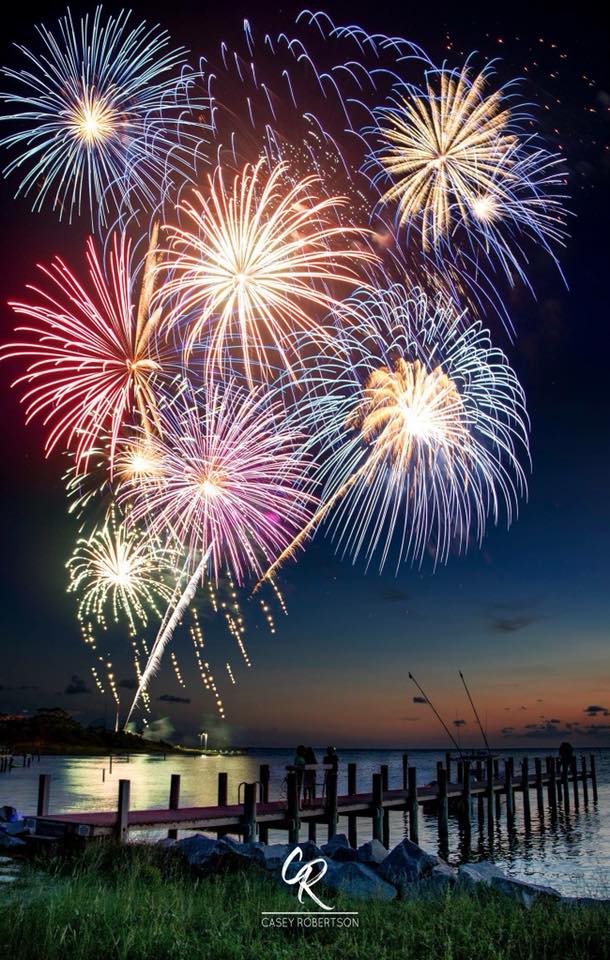 Photo credits to Casey Robertson and Visit Ocracoke.
On the beach you can expect (at the very least) glimpses of the fireworks throughout the evening. (Remember, though, it's illegal to set off your own fireworks on the beach. Save your money, and go watch one of the towns' public displays instead!) End your Independence Day with a bang with these finishing touches:
Corolla | Corolla Heritage Park | Dusk
Kill Devil Hills | Avalon Pier | Dusk
Nags Head | Nags Head Fishing Pier (at milepost 11.5) | 9:25 p.m.
For Nags Head, recommended viewing spots are Curlew Street, Hollowell Street, Conch Street, Bladen Street, Bittern Street, Bonnett Street, Barnes Street, Blackman Street and Jockey's Ridge State Park.
Manteo | Historic Waterfront | 9:30 p.m.
Hatteras Island | Avon Pier | 9:15 p.m.
Ocracoke Island | Silver Lake Harbor | 9:15 p.m.
Now that we've got that figured out, it's time to plan the necessary festivities. If a small-town celebration is the classic, Americana flavor you want, the Outer Banks has a few options.
On the northern beaches, you'll find one of the oldest 4th of July traditions on the Outer Banks at Historic Corolla Park. Their 27th Independence Day Celebration brings family-friendly fun to the lawn around the Whalehead estate. Prove your mettle at watermelon-eating contests or the cornhole tournament. Enjoy food from local vendors. At dusk turn your attention skyward for a fireworks show over the water. This free event begins at 3 p.m., and festivities continue until 9.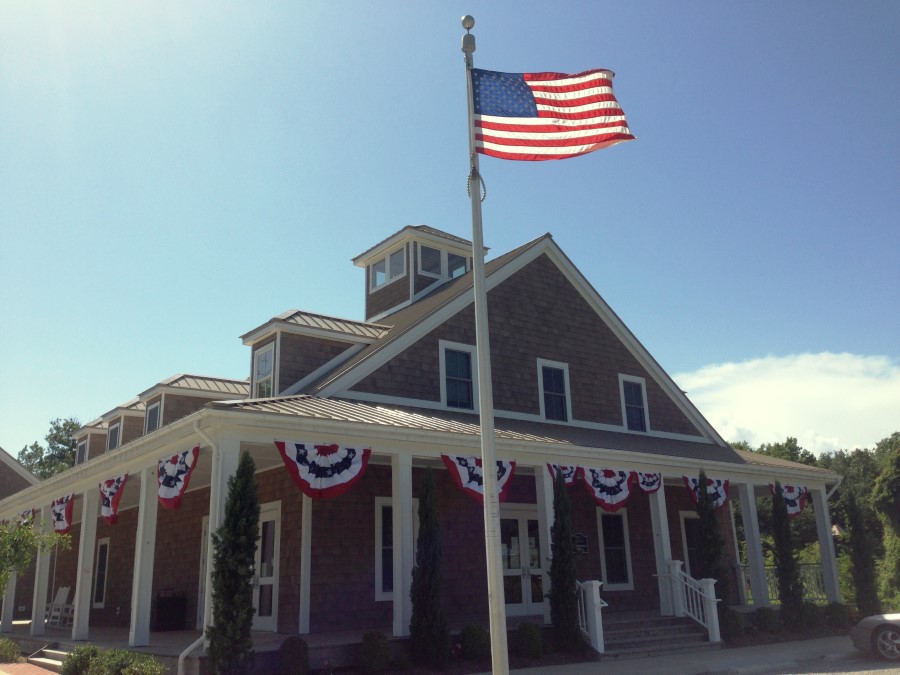 Independence Day is a town-wide affair in Duck.
For a mainstay event, the Town of Duck's 4th of July Parade boasts a reputation as one of the top 10 best small-town 4th of July celebrations in the United States. The procession begins at 9 a.m., going from the crest of the hill on Scarborough Lane toward the ocean, turns left on Ocean Way, goes to Christopher Drive and ends at Pamela Court. There will be music, candy throwing and attendees decked out in their red-white-and-blue best. Afterward, spectators and marchers gather in Duck Town Park for live music from the Dixieland Band, fresh watermelon and an awards ceremony for the parade participants.
Those looking for a charming town-wide festival will find it at the Town of Manteo's 4th of July Celebration in Manteo's historic downtown. Festivities wait around every corner, but the courthouse is the heart of the action with a stage set up for music and dancing. Then make your way to Roanoke Island Festival Park for a free 4th of July Concert. Starting at 8 p.m. SNAP performs an array of music, ranging from Top 40 tunes to oldies hits. Set up a picnic blanket, beach chair or towel on the Pavilion's lawn and kick back while you watch the sun set into the sound. At dusk enjoy a fireworks display over Shallowbag Bay, which you can view from anywhere in Manteo, including the docks or while having dinner at one of the waterfront restaurants.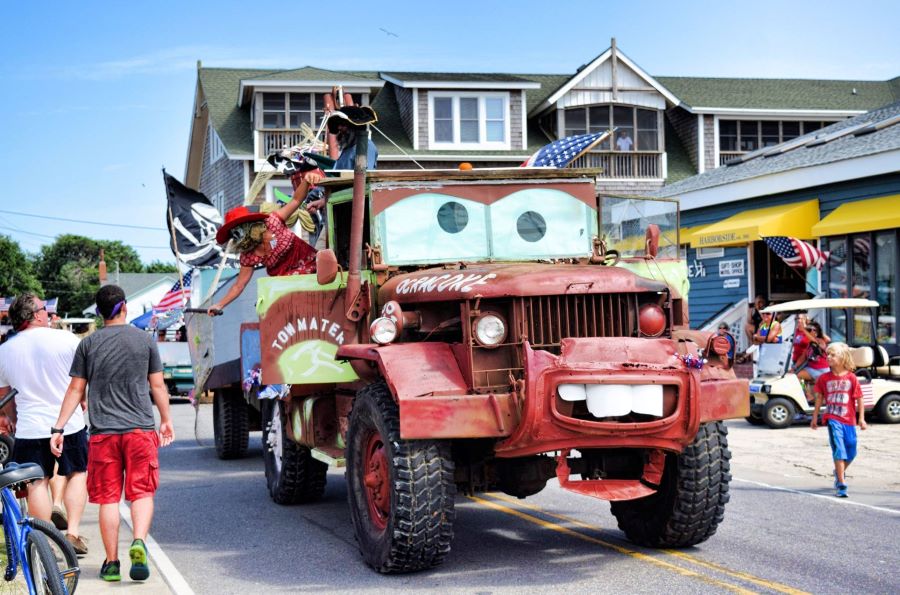 It's not hard to miss the 4th of July parade in Ocracoke Village.
But why have all the fun on just one day when there's enough to last for two? Ocracoke extends the festivities over a three-day 4th of July Celebration. With a parade, fireworks, a bonfire and a family-friendly dance party, you can party like it's 1776 for days on end. Highlight events include the Fireworks Show over Silver Lake on July 3 at 9:30 p.m.; the July 4th Parade at 4 p.m., which welcomes all spirited participants (enthusiasm is essential); and the Ocra-Glow Party, a glow-in-the-dark dance party at Ocracoke Community Park on July 3 from 7:30 to 11 p.m.
---
The week showcases the Outer Banks at the height of the season, and the number of events, nightlife entertainment options and other activities all point to that. For additional 4th of July events and other fun throughout the week, check out our Daytime Events page. For nightly live music, stand-up comedy acts, dance parties and more, our Nightlife calendar directs you to the top spots.