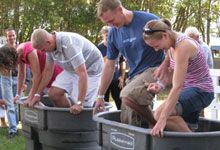 I had a college flashback experience this past weekend: walking on the Swan Quarter-Ocracoke ferry with only a back pack and a $1 ticket. I felt like I was on the Eur-Rail/hostel scene all over again. * I had to get to Ocracoke and I was getting all panicky because the ferries are all booked for weeks to come and the N.C. Ferry 800 number has been busy for three weeks. Then my friend suggested that I walk on. I don't know why that had never occurred to me, but actually it wasn't a bad way to go to Ocracoke. * Now I was only going for a night, not a whole vacation, but it totally worked. I parked my car in Swan Quarter, sat in the ferry sky deck lounge, met some new people because I wasn't in the comfort zone of my car (one got a little too comfortable and proceeded to floss his teeth (!!!!) so this probably shouldn't be on this list of pros), talked to the friendly ferry workers while I waited to walk on and off, and met some more new friends who gave me rides on Ocracoke because it was raining and I didn't have a car. Just like the backpacking days of yore...
I didn't realize how hard Hatteras and Ocracoke residents and vacationers are having it until I got down there in that world and saw first-hand what's going on with the overloaded ferry system. I didn't hear people bitching and complaining so much, but I heard them tell their stories of inconvenience. And lost money. And still being so far from normal three weeks after the storm. People just want to settle into their normal routines, and that's still not possible on Hatteras and Ocracoke. But Ocracoke seemed to be functioning pretty normally - the restaurants and stores were open and the vacationers were there, so get there if you can and enjoy the island in its best season - fall. Because fall starts Friday, you know...
Up here on the northern Outer Banks, things are pretty much back to normal as far as tourism goes, but we've still got a lot of people who need our help. Several merchants in Manteo are struggling with the effects of Irene. Specifically, Manteo Booksellers, My Secret Garden, Hotline's Endless Possibilities, Silver Bonsai Gallery and Dare County Arts Council. Do what you can to support these businesses. Plan to Christmas shop there. Donate your time to help them. Stop by and ask them what goods they might need to get up and running again. Who knows? That scanner or printer you have sitting around may really help a business owner in need. * Dare County Arts Council has issued a plea for help. They desperately need donations of money and goods (see www.darearts.org for a list). This would be a good time to join the organization...
There's a lot going on this weekend, so get ready:
Start the big day off from 8 to 10 a.m. with a Pancake Breakfast at Applebee's in Nags Head to support Owen's Superheroes in the Juvenile Diabetes Research Foundation fund-raising program. A simple pancake breakfast for you can help raise funds for kids who really need the help. Be sure to buy a raffle ticket ($5 each or 4 for $20) for a chance to win a bunch of great prizes. Email Holly Clark at hclark@charter.net for info...
The storm caused a pretty big mess up here, as you know, and this Saturday happens to be Big Sweep - the annual cleanup of the town's beaches (that includes the soundside beaches). From 9 a.m. to noon you can pick up trash bags at a variety of locations and head out to pick up trash. At noon, bring your bag of trash to the Outer Banks Brewing Station as your ticket to Trashfest, a good time event with food, drink and music. Go to http://outerbanks.surfrider.org for info...
The Get Pumped for Pink 10K is Saturday morning at 8 a.m. in Kitty Hawk. This is a part of the Get Pinked Campaign of the Outer Banks Hospital and the proceeds go to provide mammogram and breast cancer care to locals. You can register online at www.fsseries.com (search for Get Pumped for Pink 10K) or register at the race site on the day of. There's also a 1 mile fun run. The race starts at Knuckle Up Gym at MP 4.5 in Kitty Hawk...
To stretch out your hamstrings after the run, the Ashtanga Yoga Center of the Outer Banks in Nags Head is leading a class of 108 Sun Salutations on Saturday morning at 10 a.m. The asanas will be accompanied by live drumming. That's my kind of Saturday morning! Call (252) 202-0345 for info...
The Outer Banks Family YMCA is hosting its Annual 5K Dog Walk and Swim on Saturday from 9 a.m. to noon. Bring your pooch (or walk an SPCA pet) to the Y for a nice long walk and then a dip in the pool. It is so funny to watch the dogs splash and play in the pool (it's closed for the season by then). Cost is $15 for members, $25 for nonmembers. Call the Y at (252) 449-8897 for info...
There are two fun events happening in Currituck County this weekend. * On Saturday from noon to 6 p.m. is the Currituck Fall Food and Wine Festival at The Cotton Gin in Jarvisburg. There will be wine, food, music, entertainment, hayrides and grape stomping. Get tickets at www.sanctuaryvineyards.com. Call (252) 453-2837. * On Sunday, Family Day at the Farm will be from noon to 5 p.m. at Morris Farm Market in Barco - about 30 minutes from Kitty Hawk. They'll have hayrides, pony rides, live animals, a cookout, games, activities, a classic car show, antique tractor display, music and more. Admission is free, but donations will benefit the Kids First organization. Call (252) 491-2387...
If that's not enough to fill your weekend, on Saturday night and Sunday afternoon enjoy Always...Patsy Cline, starring two local favorites - Laura Martier as Patsy Cline and Miss Barbara Hird as her friend Louise Seger. The sure sell out will be at First Flight High School on Saturday at 7:30 p.m. and Sunday at 2:30 p.m. Go to www.outerbanksforum.org for information...
Lots of surfing going on this week at Jennette's Pier. The Wave Riding Vehicles Outer Banks Pro is going on Friday through Sunday, with parties at night and surfing contest in the day. Call (252) 491-8535 or go to Facebook for info. * The Eastern Surfing Association's Easterns Finals are also wrapping up this weekend at Jennette's Pier. Don't know how that's all going to shake out, but it's worth checking out. Go to www.surfesa.org...
Still need more stuff to do? Check around our site. We've got tons more events listed in our By Day and By Night sections, including all the high school sports events. Have fun out there but be safe...