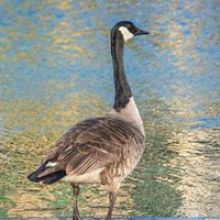 Do you like birds? What about nature? Are you just looking for something to do this weekend? If you answered yes to any of these questions, you're in luck – this weekend Hatteras Island kicks off its inaugural Hatteras Waterfowl Festival. This event is a wintry complement to the Wings Over Water Wildlife Festival that happens each October and December. It's sponsored by the Hatteras Village Civic Association and the Outer Banks Visitors Bureau, and it aims to celebrate all the migratory birds that populate the Outer Banks during the colder seasons and highlight the culture that embraces their presence.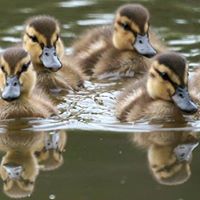 There's a lot to love about what waterfowl symbolize on the Outer Banks. Personally, I listen for the honks of geese to fill the sky each November as they make their annual return, and I still chuckle at the upturned bird bottoms as ducks  bob in the water, overturned as the ducks and geese search for food. When it comes to these birds' habits and their lifecycles, however, I don't know much. And I wouldn't even know where to begin with a birdwatching activity. If you're like me, the Hatteras Village Waterfowl Festival is the perfect opportunity to enjoy all aspects of these creatures and deepen our understanding of them. And, not to mention, take in the beautiful way that Hatteras Island wears the winter season. It's no Currier and Ives picture, but it's definitely its own winter wonderland.
The festival kicks off Friday evening with a Fin, Feather and Bourbon Social – three culinary fields that northeastern North Carolina excels in. This fine dining event features small plates, such as crab cakes and quail, made with locally sourced seafood and poultry, paired with different North Carolina bourbons to taste. Sample the tasty fare, meet your fellow bird lovers in attendance and place your bids at the silent auction for art and products from Outer Banks artists and vendors.
Get to bed early, though, because the next morning ushers in a day of excitement: this Saturday, it's for the birds. What do you want to do? Take a bird walk around the island, learn about hunting practices, hone your bird photography skills, learn about waterfowl patterns and lives, explore the art of falconry, understand decoy art or find out what artists revere so much about these animals? You'll find it all throughout Hatteras Village. The Hatteras Village Waterfowl Festival welcomes vendors, exhibits, artists and experts from as near as Hatteras Island to as far as Virginia. There are also Teal Wings activities designed just for young birders, if you're checking out the festival with the whole family.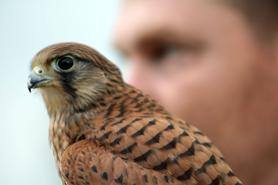 One of Saturday's keynote activities is the demonstration from Hawk Manor Falconry, an organization that focuses on falconry and bird of prey education. They'll have an educational exhibit set up in their trailer for the event, and they're bringing a few feathered friends for live demonstrations too.
Next, take a break from the cold in the refuge of an art studio. Local artist, Trish Dempsey of Saltair Images, opens her studio to visitors (of all skill levels) and guides them through the process of crafting their own waterfowl painting.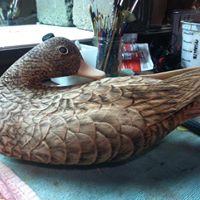 The day's activities and vendors are open from 9 a.m. until 5 p.m. After that, settle down to a big seafood dinner, made from locally caught seafood – an authentic taste of Hatteras Island. If you're staying in Hatteras for the evening, stop by the buffet breakfast on Sunday morning from 8 to 10 a.m. at the Hatteras Civic Center, before you head home.
One of the best parts of this festival is the way that you can partake in as little or as much of it as you want. There are multiple ticket options. If you want to get the most out of the festival, go for the Gold Ticket. It gives you access to everything, starting with the Friday's Fin, Feather and Bourbon Social through Sunday's breakfast. Alone, the tickets are $50 each; get them with a group, though, and each additional ticket is only $25. (Hint: If you find another person to go to the festival with you, you'll both enjoy everything it offers, including all food and drink and activities, for $37.50 each!) The Gold Ticket is $20 for youth ages 11 to 17 and $10 for ages 6 to 10. Alternatively, you can also get a day pass, which is $10 for an adult and $5 for students. All events are free for children younger than 5.
You can get tickets and day passes to the festival from Highway 12 Realty in Buxton, Buxton Village Books, Frisco Rod and Gun, Nedo True Value in Hatteras and Oden's Dock in Hatteras. There's also an online option. For more information about the Hatteras Village Waterfowl Festival, including places to stay if you're visiting, check out the event's website.