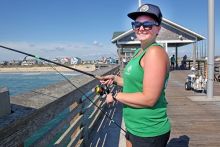 Outer Banks ocean piers have always been a huge part of the Outer Banks fishing experience, but now they're so much more. These days you can visit piers to eat dinner, watch live music, enjoy a few drinks with friends, send your kid to summer day camp and even get married, making them super popular with more than just fishermen.
Old wooden ocean piers are one of my favorite things about beach life. For me, walking the undulating planks is like traveling back in time. I have vivid memories of walking on rickety wooden piers as a child, feeling a little lightheaded at seeing the rolling waves under my feet between the wide spaces of the weathered boards. I can remember being out at the end of the pier, the smell of slightly rotten bait and hot salty air, my palms and feet sweating, as I peered over the railings to the green ocean. I still love walking out on ocean piers. I myself don't do much pier fishing, though I wish I did, but I love seeing all the regulars with their coolers and rods and reels – all perfectly set up for a day of catching. I love to walk out on a wooden pier during a nor'easter to see if I can feel the pier shaking in the wind or being rocked by the waves. And of course I love having a couple of drinks and some apps while watching live music on a pier. Another great thing about piers is that many of them are wheelchair accessible, so you can get your friends and family out for a spectacular view of the ocean event if they can't get out to the beach.
Whether you want to fish, sight-see, watch wildlife or dine, there's an Outer Banks pier for you. 
Photo at top: Fishing at Jennette's Pier.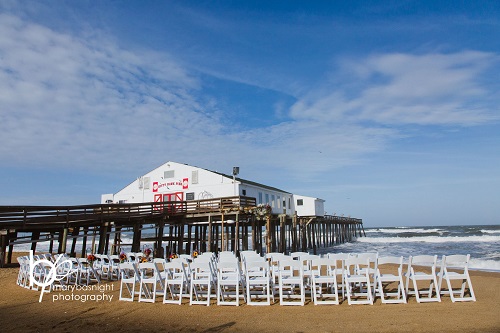 Kitty Hawk Pier House
Events
Built in 1953, Kitty Hawk Pier is still standing but it's no longer open for fishing. Now the historic pier house can be rented for events like weddings and parties through Hilton Garden Inn. With heart pine walls, high ceilings, a spacious open area and fantastic ocean views, it's a very popular event venue. 5353 N. Virginia Dare Trail, MP 1, Kitty Hawk, (252) 261-1290, pierhouseevents.com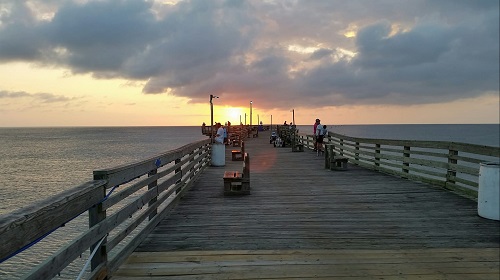 Avalon Pier
Fishing, eating, drinking, arcade, live music
Avalon Pier is legendary, not just for fishing but also for hanging out around the arcade on summer nights. There's really no other place like this on the Outer Banks, and if you want a taste of the old Outer Banks, you have to check it out. The fishing is good, and The Snack Shack offers casual food like appetizers, steamed shrimp and other seafood and burgers and sandwiches. Stonefish BeachBar has beer and wine and live music every evening in the summer. 2111 N. Virginia Dare Trail, MP 6, Kill Devil Hills, (252) 441-7494, avalonpier.com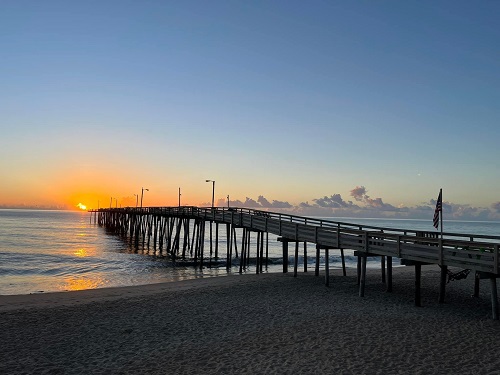 Nags Head Fishing Pier
Fishing, eating, drinking
Nags Head Fishing Pier is one of the oldest piers on the Outer Banks, and this is one of those that gives you a thrill when it's shaking in rough seas. You can catch fish off the pier for a reasonable price, and there's a tackle shop on site. Rod rentals are available. Capt. Andy's Oceanfront Tiki Bar & Grill on-site is a fun gathering place for outdoor dining and drinks with a great ocean view, and they'll even cook your catch. 3335 S. Virginia Dare Trail, MP 11.5, Nags Head, (252) 441-5141, nagsheadpier.com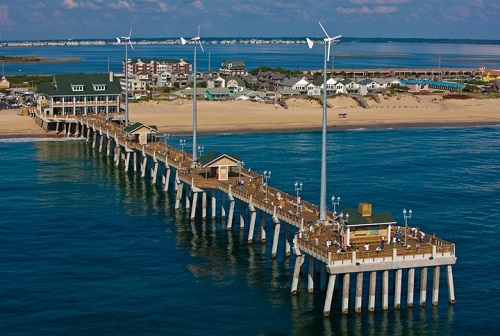 Jennette's Pier
Fishing, shopping, education, kids' camps, events
Jennette's Pier has been around since 1939, but it has been transformed from an old wooden pier to a sturdy and modern concrete pier. Trust us, you'll never feel this one swaying in a storm. With its public bathhouse and plentiful parking, this pier is a very popular beach access and the site of many events like surf contests and beach volleyball exhibitions. The pier itself is open year-round and offers fishing day and night. The pier offers aquarium exhibits, a store and tackle shop, fishing classes, summer camps and other children's programs. Upstairs the pier has a 3,500-square-foot ocean-view ballroom for weddings, corporate events and social gatherings. This pier is easily accessible for wheelchairs. 7223 S. Virginia Dare Trail, MP 16.5, Nags Head, (252) 255-1501, jennettespier.net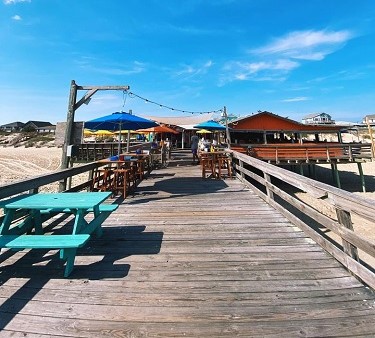 Outer Banks Fishing Pier
Fishing, eating, drinking, live music
Outer Banks Fishing Pier is a wooden fishing pier known for its great 24-hour fishing. Located in South Nags Head, it's been a very fishing spot for more than 50 years. The tackle shop offers bait and tackle and rod rentals. On-site Fishheads Bar & Grill has 32 different beers on tap and serves breakfast, lunch and dinner. Fantastic views and live music make this a busy spot. 8901 S. Old Oregon Inlet Road, MP 18.5, Nags Head, (252) 441-5740, fishingunlimited.net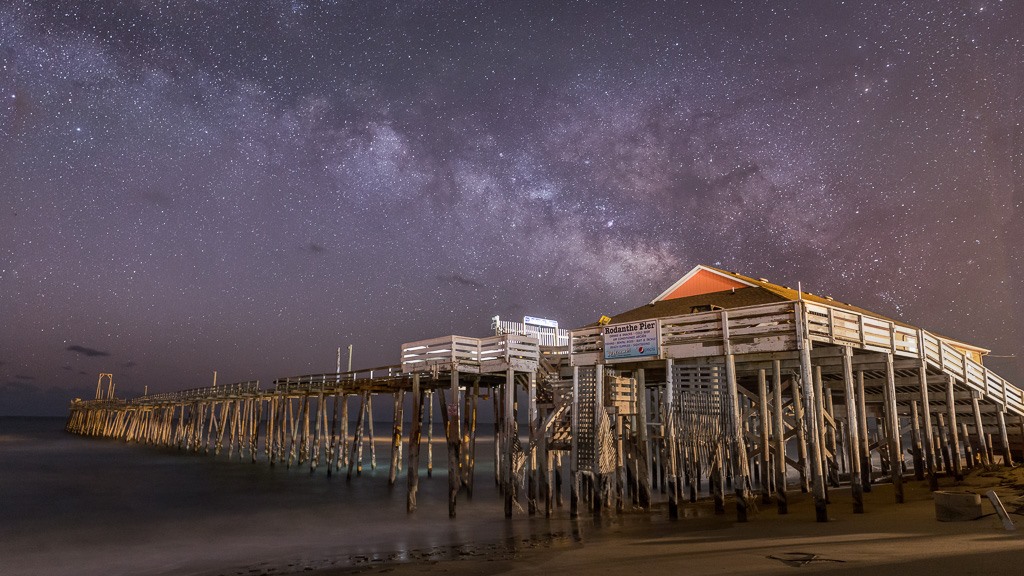 Rodanthe Pier
Fishing, refreshments, live music
Fishing is fantastic on Rodanthe Pier on northern Hatteras Island. The fishing passes are reasonably priced, and the staff is knowledgeable and helpful. The pier house has all the bait and tackle you need, including rod rentals, and refreshments like snacks, beer, drinks and ice cream are available. They have live music several nights a week in the summer. 24251 Atlantic Drive, Rodanthe, (252) 987-0030, roadnthepierllc.com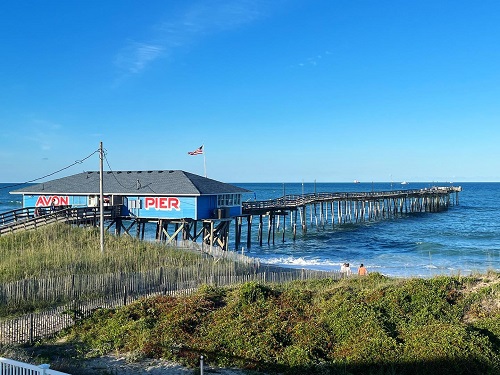 Avon Fishing Pier
Fishing
Avon Fishing Pier is a wooden pier that's been in Avon since 1963. It's a famous place for catching red drum in the fall, but the fishing is great year-round. The pier house offers bait and tackle. The pier is part of Koru Beach Klub, and there's a restaurant, RV park and event center on site. 41001 N.C. Highway 12, Avon, (252) 995-5480, koruvillage.com

Soundside Piers
Soundside piers are great for fishing, wildlife watching and sightseeing.
Bonner Bridge Pier – south end of Marc Basnight Bridge over Oregon Inlet
Bebop's MultiUse Pier – west end of Umstead Bridge in Manns Harbor
N.C. Aquarium Soundside Pier – N.C. Aquarium, 374 Airport Road, Manteo
Washington Baum Bridge Pier - Beneath the Baum Bridge on Roanoke Island side
What's your favorite Outer Banks fishing pier? Leave a comment in the section below. For more information about Outer Banks fishing click here.