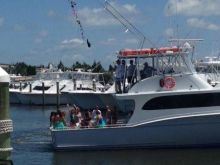 The Outer Banks is home to a strong community with a rich sense of culture, and accompanying that is a steady supply of annual events that celebrate both. These events are ones that people grow up with — some now even share the fun with their children. And you're in for a treat this week, because we're welcoming the return of several annual events within the span of a few days. Check out fishing tournaments, fundraisers and cultural festivities throughout the Outer Banks the week. They're an awesome way to connect with the community and appreciate the activities, people and stories these towns cherish.
Alice Kelly Fishing Tournament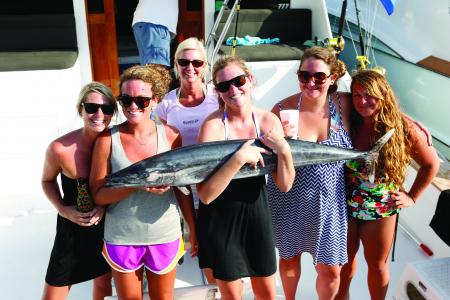 For the 28th year women convene to honor Alice Kelly's memory by partaking in one of her favorite Outer Banks activities: fishing. This Saturday and Sunday Pirate's Cove Marina welcomes anglers of all skillsets for a weekend of fishing and fun. Registration for the tournament is on Saturday at 5:30 p.m., and it's followed by the annual Cook Out for a Cure party with Sam and Omie's barbecue, brews and live music. Participants can also show off their handiwork at the team costume contest and boat decorating contest. Fishing opens on Sunday morning at 8:30 a.m. and lasts until 3 p.m. After the lines go up, teams and others will join up for Appetizers on the Docks followed by a buffet awards dinner. The awards presentation begins at 9 p.m., but people stay longer to socialize and dance to the D.J.'s music. Proceeds from the event go to the Outer Banks Cancer Support Group.
Pirate's Cove Billfish Tournament
Whether you're there for the fish or for the festivities, you can't deny that everyone has fun at the Pirate's Cove Billfish Tournament. For 34 years this annual event has brought Outer Banks anglers out for a week of fishing, food and festivities. The event begins Monday night with registration and a kick-off party, including a dockside Mates Luncheon and Tapas Dinner with live music. Tuesday through Friday are spent with lines out on the water, but participants and their families enjoy dinners, live music and other activities happening at the marina each evening. The final dinner on Friday night includes the tournament's awards ceremony, and the top winners receive cash prizes. The event closes with Saturday morning's Farewell Breakfast. You can find information about both the Alice Kelly and Pirate's Cove tournaments here.
Outer Banks Pirate Festival
Your friendly neighborhood scallywags and buccaneers will be camping out at Jockey's Ridge Crossing in Nags Head, and you're invited to join their shenanigans and learn about and celebrate the Outer Banks' history with pirates. This two-day annual festival at Kitty Hawk Kites is a family-friendly event that kids love. Wednesday is Pirate Kids' Day and includes Scallywag School, a living history pirate encampment, a pirates' dinner on the Pamlico Sound and much more. If you missed Scallywag School on Wednesday, you have the opportunity to get your education on Thursday. All of these events are free and open to the public — though Scallywag School encourages that interested pirates pre-register. Come out for both days of fun or pick and choose what you do. A schedule of activities can be found on the event's website.
---
The fun on the Outer Banks this week doesn't stop at these annual events — learn about gardening workshops, cooking classes, theatrical performances and more on our Daytime Events listings. If you're looking for live music, dancing and other nightlife opportunities, check out our Nightlife listings for the who, what, when and where. In the meantime check out these annual events and see why we love them enough to celebrate each year.