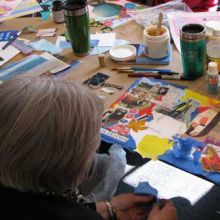 I am a history junkie. I live and breathe the stuff, from the dawn of civilization through the Bronze Age to the Renaissance right on up to present day history-making events. As a boy I spent countless hours with my nose buried in encyclopedias reading about the ancient Hittites and Babylonians. I pillaged the library for every book I could find on World Wars I and II. A subscription to National Geographic was on my Christmas wish list every year from grade school through college. Even today I can lose hours in Wikipedia following links from an article about one ancient civilization to another and another. Among my top five online bookmarks? Archaeology.org!
Of course, I am aware most people do not share my fascination. To most folks, history is simply some collection of dusty old dates, musty old men and battles and wars fought over long-forgotten issues difficult to understand through the prism of contemporary life. I could argue that much of what occurs today has roots deep in the past - that what is happening now between Russia and Ukraine, for instance, has tendrils reaching back hundreds of years. But it's more than that. History is also about how people live, what art we create, what foods we eat and the types of structures we build as our homes. And from that perspective, there are a couple of upcoming events that present Outer Banks history through a different lens than the usual fixation on failed colonization, pirates, shipwrecks and flight.
The Kill Devil Hills Historic Landmarks Open House is a free, self-guided tour of a sampling of historic homes that will begin Friday, April 11 at 1 p.m. at Kill Devil Hills Town Hall with a reception for recently designated historic homes. Tour participants will receive a map of historic properties and will have until 5 p.m. to tour the houses that are open. Currently, there are 24 structures honored with the Historic Landmark designation. The accompanying photo shows the Hall House located at 2401 North Virginia Dare Trail, which was built in 1938. The mission of the Historic Landmarks Commission is to identify, preserve and protect the heritage, history, architecture and culture of the Town of Kill Devil Hills. Although the tour is free, a $5 donation is requested to help with preservation efforts. For more information call (252) 449-5318.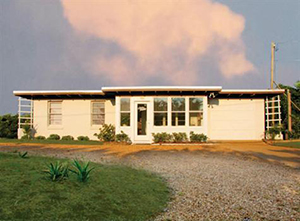 Who hasn't driven along Ocean Boulevard in Southern Shores and not wondered about those low-profile flat-topped bungalows tucked amongst the dunes, sea oats and windswept trees? The mid-century Outer Banks architectural style was the brainchild of artist, architect and developer Frank Stick, who blended elements of Frank Lloyd Wright's architecture with an island style then common to the Florida Keys. Stick's innovation eventually resulted in a small colony of similarly designed and constructed low-slung structures along Ocean Boulevard in Southern Shores. Although flat tops continued to be built into the 1960s, today fewer than half of the original structures remain. This Saturday from 1 to 5 p.m. you can learn more about the genesis of this original Outer Banks architectural style while touring a variety of the surviving structures during the Southern Shores Historic Flat Top Cottages Open House. The tour begins at 156 Wax Myrtle Trail, and from there several other participating cottages are within easy walking distance. Maps will be provided and parking will be available at the intersection of 156 Wax Myrtle Trail and Porpoise Run. Tickets are $5 and will be available the day of the tour. For more information visit the Southern Shores Historic Flat Top Cottages Facebook page or call the Southern Shores Town Hall at (252) 261-2394.
Grow It!
This time of year it's hard to resist the urge to dig in the dirt and plant things. But not all of us have the real estate to accommodate traditional gardening. The Elizabethan Gardens and their expertise come to the rescue Saturday, April 12 from 11 a.m. to 1 p.m. with their Salad Container Gardening program. You'll learn how to plant and maintain salad vegetables in a space-saving growing-cabbage container! The Gardens will supply the containers, soil and plants to get your garden started. And, as a taste tease of what is to come from your own garden, a fresh salad will be served for lunch. This popular workshop is $25/member and $30/non-member. For more information call (252) 473-3234 or visit The Gardens website.
Others of the green thumb persuasion will want to make time to attend the Coastal Gardening Festival next Thursday, April 17 at 300 Mustian Street in Kill Devil Hills. The Festival opens at 10 a.m. and boasts a variety of activities, including plant sales, garden art and more than 50 vendors, plus food, children's activities, educational displays and gardening demonstrations. Call (252) 473-4290 for details.
Other Happenings
The internet is overflowing with lists of why it's better to be a man or a woman. Many of these lists are rife with argument potential, with some seemingly concocted for the express purpose of ensuring that someone will be in the doghouse overnight. So, let's not go there. Let's just say that, on the Outer Banks, there are at least two advantages to being a woman - Working Women's Wednesday at Kelly's Outer Banks Restaurant & Tavern in Nags Head from 5:30 to 8 p.m. and OBX Ladies Night at Outer Banks Brewing Station in Kill Devil Hills, also on Wednesdays beginning at 10:30 p.m. At Kelly's you'll find $15 manicure & martini combos or $5 martini & game combos along with complementary appetizers and live music. At the Brewing Station females will be treated to a dance party helmed by groovemaster DJ Bruce. At least on Wednesday nights, ladies, it's good to be you.
Oh, a wise guy, eh? If you think you are, then stop by Poor Richards in downtown Manteo on Thursday night at 8 p.m. and test your wits against fellow patrons in a trivia battle conducted by Billy Raney. While you must pay for food and beverages, the damage to your ego is provided free of charge.
If testing your wits is not your fancy, you can test your luck at the bingo tables in Colington each Wednesday evening courtesy of the Colington Volunteer Fire Department. Held at 108 Schoolhouse Road, the doors open at 5:30 p.m. and games begin at 6:30 p.m. Participants must be 12 or older.
Homeschool students are invited to experience life on an island farm this Friday, April 11 from 10 a.m. to 2 p.m. during Homeschool History Day at Island Farm on Roanoke Island. Enjoy a day of hands-on history fun and witness farm activities and demonstrations including blacksmithing, hearth cooking, garden and field work, and period children's toys and games. Admission is $4/student, $5/adult, children 5 and younger free.
All Ducked Out in Duck simultaneously celebrates its first birthday and the Gala Grand Opening celebration of All Ducked Out, Too! on Friday, April 11 from 5 to 7:30 p.m. The event will feature special sales all weekend, and owner Becky Nolan invites the public to help celebrate the all-new shop and blow out the candles on the All Ducked Out birthday cake!
Art Party
The next Art Party at the Dare County Arts Council will be held Thursday, April 17 at 6:30 p.m. Bring a friend or two and let instructor Mari Beth LaRose nourish your creative side while she teaches you how to create your very own original painting on canvas. Simple, step by step instruction will be given on painting techniques, and a different painting theme will be explored each month. Bring a bottle of wine (or other beverage of your choice) and/or an appetizer to share. Participants will gather before class at 6:30 p.m. to eat, drink and enjoy each other's company before painting. The art making is from 7 to 9 p.m. Call to pre-register at (252) 473-5558 to ensure that your supplies are ready and waiting. The class is $35/DCAC members or $40/non-members. All artists, from beginners to advanced, are welcome to be part of the class. Visit the Arts Council website for more information on upcoming classes.

This week you still have a chance to win a one-night stay at Tranquil House Inn & dinner for two at 1587 Restaurant!
For more information about Tranquil House Inn, check out their website.
For more information about 1587 Restaurant check out their website.
Last Week's Winner
Congratulations to Janet Evans!!!
You won a week family pass to Outer Banks Family YMCA & a $35 gift certificate to Gray's Outer Banks!
For more information about Outer Banks Family YMCA, check out their website.
For more information about Gray's Outer Banks check out their website.