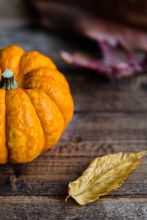 Thanksgiving is a time of community and kinship. It's meant to gather us around a common table to share a meal and reflect on the people, places and things we're thankful for. To make such camaraderie as widespread as possible, several organizations and restaurants around the Outer Banks host Thanksgiving celebrations that extend an open invitation to anyone spending the holiday alone, facing financial hardship or who simply want to join in the festivities.
Avenue Waterfront Grille is teaming up with Mount Olivet UMC Youth Ministry and organizing a Thanksgiving Dinner at Avenue Grille. Chef Thomas will be cooking up an entire feast of Turkey Day essentials. The meal is open to all, and if you plan to attend, call ahead so that the restaurant can prepare: (252) 473-4800. Join them in their Manteo Waterfront location from 11 a.m. to 3 p.m. Donations for the Island Food Pantry will be accepted during this meal, but they aren't required.
Jimmy's Seafood Buffet in Kitty Hawk may be closed for the season, but they're breaking out the buffet for this special day. Join them for their annual family-style feast that's open to all. In fact, Jimmy's will even bring Thanksgiving to you – if you or anyone you know can't get out of the house, call Jimmy's for a delivered meal.
Whether you have just yourself or the whole crew in tow, all are welcomed like family at Liberty Christian Fellowship's Free Community Thanksgiving Day Dinner. Local restaurant have generously donated the supplies needed to create a traditional Thanksgiving feast. Join them for a hot meal in a cozy, inviting atmosphere. For anyone unable to join, Liberty will provide meal deliveries. If you want to help out, email community@liberty.com about volunteering, or make a contribution online.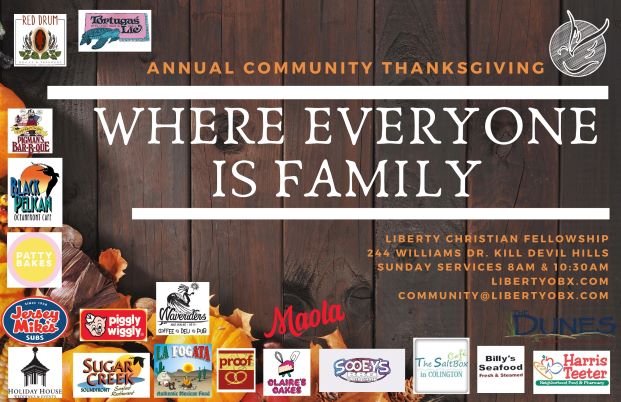 Liberty Christian Fellowship is also helping to organize an Ocracoke Community Thanksgiving at Berkley Barn. Berkley Barn will present a warm and festive space where islanders and their families can come together for a holiday feast. And in typical Ocracoke fashion, attendees can expect a small oyster roast too. Add one of your own Thanksgiving traditions to the table by bringing your favorite side or dessert to share – fun but not required. If you want to cook for this event, get ingredients and cooking items for the Thanksgiving Potluck Pantry, which the Ocracoke Volunteer Fire Department will hold Tuesday and Wednesday from 9 a.m. to 1 p.m. Find additional details about the event and information about volunteering here. If you'd like to contribute, you can make a donation on Liberty's website and select Ocracoke Thanksgiving Dinner on the drop-down menu.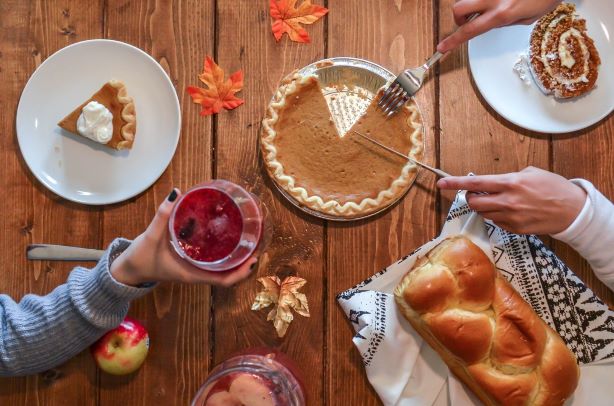 All of these celebrations are free to attend and open to all – though it's requested that the Ocracoke Community Thanksgiving stay limited to only folks living on the island. Thanksgiving is a time to be together, so why not gather with your Outer Banks neighbors this year?