Behind many local businesses is someone doing their best to help others. In this blog, you'll meet one of them: Gina Elko of House of Hemp OBX in Kill Devil Hills.
Gina was a professional fire fighter for 22 years, but her career ended with a knee injury. After retiring, she had to have bilateral knee replacement surgery.
"In an effort to avoid taking pharmaceuticals, I looked to cannabidiol (CBD) for pain relief during the physical therapy and healing process," Gina says. "It was an amazing experience, which inspired me to open House of Hemp in 2017."
Photo: Gina in her former life as a firefighter.
At her store, she and her staff love educating and helping others in the community find a more holistic approach to health through CBD.
"Our mission is to bring CBD-based products to our community," Gina says. "We believe CBD products fill an important role is searching for a more natural approach to health."
All of their products are grown in the USA and are organic in nature.
"Our main focus is to help every person who walks in our door," she says.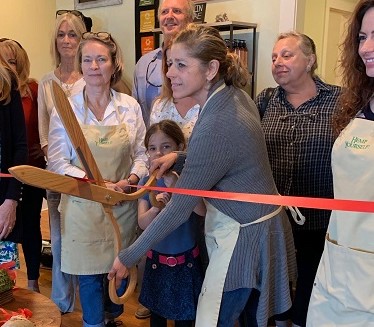 Gina cuts the ribbon at the grand opening of House of Hemp OBX.
Q&A with Gina Elko
How long have you lived on the Outer Banks? Where did you move from?
I have lived here for 22 years. I moved from Maryland.
What did you do before you were in this business?
I was a firefighter in Maryland for about six years. After moving here, I continued my fire career for 16 years more with the Town of Nags Head.
What motivates you to work hard in this business?
Reaching and helping as many people as possible is what we strive to do.
What's your favorite Outer Banks town or village?
I like downtown waterfront in Manteo and the beaches in Nags Head.
What is your favorite thing about living on the Outer Banks?
The community and the beach.
What is your favorite season on the Outer Banks?
My favorite season is the fall.
What is your favorite beach access?
I don't really have one. I try different ones all the time.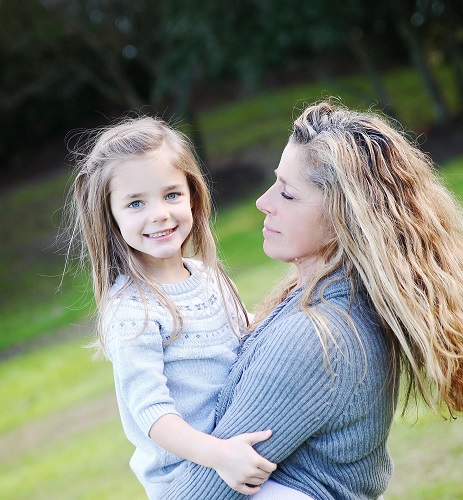 Gina and her 7-year-old daughter, Addison.
What do you do for fun?
I love doing anything that is outdoors. Going to the beach, biking, taking my daughter to different parks, etc.
Describe your perfect day off.
Sundays are the perfect day off. Church in the morning, then any adventure outdoors.
Do you see more sunrises or sunsets?
Sunsets
What's one thing you wish more Outer Banks visitors knew?
I wish more knew how important it is to keep the beaches clean.
Where do you go on vacation?
I just took my daughter skiing for the first time this winter. We loved it! I plan on going every year.
For a celebratory dinner, would you rather order take-out, go out to eat or cook something at home?
I would rather go out to eat. The experience is important.
If you had a friend visit, where would you take them for breakfast, lunch and dinner?
Breakfast, Grits Grill; lunch, Mama Kwan's; dinner, JK's
What is your favorite local seafood?
I love any local seafood, as long as it's local.
What is your favorite product at House of Hemp?
That's a tough one. Every product in the store is infused with CBD. It just depends on how you want to take it. We have edibles, salves, tinctures, vapes, smokable hemp flower – the list goes on. If I had to pick one, I'd say the CBD-infused vegan chocolate bars. I also love our hemp backpacks made in Nepal.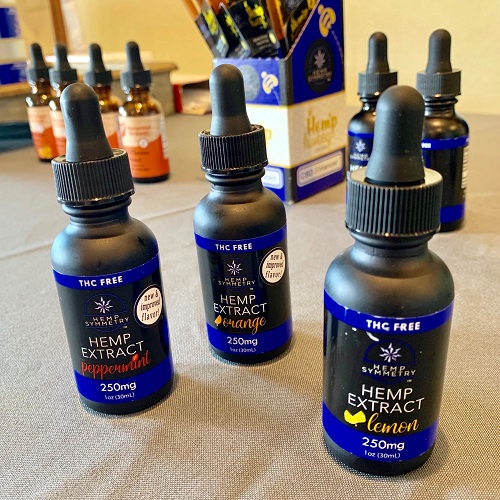 A variety of CBD products are available at House of Hemp OBX.
What is the most popular thing you sell at House of Hemp?
The most popular item we sell is our brand, House of Hemp, oil tincture. Our product contains organic CBD plus a panel of terpenes geared toward the reduction of anxiety.
What's your favorite thing about your job?
My favorite part of this job is seeing returning customers that have felt relief from our products. Many are able to reduce their pharmaceutical medications as well.
Do you have any side hustles?
Recently, yes. We are branching out into pet relief. Keep a lookout for the launch of HouseofHealthyPets.com. It will be an online CBD store catering to pets only.
How did the pandemic affect your business? What's the first thing you want to do when COVID is over?
Our company is faith-based. Through it all, we've successfully stayed our course and will continue to in the future.
What's one item on your bucket list?
Taking my daughter skiing was on the list. But that's checked off.
What do you see yourself doing in five years?
Helping more and more people and pets find pain relief through the use of the wonderful hemp plant.