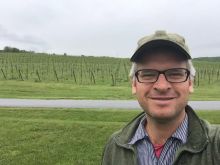 All across the Outer Banks are people doing their best to make a living while still finding time to enjoy this wonderful place they call home. In this edition of Get to Know a Local, you'll meet one of them, John Wright, general manager of Sanctuary Vineyards in Jarvisburg.
Wright is a seventh-generation Currituck County native who lives in Currituck County with his wife and two daughters. According to family lore, the first Wright in the area was Jacob Francis Wright, who shipwrecked off of Duck more than 170 years ago and eventually settled in Jarvisburg. In addition to farming, the Wright family owns and operates The Cotton Gin stores in Jarvisburg, Nags Head, Duck and Corolla.
John and his father, Tommy Wright, and his uncle, Jerry Wright, started Sanctuary Vineyards on the family land in 2002.
"When my folks mentioned the idea of new forms of agriculture, we were encouraged by the vineyards of Knotts Island and decided to take a chance on a new venture," Wright says. "The idea of sanctuary for both the birds that seasonally visit, as well as our guests, is what drives us."
In addition to making award-winning wines, Sanctuary Vineyards operates a tasting room and event site for weddings and other celebrations. They also host festivals and events centered on wine, beer, local seafood and everything that's great about Currituck.
Coming up on November 26 is The Big Currishuck featuring all-you-can-eat steamed oysters, crabs, barbecue and sides. With live music, hayrides and game and activities for the kids, The Big Currishuck is a much-anticipated annual event on Thanksgiving weekend in Currituck. Tickets, which will likely sell out, are available here.
Read on to find out more about native Curritucker John Wright and his life at Sanctuary Vineyards.
How long have you lived on the Outer Banks and how did you end up here?
I've been here my whole life, save for time spent at university.
What do you do for a living and how did you get into this line of work?
I have a hybrid job in which I manage almost all facets of Sanctuary Vineyards (the exception being winemaking; I prefer to be in the field) and I work part time for The Cotton Gin on their IT and some marketing. I grew up in The Cotton Gin so I've been conditioned to know retail, marketing and seasonal businesses, much like anyone who grew up here among the retail and service industry.
What did you do before you were in this business?
Since I've essentially been raising grapes since I was old enough to drink, my work career prior to that was pretty nebulous. I've had odd jobs since I was 10, starting with grading potatoes for my uncle on the farm for a couple summers, then working a cash register at The Cotton Gin until I was 16, then front and back of house at Mako Mike's in high school/college, running kayak tours around Chapel Hill in college. If I had to apply for a real job at this point, I would have a problem.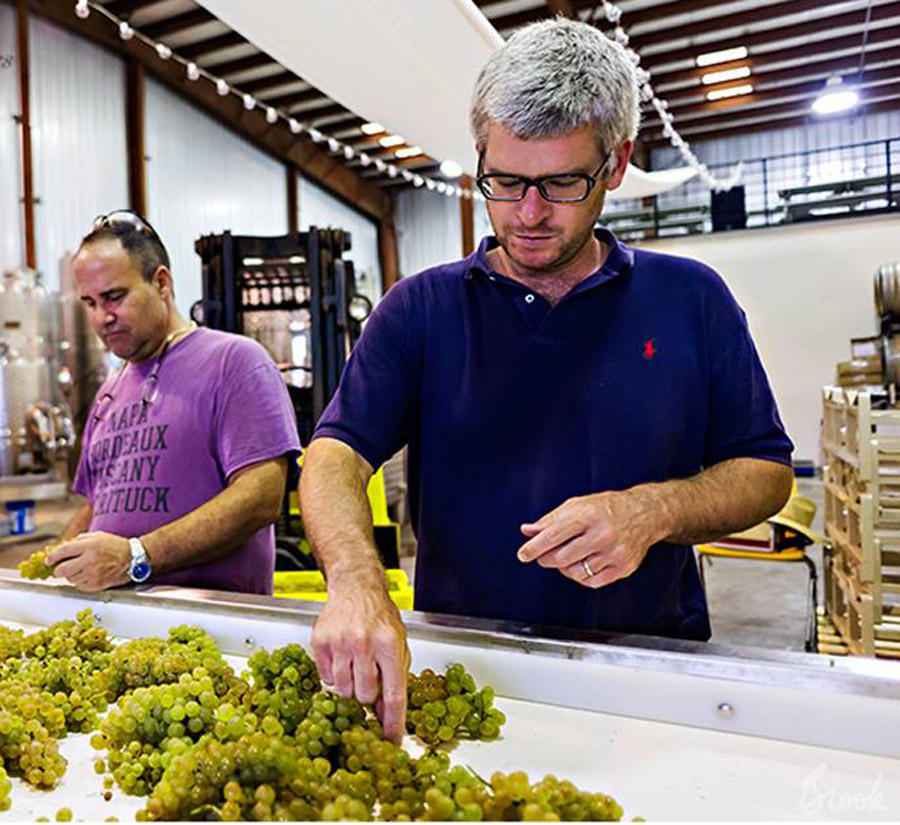 John and staff sorting the grapes and individually picking out the bad ones to make the best wine possible.
What motivates you to work hard in your line of work?
Because North Carolina is still an emerging winegrowing area, I've been challenged to produce the best grapes I can to not only represent our state, but also to create a new standard for our area. Long considered a novelty by other wine regions in NC, we really think that Currituck is capable of making the best wines in our state and can compete with any of the wines of the region when we are on our game.
What's your favorite thing about your job?
Flexibility. I just never know what each day is going to ask of me – and I'd never survive a desk job at this point.
What's the most challenging part of your job?
Never knowing what each day is going to ask of me.
What's your favorite OBX town or village?
Doesn't everyone say Ocracoke? Can I say Ocracoke too? I really do like it there. Almost anywhere else, someone is able to convince me to get back to work, or they can at least reach me. I'll turn the phone off if I go to Ocracoke. 
What is your favorite thing about living on the Outer Banks?
While difficult to explain to anyone not from this area, I believe that most Outer Banks locals acknowledge that there is a peak season and off season. But not just for tourism. You can get certain crops and seafood and game here in the off season, visit restaurants and sites that are too congested in the summer, and if you're keen to this inverse of the busy season, you'll have the time of your life.
What is your favorite season on the Outer Banks?
The dead of winter.
What do you do for fun?
Lol.
What do you do in the off-season?
We book weddings that run until November, then host a few major events in late November and early December, so it's at least mid-December before I start to cool off. Off season is a time for pruning, which takes two to three months, and it is a quiet and contemplative job that is pretty solitary. I may take a trip if we finish pruning ahead of schedule.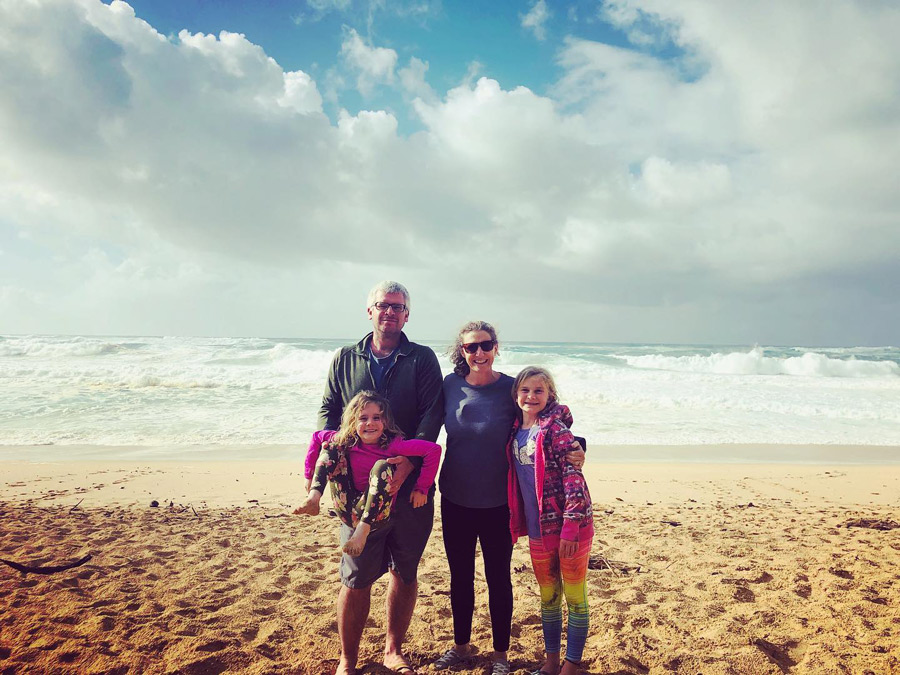 Wright with his wife, Brooke Mayo, and their two daughters, Poppy and Peaches.
What's your favorite beach access?
Byrd Street. I'm a Currituck boy.
Describe your perfect day off.
Cracker Barrel and Chilled Ponds for some ice skating with my kids.
Do you see more sunrises or sunsets?
I get to see them both most days, but I love the sunsets. It feels like closing the book on the day.
What's one thing you wish more Outer Banks visitors knew?
I wish visitors knew that they could turn off the highway on their way into town and visit us, and the Outer Banks wouldn't melt into the ocean in the span of time that they'd left the traffic queue. It'll still be there.
Where do you go on vacation?
We aren't committed to any one place, so we rarely backtrack. I'm currently hoping to go to either Argentina or Uruguay, and if that doesn't pan out, I'll go to Ocracoke.
For a celebratory dinner, would you rather order take-out, go out to eat or cook something at home?
I'm all about getting out and enjoying a nice meal and encouraging local businesses.
What is your favorite local seafood?
As a native Curritucker, I'm going with steamed blue crabs from the Currituck Sound.
Do you have any side hustles?
Marketing and branding design – mothervinegrowth.com
Do you have any pet projects or is there a local nonprofit that you're passionate about?
We have committed to helping local nonprofits through wine sales, so there are countless organizations we work with. For example, for every bottle of Wild Pony White we sell, we make a contribution to the Corolla Wild Horse Fund. Each year we expand the group and are always looking for new nonprofits to work with too.
What's one item on your bucket list?
I'd love to see Greece.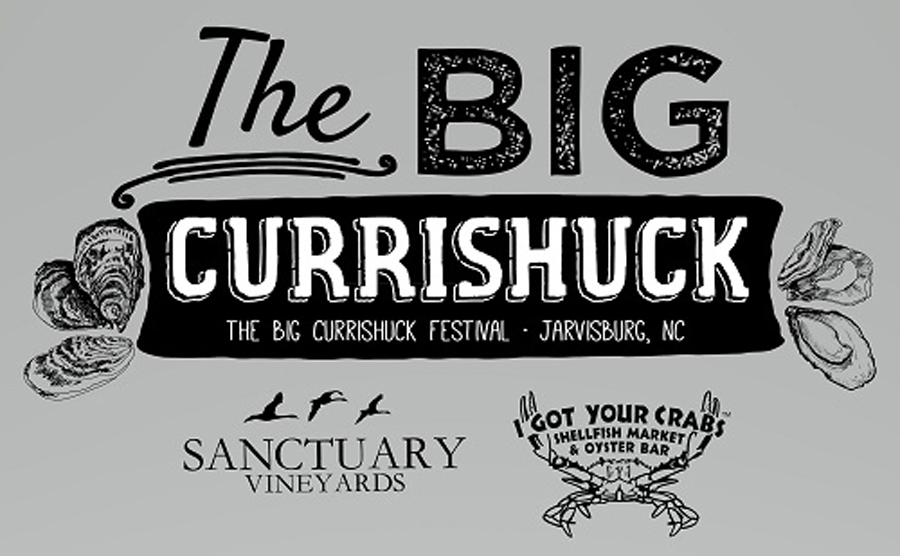 The Big Currishuck, one of the most-loved events at Sanctuary Vineyards, is coming up on Saturday, November 26. Tickets are on sale now.
Want to go?
Sanctuary Vineyards 
7005 Caratoke Highway, Jarvisburg, (252) 491-2387, sanctuaryvineyards.com