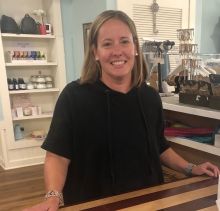 Behind every Outer Banks business are people doing their best to make a living and still have the time to enjoy this beautiful place they call home. In this edition of Get to Know a Local, you'll meet one of them: Tory Schollaert, owner of Bloom Boutique in Manteo.
Tory worked for Amity, a clothing boutique in Duck, for several years before venturing out on her own two years ago. Her concept for her own store was to be a place where generations of families can all shop.
"I'm happiest when a family comes in and grandma, mom and daughter all find something they love," she says.
Tory offers a wide variety of clothes and accessories with reasonable price points, and she's great at helping customers pull together outfits that look great on them.
"I want everyone to be comfortable and feel good in what they buy!" she says.
Q&A with Tory Schollaert
How long have you lived on the Outer Banks and where did you move from?
I moved from Virginia, and I've lived here permanently for about 10 years.  
What did you do before you were in the retail business?
Opening a boutique was always a dream of mine.  
What motivates you to work hard in this business?
It's easy to stay motivated when I'm doing something I enjoy.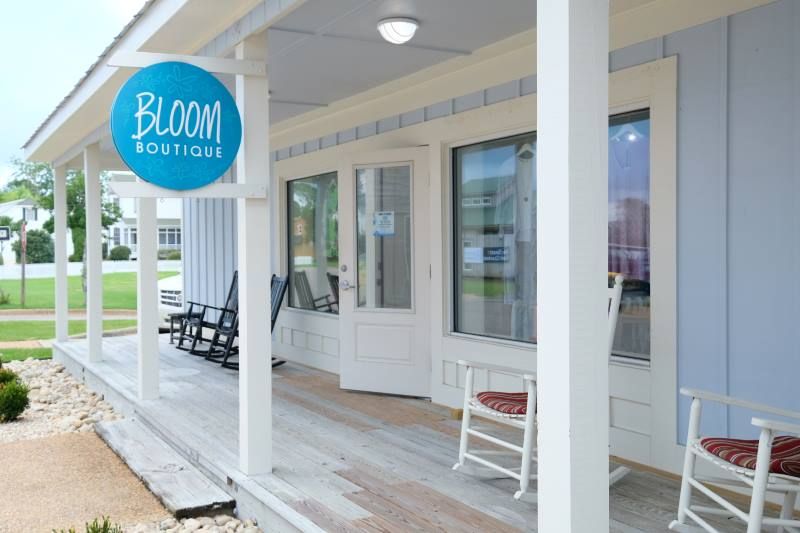 What's your favorite Outer Banks town or village?
Downtown Manteo, of course. When Bloom opened I was lucky enough to find a place to live downtown. I've gotten to know so many of my neighbors, and I love being able to take advantage of everything downtown offers like awesome restaurants and a beautiful waterfront. 
What is your favorite thing about living on the Outer Banks?
My favorite part of calling the Outer Banks home, aside from living in an ocean paradise, is the sense of community. This was especially true when I moved to Manteo. I felt immediately welcomed.
What is your favorite season on the Outer Banks?
The best season here is unquestionably fall. The water is still warm, the weather is cooler and there are fewer people here.
What is your favorite beach access?
I've been going to the beach using the Hickory Trail access in Southern Shores since I was born, so it will always hold a special place in my heart.
What do you do for fun?
I enjoy beach days, walks and watching my Hokies and Steelers.
Describe your perfect day off.
Sunny. If the sun is out on my day off, it will be a good day.
Do you see more sunrises or sunsets?
I was lucky enough to see daily sunsets while working at the Waterfront Shops in Duck.
What's one thing you wish more Outer Banks visitors knew?
I am always surprised at how many visitors don't know about Manteo. I know once they discover us, they always return on their next visit!
Where do you go on vacation?
What's a vacation?
If you had a friend visit, where would you take them for breakfast, lunch and dinner?
Breakfast at Sweet T's in Duck, lunch at Olives in Manteo and dinner at Avenue Waterfront Grill in Manteo.
For a celebratory dinner, would you rather order take-out, go out to eat or cook something at home?
I'd rather go out to dinner.
What is your favorite place to get local seafood?
Carawan Seafood in Kitty Hawk has never let us down.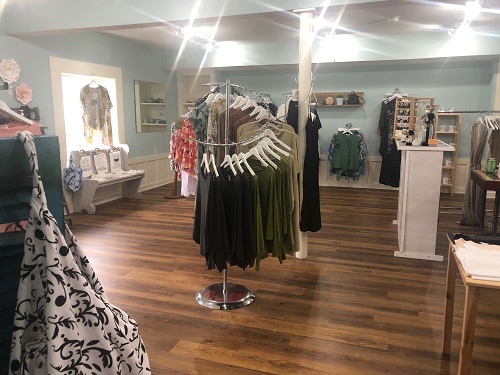 Do you like to shop?
I don't like to shop, which I think helps me provide a better experience for my customers. Shopping should be fun and stress free, especially when you're on vacation!
What is your favorite product at Bloom? 
I can't choose just one. We have a lot of variety. I like that you can find a dress for a wedding or a cute pair of leggings all at the same shop.
What is the most popular item you sell at Bloom?
My best-selling style is a Kerisma knit, commonly referred to as the bat wing sweater. It has a dolman sleeve and is very flattering on all different body types. It's so popular they now manufacture different weights and fabrics for different seasons, making it Bloom's year-round bestseller.
What's your favorite thing about your job?
The people I meet!
Do you have any side hustles?
As a small business owner and operator, I have no time for side hustles. It's only me here, all the time.
How did the pandemic affect your business?
The lack of events was probably what was hardest on my business during COVID. No place to go means no need for a new outfit!
What's the first thing you want to do when COVID is really over?
This year has been great and I'm looking forward to what the future holds.
What's one item on your bucket list?
To see the Northern Lights.
What do you see yourself doing in five years?
Working less.
Bloom Boutique is at 112 Sir Walter Raleigh Street in Manteo. Click here for more information. And for all the fun things to see and do in Manteo and around Roanoke Island, click here.