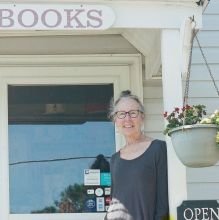 Behind every Outer Banks business is someone doing their best to make a living and still have the time to enjoy this beautiful place they call home. In this edition of Get to Know the Locals, you'll meet one of them: Gee Gee Rosell of Buxton Village Books.
Gee Gee opened Buxton Village Books in 1984. Enamored of the history of Hatteras Island, she chose a vintage building in which to open her bookstore. The 1860 building was originally Miss Victoria Oden Gray's Kitchen in Hatteras, but in the 1960s someone floated the building up to Buxton and planted it where it sits today. When Gee Gee bought it, the building had two rooms, two porches and a galley kitchen. Over the years, she added on so that now the building has eight rooms and a front porch. The charming white cottage right on N.C. 12 in the heart of Buxton is an eye-catcher. Inside, the cottage's rooms are jam full of new books of all genres, making it the perfect haven for book lovers. Buxton Village Books has become one of the Outer Banks' most beloved shops, noted for its selection of Outer Banks titles.
Gee Gee chose independent bookselling so that she would never get bored with her work.
"I wanted a career where I could do EVERYTHING. And, boy, has that been the case," she says. "I suppose there are other business models but I love this one."
She spends her time not only ordering and selling books, but also bookkeeping, advertising, building shelves and so much more.
It's the perfect career for someone who believes in books as much as she does.
"I believe in the power of the written word," she says. "I think there are worlds within the pages of books. The right book can heal wounds, enlighten confusion, entertain, distract and introduce new ideas in the way no other format can. A personal relationship develops between the book and the reader."
Q&A with Gee Gee Rosell
How long have you lived on the Outer Banks and how did you end up here?
I moved here in 1974 the day after college graduation. I had done my undergrad thesis work (WVU School of Forestry) with the National Park Service and loved spending the summer, so I came back!
What did you do before you were in this business?
Oh my gosh, whatever I could! One winter I cleaned fish. I think I got paid 50 bucks and all the beer I could drink. Back then that was a lot of money (and a lot of beer!).
What motivates you to work hard in your line of work?
I create my own reality here. If it will enhance my life or the lives of my customers, I'm all in! When you own your own business it's all in or forget it.
What's your favorite Hatteras Island village?
As our climate changes I am more and more fond of the high ridge in Buxton where my store is located!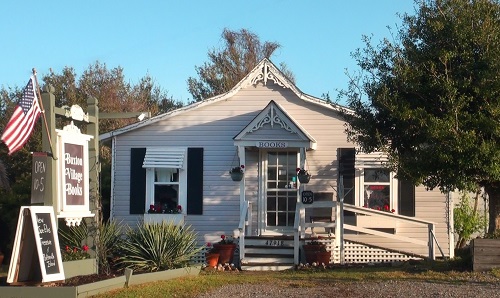 What is your favorite thing about living on Hatteras Island?
Mother Nature is still in charge here!
What is your favorite season on the Hatteras?
All of them, but these days winter is the time I most enjoy rambling around the island woods and beaches.
What do you do for fun?
Sleep.
What's your favorite beach access?
I used to love Ramp 49, one of the prettiest beaches on the planet, but it's gotten pretty busy in the summer. So I'll say in the winter it's Ramp 49, and in the summer I like the pedestrian-only area just south of the Point. It's so dynamic there in the hook.
Describe your perfect day off.
I love a rainy day off. I suffer from what I call the tyranny of good weather. It feels like a crime against nature to not be outdoors when the weather is good. So I crave a day off when it's an all-day rain. Then I can just drift from one thing to another and also spend time staring out at the rain on the creek.
Do you see more sunrises or sunsets?
Pretty much both. I wake up with the sun each day.
Where do you go on vacation?
I've had the best vacations when I ask our visitors where else they go!
For a celebratory dinner, would you rather order take-out, go out to eat or cook something at home?
Well, since I don't cook …
What is your favorite local seafood?
I can eat raw oysters morning, noon and night.
What's your favorite thing about your job?
The people. They bring the world to me.
What's the most challenging part of your job?
Buttoning up for storms and knowing it may all be gone soon.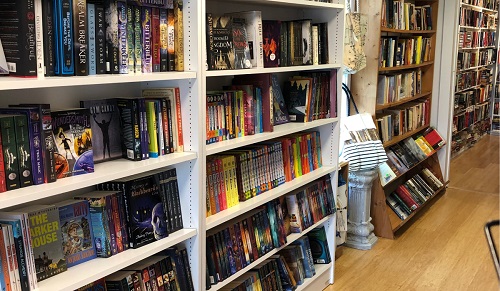 What are the bestsellers at Buxton Village Books?
Perennial favorites are always anything local. And I'd have to say nonfiction tops fiction. We have one whole wall we call "Adventure" -- that's where you'll find titles like Barbarian Days by William Finnegan about the surfing culture, Hemingway's book of short stories and recently the books on foraging and survival. We also sell lots of the new releases. It's a treat to read the new Nicholas Sparks that's set on Ocracoke while sitting on the beach! And in the summer, our Young Adult room is bustling. The kids these days are voracious readers!
What do you enjoy reading?
My personal favorites are nonfiction from the Adventure or Awareness sections. I also enjoy getting lost in a great mystery. I love Carl Safina's The View From Lazy Point. The title of Be Where Your Feet Are just pleases me so much! The new Louise Penny is brilliant. I wish I had time to re-read some books, but there's always another new one waiting.
How did the pandemic affect your business?
Same as anybody else. The unpredictability was unnerving and exhausting.
What do you foresee for Buxton Village Books in the future?
My plan is to just keep unlocking the door every morning and unpacking cartons of book deliveries. There are so many new books published every day I can't imagine not being part of that eco-system.
Do you have any side hustles?
Which side? I eat, sleep and breathe bookstore business.
What's one item on your bucket list?
I want to walk the Lake District in England. But I can't figure out how to do that since the best time to go there is summer.