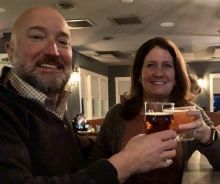 Behind every Outer Banks business are people doing their best to make a living while still finding time to enjoy this beautiful place they call home. In this edition of Get to Know the Locals, you'll meet two of them: Jennifer and John Minnich of The Village Table & Tavern in Duck.
Jennifer and John opened The Village Table & Tavern in Duck in 2018. Former partners in TRiO Restaurant & Market in Kitty Hawk, they had never seriously considered the idea of opening a place in Duck until a friend told them he was looking for a restaurant to occupy the second floor of his new building for his longtime watersports business, Nor'Banks Sailing & Watersports. The location very close to their home was perfect, and they jumped at the chance for the new venture in Duck. Six months later the restaurant was open.  
"Then we were shut down for hurricanes that fall and the next," Jennifer says. "Then COVID hit. We feel very fortunate to have made it through all of those challenges."
The Minniches envisioned The Village Table & Tavern as a place where locals and visitors would gather to enjoy the complete experience of good food, good drink and good company, and in that they have succeeded. Located right on the Currituck Sound north of Duck village, it's a busy place where guests gather indoors in a beautiful yet relaxed setting and outdoors for yard games, drinks and music. "We know our customers have lots of dining options, and we are always thinking about the details that can make our place memorable," John says.
One thing The Village Table is known for is consistently well-prepared, quality food and drinks.
"Our menu reflects the idea that casual food doesn't have to be boring, inspired food doesn't have to be stuffy and quality dishes can be served for a reasonable price," Jennifer says. "We take the same approach with drinks serving simple yet interesting cocktails and offering unique yet approachable wines and beers."
One of the Minniches' top priorities is treating their staff well.
"It's important to us to provide a positive, professional work environment for our staff," Jennifer says. "They are our most important asset, and we believe that our ability to provide an outstanding experience for our guests starts with providing an enjoyable workplace for our staff. We do our best to treat them like family."
Read on to learn more about this enterprising couple and their much-loved Duck restaurant.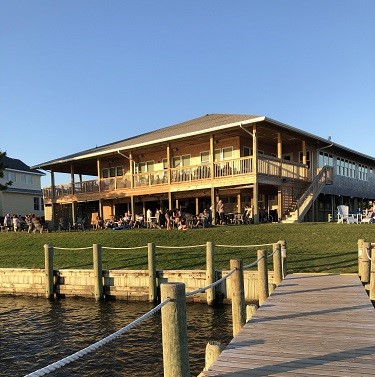 Q&A with Jennifer and John Minnich
How long have you lived on the Outer Banks and how did you end up here?
John's family has been vacationing here since the mid-1970s. His parents bought the land we live on in 1978, and it's always been his dream to live here. When he and his partners sold their company, we immediately made plans to move here, and we've been on the Outer Banks for almost 14 years.
What did you do before you were in this business?
John has an engineering degree and had a 20-year career in consulting. Jennifer worked in events, marketing and PR and then as a lawyer. She was a stay-at-home mom while our kids were young.
What motivates you to work hard in your line of work?
We love dining out and really appreciate great food and service. We want to deliver that for our guests so are always working to improve their experience at The Village. We also remember vacationing here and how special that time was to us. When we weren't here, we were always thinking about the next trip. The fact that every night we can make that experience a little more special for others is highly motiving.
What's your favorite Outer Banks town or village?
Duck! There's a lot of energy in the town during the summer season, and in the off-season it has a real sense of community. We love our hometown.
What is your favorite thing about living on the Outer Banks?
Jennifer: The natural surroundings and ever-present opportunity to experience a bit of wonder. Whether watching osprey diving for fish, spying a prime piece of sea glass, paddling through canals or witnessing a spectacular sunset, we get to experience beauty every day. John: I love the independent spirit of the people. Unless you are retired, it can be hard to make a go of it here, and the people that do, do it because they really love this place.
What is your favorite season on the Outer Banks?
Fall. When the pace slows and the weather cools down we really can enjoy all the Outer Banks has to offer.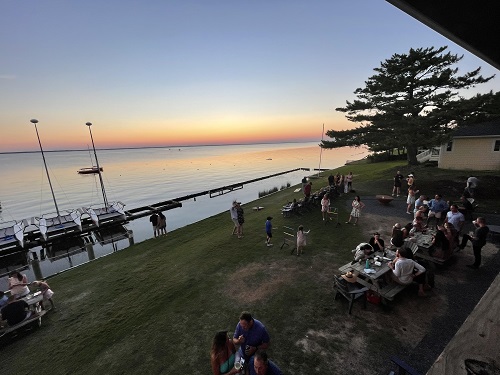 What do you do for fun?
Jennifer: Spend as long as time will allow walking the beach. John: Enjoy a quiet, homemade meal.
What's your favorite beach access?
The one at the end of our road. We're not far from the Duck pier. Because there are no houses for a good stretch there, it's never crowded.
Describe your perfect day off.
A slow morning enjoying coffee and the view followed by some outdoor fun and then a relaxing night of grilling and watching the sunset.
Do you see more sunrises or sunsets?
Definitely sunsets. We're not what you would call morning people.
What's one thing you wish more Outer Banks visitors knew?
That there is so much more to the Outer Banks than just summery beach days and stunning sunsets. We have fascinating local history, woods and wetlands to explore and a great dining scene all year round.
Where do you go on vacation?
Anyplace that's not too crowded where we can find good food, beautiful scenery and outdoor activities. Ocracoke and Blowing Rock are repeat favorites, but we are also always looking to experience new places. Our kids have visited more cheesemakers and breweries than most people do in a lifetime.
For a celebratory dinner, would you rather order take-out, go out to eat or cook something at home?
Go out to eat.
What is your favorite local seafood?
Jennifer: Local oysters – as long as someone else is doing the shucking! John: Smoked bluefish dip. Ask for it at the Flying Melon in Ocracoke – fantastic.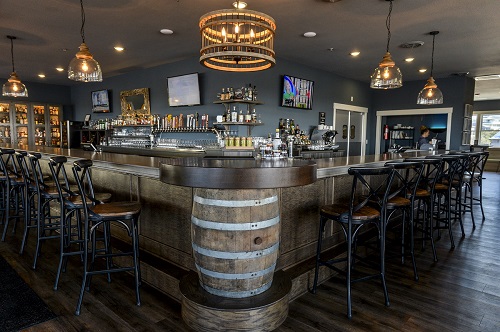 What's your favorite thing to eat and drink at Village Table?
Jennifer: Steak frites with a glass of Cotes du Rhone. John: The pork shank (soon to be a staple) followed by a wee nip of whisky.
What's your favorite part of your job?
There is nothing better than seeing families and friends making memories together. In the summer there are all kinds of people out back playing yard games, listening to music and enjoying the sunset. These are memories they'll treasure, and knowing that we get to play a part in making that special is what motivates us to deliver the best experience every day.
What's the most challenging part of your job?
Since the pandemic it would have to be meeting customer demand with limited staff and access to products. We have seen the number of people visiting Duck grow significantly, not only in the summer but the spring and fall, too. In contrast, the workforce and our ability to get the supplies we need have decreased. We're trying to serve more people with fewer resources, and it is definitely challenging.
How did the pandemic affect your business?
Greatly. The closing of the bridge and limited capacities for dining was a nightmare. Also having a smaller staff, particularly in the kitchen, has made it necessary to dial back the pace. This year we've been closed two days a week even during the summer because we just can't staff a full week without overworking our team. We strive to treat our team like we would want to be treated. We had to decide how many days a week could we be open and still provide a great experience day after day.
Do you have any side hustles?
Not unless you count raising our two kids.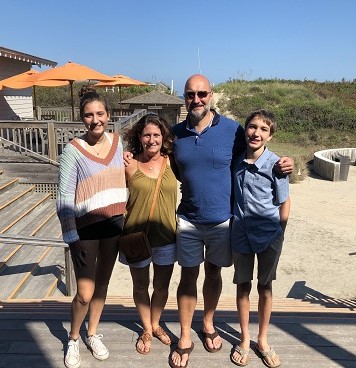 Do you have any pet projects or is there a local nonprofit that you're passionate about?
We are committed to supporting our military and their families. In the past we've donated to the All Secure Foundation, which is a national organization that supports veterans struggling with post-traumatic stress and their families. This year, we're collecting toys for Operation Toy Soldier, which provides gifts to the children of our local military families. We are also very involved in the Duck Church. The church is active in and supports a lot of mission work – locally, regionally and globally – that you don't hear much about but makes a big difference in the lives of many people from Eastern North Carolina to Rwanda.
What's one item on your bucket list?
Live somewhere else for a whole season. We get so much of our inspiration by traveling and seeing what people in other parts of the country and world are doing. It would be great to be able to immerse ourselves in that for longer than a week.