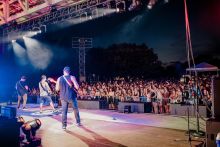 "Music is back!" proclaims Rebecca Meyers, who founded the Outer Banks live music sensation that is Vusic OBX with her husband, Brad Meyers. For the third season of their Roanoke Island summer concert series, VusicOBX has 10 big-name shows at Roanoke Island Festival Park. Plus, she says there are a few other yet-to-be-announced small surprises in store for Vusic and at smaller venues.
When Rebecca says music is back it's partially in reference to the huge hiccups that the pandemic brought to live music a few years ago. And that's how this whole Vusic thing got started.
The Meyers family members are huge live music lovers. Brad and Rebecca see as much live music as they can. Their son, Jackson, is a drummer and participated in the Mustang Outreach Program for many years. Their daughters, Ellie and Veda, also love music. "Music is part of our DNA and plays throughout our house during all waking hours," Rebecca says.
During the summer of 2020, the Meyers family and many others on the Outer Banks were feeling down about the halt of live music and the tragic loss of two music-loving locals, Ravann Horton and her son, Sebi Lopez. "As we were experiencing the stay-home, social-distancing, quarantine life during the summer of 2020, we saw a video online of a socially distanced concert in Europe that had people on hotel balconies watching a concert down below. We felt a big need for an uplifting, healing music event and decided to replicate it."
With that, Brad and Rebecca created the beginnings of Vusic on the Banks, a two-day hotel festival filled with many of their favorite bands. The festival was held with an ocean backdrop at the Hilton Garden Inn and was just what people needed during such a strange time. 
"We really initially threw it for our own benefit to have a live concert to go to," Rebecca says. "It grew quickly into a sort of Vusic family of raving fans and bands asking to come here to play."
With that history in mind, I chatted with Rebecca Meyers and asked her a few questions about the past, present and future of Vusic OBX.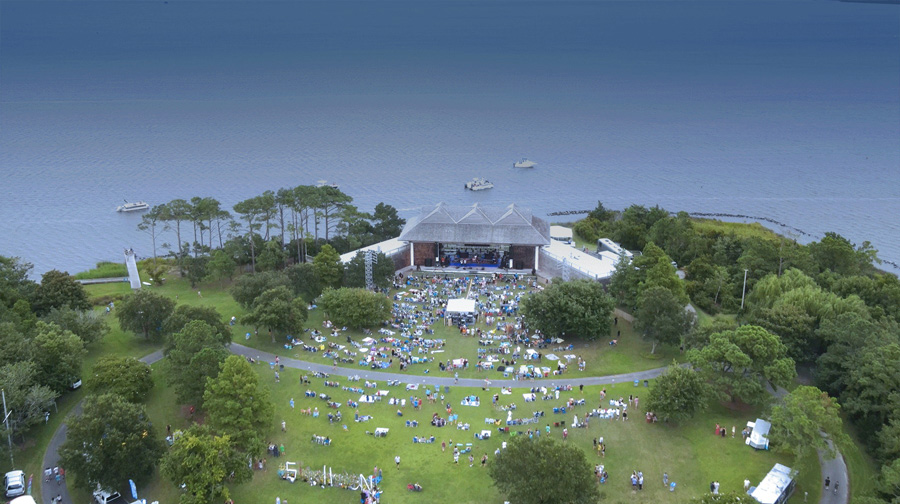 Photo: With water views and a huge grassy lawn, Roanoke Island Festival Park in Manteo is an amazing place to see a live show.
When you were starting that hotel music festival three years ago, did you ever envision Vusic OBX becoming as big as it has?
Definitely not. The show at the Hilton was just intended to be something positive for us and the community, just a one-time thing. People kept saying, "You gotta do more!" and we were like, "Uh, no." We are good party throwers, and we know what a good show is like, but we were not ready. But then it grew organically. We did two shows that summer of 2021 and then in 2022 we put on 12 shows. This year we have 10 shows plus some other things coming.
What have you learned in the last three years of putting on Vusic OBX?
It takes a lot of people and a lot of moving parts to make it happen, from artists to design the merch to booking to sound to building fences for security. At every show we have about 30 people working, at least 20 of them volunteers.
Right now there are three of us working on this daily: me, Brad and our only full-time employee, Aaron Flahardy. He's been in the industry for 20 years and he's advising us a lot and helping us figure out how to keep doing this. It's extremely expensive. We are trying to learn how to make it profitable enough to keep doing it.
What do you want people to know about attending Vusic OBX?
For your own best experience, get into town early to avoid the bottlenecks of traffic right before show time. Manteo is becoming a really cool little town. You can look around, eat, get a drink and walk around with it in the new social district. You can also take the shuttles to avoid parking issues.
It's really nice when people stick around after the show and help clean up a little bit. Imagine a party that you have to clean up after; it's a great effort. Every little bit counts. Just as you're leaving, look around, maybe pick up your trash, be kind to the earth.
And just a reminder that we cannot control Mother Nature. We have not had to cancel a show yet, but we've had two rain delays. We're just people trying to throw a good party for people and trying to make the best decisions we can for everyone's fun and safety, and we do have certain thunderstorm policies that we're required to follow.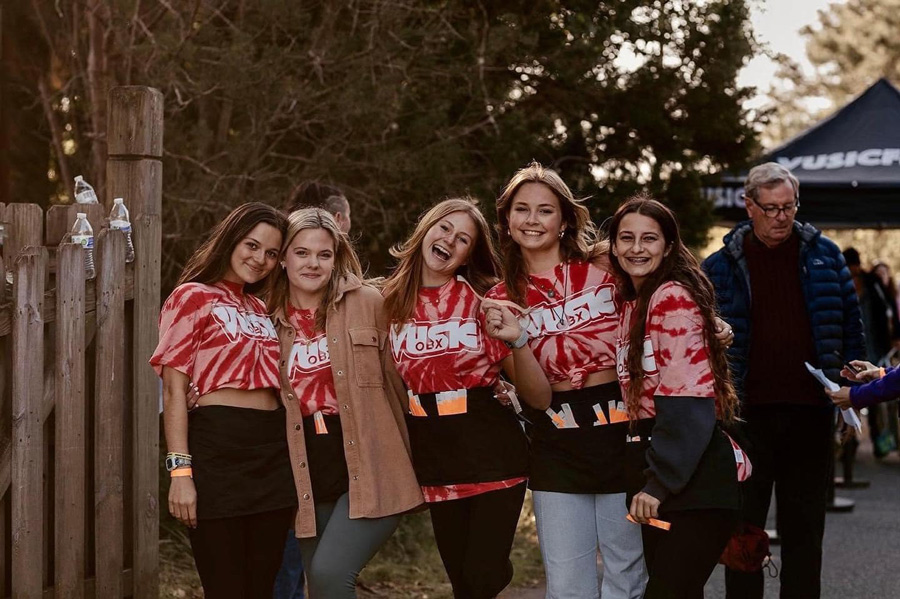 Photo: Vusic OBX volunteers get free show tickets and many other perks. Day before, day of and day after opportunities are available.
Are you doing anything new at the shows this year?
This year we were able to sell season passes for people who want to attend the entire season. That's been exciting. We've added more band activations (events outside of the main concert) to add to the experience for fans, bands and especially those traveling from far away to attend. When we can, we're trying to extend the experience. We've also added an Accommodations button on some of our shows. We partnered up with CrewFare, which has locked in some discounted rates for concertgoers.It's a work in progress of creating that easy button for folks to get here, attend and have somewhere to sleep. We're upping our VusicVillage area to include an acoustic lounge with regional music playing when gates open. Encouraging people again, to arrive early and spread the love.  We've also added VusicOBXcel backstage music lessons to every show. Kids and adults can sign up to get a lesson from a band member before the main show. It's an awesome concept that always has people leaving with a wonderful experience. We're also being more environmentally conscious and selling canned water instead of plastic bottles.
You offer a wide range of musical styles in your series, from country to jam to reggae and emo. How do you make your band selections?
Definitely feedback. We read all the comments. Between the three of us we see all the emails and social media messages and comments. People want to hear the music they like. We'd love to get all requested bands here and make every single person happy. But we have to base our decisions on the history of what sells, a 3,500 capacity venue and not having to charge an arm and a leg to pay for the talent. A lot of thought and love goes into molding the lineups and trying to make them successful. Sometimes, it just comes down to numbers and availability. All of the bands are so amazing, and when you meet them it's even better. We're so excited about all of our shows.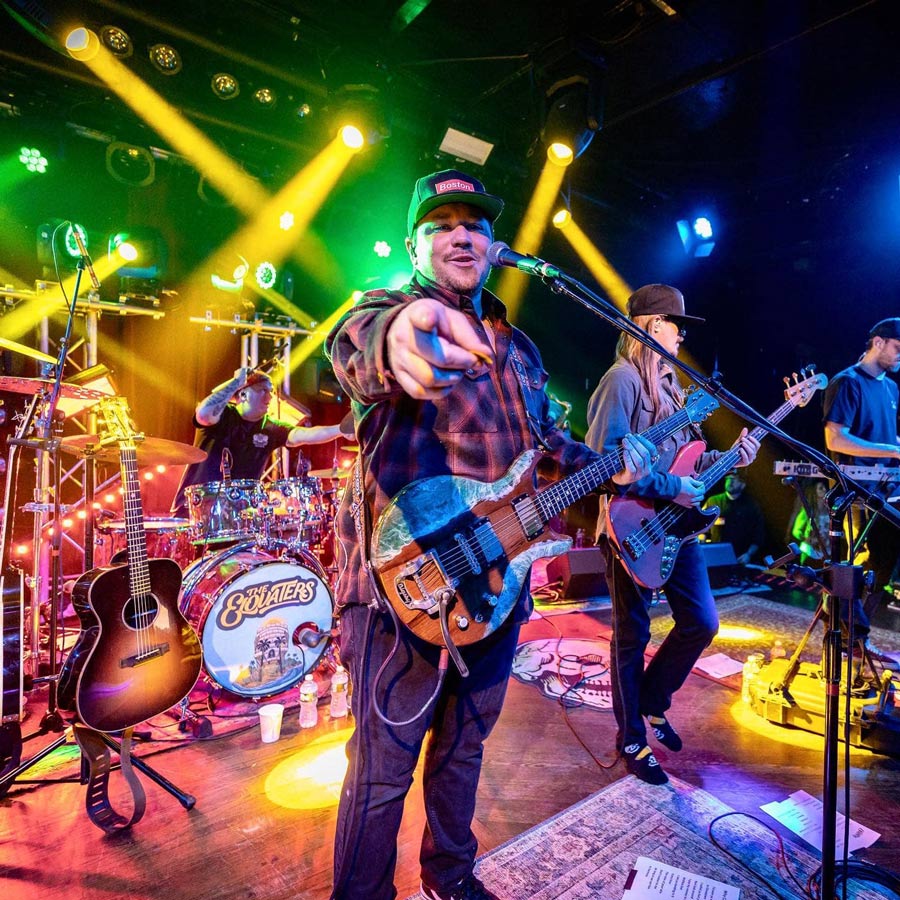 Photo: The Elovators perform at a Vusic OBX show in August 2022.
What shows sell the most tickets on the Outer Banks?
Country and reggae.
What are the biggest challenges with hosting Vusic OBX?
Things we can't control. Weather. Ticket sales. We are getting better at picking what sells.
It's also challenging that this is grassroots so we have to build or rent everything ourselves and it all has to be cleaned out after a show. In a perfect world, we'd have our own facility.
Also: exhaustion.
What are the biggest rewards?
The core of why we did it: the music. Seeing people happy. Giving back to the community. I cry at almost every show, a joyful cry. The payback is seeing how many people are moved by the music and needed it. We get very little negative feedback. It's good for the soul.
Do the musicians you bring to town have any downtime while they're here? How do you entertain them?
They usually come in early on the morning of the show. We have learned that they come in on the bus tired. But then they see the water when get off the bus. They have a hot breakfast. They breathe and sit on the grass. We set up boat rides, fishing, kayaking, massages. We try to make it different than where they go and just hit the concrete. The ladies with OBX Renew IV will come with B12 and hydration. Outer Banks Adventures brings an airboat and they love that. This year our main sponsor, Skydive OBX, is going to offer skydiving trips. We just want them to feel relaxed and not pressured, enjoy the outdoors and nature.
What are your goals for Vusic?
As long as people continue to come and it's enjoyable, we will strive to keep bringing the music to the Outer Banks. The venue is absolutely like nowhere on earth. It's the most relaxing place to kick back and listen while staring at the night sky. One day, we'd dream to have our own venue with some infrastructure and continue to hire talented local people. Our Vusic family is like no other. We support and love each other, we're all local and, best of all, we all love giving an ultimate live music experience to others. It fills us up. Brad and I couldn't do this without our crew. They are truly special, and we hope to grow so that we can support them and bring on others in the future. Doing what we love. Who could want more?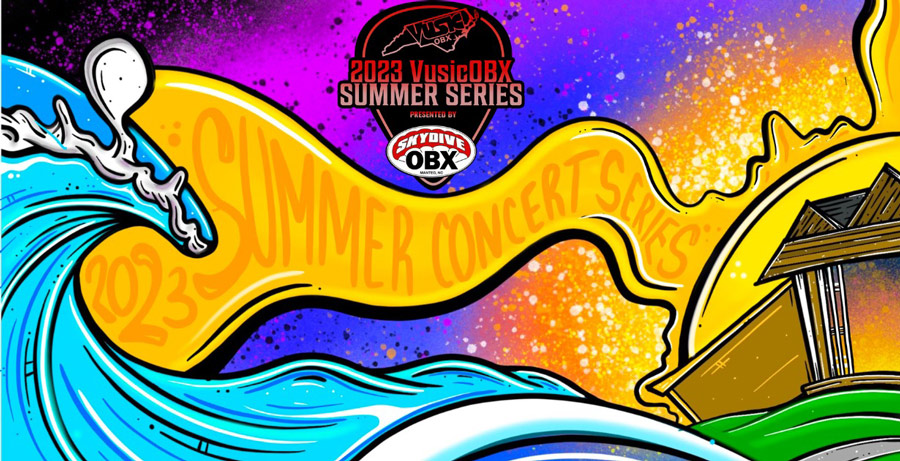 2023 VUSIC OBX LINEUP
June 20: Lettuce & Steel Pulse with Makua Rothman
June 22: Rebelution: Good Vibes Summer Tour – Iration, The Expendables, Passafire, DJ Mackle
July 22: Jake Owen with Niko Moon and Cooper Greer
July 27: Travis Tritt with Chase Matthew
July 29: OBX is For Lovers Festival – Thrice, Bayside, Hawthorne Heights, 2OH!3, Four Year Strong, Red Jumpsuit Apparatus, Emery and Frontside
August 2: Sublime with Rome, Big Something and Joe Samba
August 6: Dirty Heads – Island Glow
August 10: Joe Russo's Almost Dead
August 15: Kidz Bop
August 18: Matisyahu and G. Love & Special Sauce with Special Guest Cydeways
Go to vusicobx.com for all the details on each show and to buy tickets. Some shows do sell out, so don't delay on getting your tickets! To avoid scams, buy tickets directly from their website/etix site.