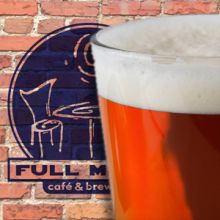 Beer. Science. Beer. History. Beer. Trivia. Beer. It's Beer University: Or, How Beer Saved the World at the Full Moon Brewery in Manteo! Paul Charron, an award-winning brewer and co-owner with his wife, Sharon, of the Full Moon Café and Brewery, hosts this instructional and amusing tour of North Carolina's smallest brew pub on Thursdays at 4 p.m. The next tours are scheduled for May 1 and 6. During the 1.5-hour tour Paul walks you through the brewing process, gives an annotated and highly idiosyncratic version of the history of beer and peppers the class with anecdotes and minutiae to further stock the already trivia-laden brain of the true beer geek. Best of all, the tour ends with a sampling of the ales brewed on premise! Reservations are required and space is limited (it is, after all, a wee small pub!), so call (252) 473-6666 to reserve your spot! The tour is $10/person and participants must be 21 or older.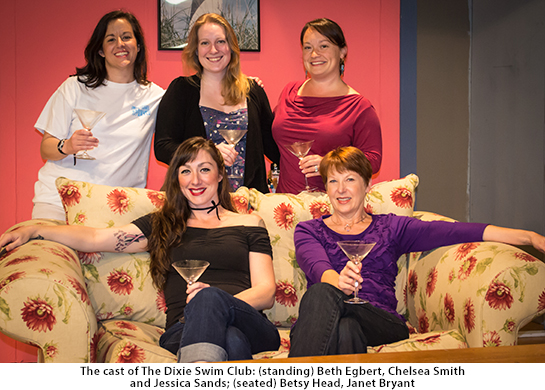 The Theatre of Dare's latest production, The Dixie Swim Club, opens Thursday, May 1 for a four-day run ending Sunday, May 4. The Thursday, Friday and Saturday night shows begin at 7:30 p.m. and the curtain opens for the Sunday matinee at 2 p.m. Directed by Stephanie Sexton, The Dixie Swim Club tells the story of five Southern women, once members of their college swim team, who meet for a long weekend every August in the same Outer Banks beach cottage to renew bonds and meddle in each other's lives. Tickets are $11/adults and $6/students.
First Friday / 17th Annual Mollie Fearing Memorial Art Show
May 2 sees the arrival of First Friday, with all its music, historical interpreters, family-friendly activities and open-late restaurants and boutiques, plus the opening of the 17th Annual Mollie Fearing Memorial Art Show exhibited in the Dare County Arts Council's newly renovated upstairs space. The show will run from May 2 through May 31 with an opening reception at DCAC's downtown Manteo gallery Sunday, May 4 from 2 to 4 p.m. Mollie Fearing, whose contributions to the community included serving as mayor, was one of the founders of the organization that ultimately became the Dare County Arts Council, and her legacy of dedication to the arts community remains a driving force today. Call (252) 473-5558 or visit the Arts Council website for more information or to request a prospectus.
Stories and Waves
From Friday, May 2 through Sunday, May 4 the 2nd Annual Hatteras Storytelling Festival brings some of the best storytellers you'll ever hear to the Hatteras Civic Center in Hatteras Village. See the event website for more information and details on ticket availability and pricing. After that all you have to do is show up and listen to the yarns unwind!
Kiteboarders and fans of the sport will not want to miss the Ocean Rodeo Crew Event at the Waves Village Kiteboarding Resort in Rodanthe, Friday, May 2 and Saturday, May 3 from 9 a.m. to 5 p.m. each day. Try the new 2014 Ocean Rodeo kiteboarding kites and boards, including the new and instantly successful Prodigy kite and the new Flite kite, specifically engineered for light wind. Demonstrations will be held both days from 9 a.m. to 6 p.m. As an additional benefit, attendees will receive 20% off Ocean Rodeo demonstration gear during and immediately following the event. Watch, learn, then buy top-quality discounted demo gear. There are worse ways to spend a weekend.
Flying Pirates
The forecast predicts good weather for the runners participating in this weekend's fifth running of the Flying Pirate Half Marathon and First Flight 5K. The First Flight 5K will be run on Saturday, May 3 with a start time of 8 a.m. On Sunday at 8 a.m. the Flying Pirate Half Marathon winds its way for 13.1 miles through the natural beauty that is North Carolina's Outer Banks, beginning in Kitty Hawk, continuing along the Albemarle Sound, then around the Wright Brothers National Memorial and through the Nags Head Woods Maritime Forest before finishing with a Pirate Jamboree in Nags Head featuring beer, food and live music! Pre-registration is required. The entry fee varies depending on degree of participation. Free parking and free shuttle service are provided.
In The Gardens
The long-awaited arrival of spring means it's finally high season for The Elizabethan Gardens. One of the areas in which they really shine is sharing with the public their extensive expertise with growing things. First in the coming week is the workshop Twenty Great Shade Perennials for the South, set for Saturday, May 3 from 10 a.m. to 12 p.m., during which head gardener Jeff Lewis will give a primer on shade-loving plants and how to help them flourish in your own garden. Following the class section of the workshop, a walk through The Gardens will identify examples of shade plants integrated into a garden design. The workshop fee is $10/members, $15/non-Members.
A couple of days later on Monday, May 5 The Gardens celebrates National Herb Week. Throughout the world herbs are used for culinary, medicinal and even spiritual practices. This year The Gardens recognizes the genus Artemisia as Herb of the Year. With paid admission to The Gardens during National Herb Week you can enjoy savings on all herb sales in The Gardens plant shop. Don't forget to visit The Gardens' own herb garden.
For those whose passion is to recreate with paint the beauty found in nature, The Gardens is offering Botanical Watercolor: Spring Studio Workshop, a three-day watercolor workshop open to artists (age 16 or older) of all experience and skill levels. Led by resident botanical artist Linda Miller, the workshop runs Tuesday, May 6 through Thursday, May 8 beginning at 9:30 a.m. each day. Pre-registration is required. The workshop price includes admission to The Gardens. Prices for a two-day session are $100/Members & Friends and $120/non-Members; the three-day session is $150/Members & Friends and $180/non-Members. For a materials list contact Linda Miller at botanicalarttoday@yahoo.com
For more information on these events call (252) 473-3234 or visit The Gardens' website.
Looking Ahead
Wine, Dine and Learn About Blue Crabs on Thursday, May 8 from 6:30 to 8:30 p.m. at Basnight's Lone Cedar Café in Nags Head. Do I really need to say any more? Okay, how about this? Chef Vicki Basnight is creating a unique menu for the evening featuring blue crabs prepared in a variety of dishes, each with an appropriate wine pairing. Yeah? I thought so. While you sip wine and dine on delicious crab dishes, the North Carolina Coastal Federation will present updates about shoreline restoration efforts, share first-hand stories of harvesting our local shellfish, explain the importance of blue crabs in our North Carolina waterways and how you can help protect this essential estuarine habitat. Pre-registration is required, and the cost for the multi-course menu is $45/Federation members and $55/non-members.
Think you know all there is to know about the Cape Hatteras Lighthouse? Odds are, you don't. Find out what you don't know at the Hatteras Island Ocean Center presentation of The Cape Hatteras Lighthouse: Illuminating the Past and rule the next trivia debate regarding the lighthouse. The presentation, scheduled for Thursday, May 8 at 7 p.m. will use an extensive collection of historical photographs to reveal long forgotten and little known facts regarding the lighthouse's design and structure.

This week you have a chance to win a two-night stay to the Outer Banks Inn & a $35 gift certificate to Kinnakeet Clay!
For more information about Outer Banks Inn, check out their website.
For more information about Kinnakeet Clay Works check out their website.
Last Week's Winner
Congratulations to Elizabeth Brooks!!!
You won a $50 gift certificate to Kitty Hawk Surf Co. & a $35 gift certificate to Tortuga's Lie!
For more information about Kitty Hawk Surf Co., check out their website.
For more information about Tortugas' Lie check out their website.