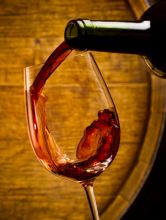 How many times have you gone out to dinner at an upscale restaurant, been seated at a great table and then, horror of horrors, been charged with the responsibility of choosing a wine for the table? Putting on your best poker face, you scan the wine list, brow furrowed thoughtfully, your eyes glazing over as the panic begins to set in. This wine list is as incomprehensible as an IRS form! The terror mounts. You are about to be exposed. You have...no...idea...what...you're doing. Finally, you make your choice, jabbing your finger at the list and blurting out, "We'll have the Grinning Cow Chardonnay!" Really?!
If choosing the wine with the most ridiculous name aptly sums up your wine selection strategy, Trio in Kill Devil Hills is here to help. Sign up for Trio's Wine Camp scheduled for Friday, April 12 and Saturday, April 13 and learn all about French regional wines from wine experts Craig Baker of Robert Kacher Selection and Rolland Herrmann from Maisons Marques and Domaines. The camp includes five sessions, of approximately two hours each, covering the six main wine regions of France. The first session, focusing on the Rhone region, will be held Friday at 6:30 p.m. The four remaining sessions will be held Saturday beginning at 9 a.m. Baker and Herrmann have both traveled extensively throughout France and offer invaluable insight into the history, culture, grapes, terroir, winemakers and processes that contribute to the unique wine styles of each region. The fee for the entire camp is $125; individual classes are $35 each. Space is limited so don't delay. Call (252) 261-0277 to make your reservations.
Other Happenings...
Director/producer Jonathon Goodman Levitt's Follow the Leader, the last film in the 2012-2013 Southern Circuit Film Tour series, will be shown Wednesday, April 10 at 7 p.m. at Outer Banks Brewing Station in Kill Devil Hills. Levitt's film traces the experiences of three conservative 16 year olds - Ben, DJ, and Nick - who each dream of being President. Over three life-changing years, the three split into Republican, Democratic and Independent camps as each is forced to reconsider his political beliefs and career ambitions, and each set off on different paths. Tickets, which can be purchased at the Dare County Arts Council Gallery in Manteo or at the door at the Brewing Station prior to the screening, are $10/adults, $8/students and $5 for children 12 and younger. There will be an opportunity to meet the director after the screening. Call (252) 473-5558 for more information.
If the magic of words is your thing, make your way to Glenn Eure's Ghost Fleet Gallery in Nags Head for Literary Open Mic Night on Thursday, April 11 from 6:30 p.m. to 8:30 p.m. Take the stage to read or perform your works or just sit back and listen while enjoying light refreshments.
The Island Farm on Roanoke Island has started off Spring with a bang! Their full calendar of events and activities includes Homeschool History Day on Friday, April 12 from 10 a.m. to 2 p.m. The event is a day of hands-on history fun for homeschool families. Farm activities and demonstrations may include blacksmithing, hearth cooking, garden and field work, and children's toys and games. Admission is $4 for students, $5 for adults, and free for children 5 and younger.
Blacksmithing and Children's 19th-Century Toys and Games are among the other activities currently on the Island Farm calendar. According to the 1860 census, Roanoke Island only had one blacksmith. Stop by and help Island Farm's blacksmith swing his hammer and get a taste of what a blacksmith's workday was like at the time of the Civil War. If play is more to your liking, check out the Children's 19th-Century Toys and Games activity and participant in popular games from the period that took advantage of the fresh air and wide open spaces found on a farm. Dates and times for all events can be found on this site on the Island Farm website.
The Outer Banks History Center invites the public to attend their annual meeting Friday, April 12 at 4 p.m. where the exhibit, Dare County in the 1930s: Decade of Determination will be examined in a panel discussion. The 1930s were a pivotal time for Dare County as new roads and bridges opened the region to tourism and Paul Green's The Lost Colony debuted at Waterside Theater (topped off by a visit from President Roosevelt). Program panelists include Sarah Downing, Outer Banks History Center assistant curator and author of three local history books; Brian Edwards, professor of history at College of the Albemarle, Elizabeth City; Jim Senter, independent researcher and Civilian Conservation Corps expert from Durham; and John Havel, Cape Hatteras Lighthouse specialist from Raleigh. OBHC curator and site manager, KaeLi Schurr, will moderate the exchange. The panel discussion will be followed by a brief business meeting and presentation of this year's Louis W. Bradshaw Volunteer of the Year Award. Afterward, enjoy light refreshments and tour the exhibit from 5:30 to 6:30 p.m.
Want to elevate the level of your photography? Award-winning photographer Shirley Whitenack's photography class, held Saturday, April 13 from 10 a.m. to 3 p.m. at the Dare County Arts Council Studios in downtown Manteo, will empower you to take control of your camera and become more creative. The class includes an introduction to basic camera functions and features and moves on to cover camera mechanics, metering and exposure, composition, point of focus, seeing light, depth of field and basics of flash. An outdoor photography session in downtown Manteo will enhance the classroom instruction. Both film and digital photographers are welcome. Participants should bring a camera, instruction manual, film/digital media and questions. Everyone will receive a binder of photography handouts to keep for future reference. Class fee is $65 for DCAC members; $95 for non-members. Maximum class size is 10, and pre-registration is required. Call (252) 473-5558 to secure a spot.
On Thursday, April 18 take a break from your mid-week routine for the last installment of Outer Banks Sounds at Kelly's Restaurant and Tavern from 7 p.m. to 10 p.m. Outer Banks Sounds is a collaboration between the Dare County Arts Council and WVOD 99.1-The Sound to promote a live performance and CD compilation series featuring some of the Outer Banks' best musical talent. All proceeds from CD sales benefit the Community Music School, a DCAC initiative to bring quality, affordable music instruction to financially disadvantaged children in Dare County.

This week you have a chance to win a couples bike package from Ocean Atlantic Rentals and a $35 gift certificate to OBX TRIO!
For more information about Ocean Atlantic Rentals, check out their website.
For more information about OBX TRIO, check out their website.
Last Week's Winner
Congratulations to Susan Jenkins!!!

You won a $35 gift certificate to Kinnakeet Clay and a $35 gift certificate to Atlantic Coast Cafe!
For more information about Kinnakeet Clay, check out their website.
For more information about Atlantic Coast Cafe, check out their website.