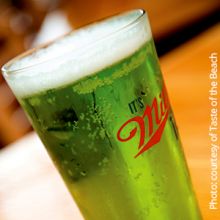 It's time for the wearin' o' the green and channeling your inner Irish this weekend! First, on Saturday is the 7th annual running of Kelly's Leprechauns 10K, an FS Series timed event. Onsite registration will be conducted at Kelly's Outer Banks Restaurant & Tavern in Nags Head on Friday evening and Saturday morning prior to the start of the race. The run/walk starts at 8 a.m. at Kelly's. Awards will be given to the top female, male and youth division finishers. After the race hang around for the Rockin' Leprechaun after-party in Kelly's Tavern complete with Irish food and beverages. For more information, please contact (252) 441-4116 or kellysobx@gmail.com.
The Kelly's 26th Annual St. Patrick's Parade and Celebration kicks off on Sunday, March 15th at 1 p.m. following a parade route from Bladen Street north to Driftwood Street on Virginia Dare Trail (the Beach Road). During the quarter-century since its beginning, the parade has grown to include more than 100 entrants with more than 8,000 attendees watching along the parade, making this parade the largest St. Patrick's Parade in North Carolina! This year's theme is "An Irish Celebration" in memory of former Nags Head Commissioner and Dare County Fire Marshal Doug Remaley who served on the inaugural parade organizing committee in 1989 and continued to support the event for 25 years. Remaley will be posthumously honored as the parade's Grand Marshal and will be represented by his grandsons and the Nags Head Fire Department. Following the parade wander on over to Kelly's Restaurant for an after-parade celebration complete with awards, free hot dogs and music by The Crowd! Want to join the parade? Applications can be downloaded from the Kelly's website or picked up at the restaurant.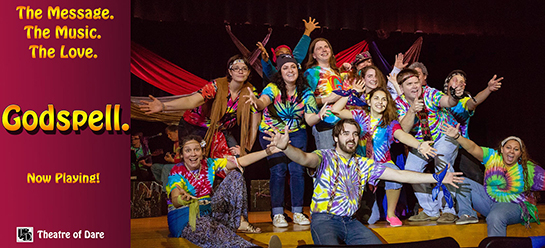 Theatre of Dare's energetic production of the immensely successful rock opera Godspell, directed locally by Don Bridge and Jimmy Lee Brooks III, returns this weekend for the second part of its two-weekend run. First produced in 1971, the innovative play, based on the Gospel of St. Matthew, depicts the last days of Jesus's life and incorporates dramatized versions of several parables to celebrate the religious experience, the power of joy and the oneness of humankind. Tickets are $15/adults and $10/students and can be purchased online via the Theatre of Dare website or at the door. Friday and Saturday shows begin at 7:30 p.m., and the curtain goes up on the Sunday matinee at 2 p.m. All performances are held in the auditorium of the College of the Albemarle's Roanoke Island Campus in Manteo.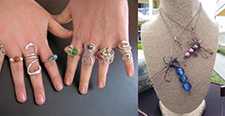 There are few things to compare with the satisfaction that comes with creating something with your own hands. Even better? Creating something beautiful to wear on those creative hands! Learn how at the Dare County Arts Council's Jewelry Making Workshop taught by Washington, NC-based artist Valda Belyeu on Saturday, March 14, 2015. You'll learn how to make different styles of rings and pendants using beads, semi-precious stones and wire coupled with techniques that can be carried over into a variety of future beading and metalsmithing projects. The workshop is offered in two sessions, and you are welcome to attend one or both. The morning session will focus on ring making and run from 9:30 a.m. to 12:30 p.m., and the afternoon session will explore wire-wrapped pendants and run from 1:30 to 4:30 p.m. Pre-registration is required. The cost is $65 for one session and $110 to attend both. All the wire, beads and tools needed are included in workshop price. For more information or to register call (252) 473-5558.
While you're at the Arts Council for the jewelry workshop, or if you just happen to find yourself in downtown Manteo, make sure to take in Chrissy Teachout's kaleidoscopic photography exhibit, on display through March 31. Teachout's exhibit, The heART of One Woman, showcases an innovative method of photographic image-making to creative imaginative dreamscapes ever so delicately tethered to commonly accepted reality. The Arts Council gallery is open 10 a.m.-5 p.m., Tuesday through Friday and noon-4 p.m. on Saturday.
The free First Flight Cruisers Shamrock Car Show cruises into First Flight High School in Kill Devil Hills this Saturday at 10 a.m. Boasting more than 200 vehicles, the show is a favorite for local and out-of-town car enthusiasts.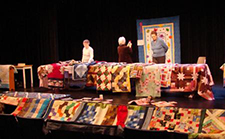 If you missed the opening of the Outer Banks Community Quilt Show, you can still view the exhibit and attend Vendor Day this Saturday, March 14 from 10 a.m. to 4 p.m. in the Event Room at Roanoke Island Festival Park in Manteo. Quilting and sewing-related items will be offered for sale as well as finished items such as handbags and totes. On Monday, March 16 from 1 to 3 p.m. the quilt show organizers host a Trunk Show in the Roanoke Festival Park Indoor Theatre. Quilters will display their current work, both completed and in-progress, and share the stories behind the creation of the quilts. Both events are free.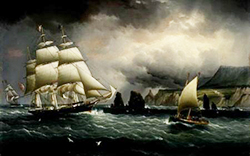 Anyone even remotely familiar with the Outer Banks knows that winds are part of daily life here and, in fact, are largely responsible for the existence of these barrier islands, as wind-driven waters pushed sand around the ocean bottom until it gathered into sandbars that eventually broke the water's surface. During Friday's free Sea Winds program from 6 to 8 p.m. at the Graveyard of the Atlantic Museum in Hatteras Village, kids will explore wind and how it has historically affected ships, the coast and barrier island life with hands-on craft making activities. All crafting materials will be provided. The program is appropriate for kids aged 6 to 12 and pre-registration is required. For more information, call (252) 986-2995, e-mail maryellen.riddle@ncdcr.gov or visit the Museum website.
Live Local Music
On Friday, March 13 Brushfire Stankgrass liven things up at Trio Wine & Cheese in Kitty Hawk at 7:30 p.m. with their "modern mountain fusion" sound that has resulted in two award-winning albums. Stankgrass blends the traditional with a grassy fusion inflected by analog-electronics and a hard hitting rhythm section. Outer Banks local favorite Kevin Wilder return to Peppercorns Restaurant and Lounge in Kill Devil Hills from 8:30 to 10:30 p.m. Down in Ocracoke powerhouse singer/songwriters Stoney Creek bring their passionate music to Gaffer's Sports Pub at 8:30 p.m.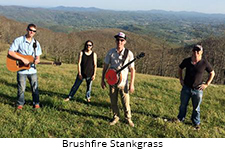 On Saturday night you'll find BC at Aqua Restaurant in Duck at 6 p.m.
On Tuesday night (March 17) Mercy Creek performs their brand of aggressive folk rock, combining elements of modern folk, world beat, rock and hints of blues and bluegrass to Trio in Kitty Hawk beginning at 6:30 p.m. Down in Ocracoke at Gaffer's Sports Pub, Barefoot Wade, a musician described as a "one-man Caribbean jam band," blends acoustic and electric guitars, bass guitars, steel drum, lots of various percussion, keyboards and kazoos to create his own original sound at 7 p.m.
Looking Ahead
Initial events of the 2015 Taste of the Beach are scheduled for Thursday, March 19 with the rest of the events spread over the next three days. Tickets are still available for many events and can be purchased directly through the website. Additional details regarding this year's Taste of the Beach will be included in next week's blog.