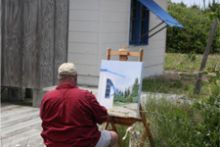 Crab meat and avocado salad. Pan-fried lump crab cakes. Mahi-mahi ceviche. Hand-rolled yellow-fin sushi. Baked speckled trout with a parmesan crust. Shrimp and cheese grits. Sheepshead bites flash-fried in a rice-flour/beer batter. Man, my husband has got the seafood thing down. * The key to his seafood is his commitment to only using fresh, locally harvested seafood. He's always been this way, even decades ago when it wasn't trendy to eat local. Once when we were first married I brought home crab meat of unknown origin and he absolutely refused to eat it. If he didn't catch it or know who caught it and where, he'd rather go without. * A new group called Outer Banks Catch is going to make it easier for everyone to have the same standards. The group has a logo, a website under construction and a marketing campaign in the works, so soon you'll be able to see which restaurants and seafood markets are serving and selling local seafood. Outer Banks Catch is holding informative meetings this week at local restaurants from Duck to Ocracoke. See www.outerbankscatch.com for more info and GO LOCAL for your seafood dinners...
While we're speaking about local issues, State Senate President Marc Basnight is seeking support of a total prohibition of plastic bags at all stores throughout the Outer Banks barrier islands, not only the chain stores and 5,000-square-foot-plus stores where they're banned now. * I have to say I'm with him all the way. Reusable bags are easy to come by (is it me or do those things breed like rabbits too?), and the Outer Banks needs to get greener. * We also need public transportation and we need to demand mandatory recycling at every household. It's overdue, people...
On to the events. * Let me first apologize to the Corolla Wild Horse Fund for failing to mention in my blog last week that you can pet a gentled Spanish mustang at the Corolla Wild Horse Museum on Wednesdays from 11 a.m. to 2 p.m. That's a not-to-be-missed weekly event...
A new gallery, ARTspace, recently opened at Southern Shores Crossing in Southern Shores and is holding its Grand Opening on Wednesday, June 16. * The gallery shows the work of a dozen or so local artists and serves as the studio space for three local artists. * In conjunction with the grand opening, ARTspace is hosting an art show from 11 a.m. to 7 p.m. that will benefit the Outer Banks Community Foundation's Flat Top Preservation Fund. For the show, the Community Foundation invited local artists to a day of plein aire painting of the historic flat top houses of Southern Shores. Twenty-one artists showed up and are selling their works at the show, and the proceeds will help restore the flat top that was given to the Community Foundation for its permanent office. The painting you see Phil Cameron painting in the photo on this blog page will be raffled off for $5 per ticket, with the giveaway at 6 p.m. * Call 261-ARTS for info...
During the week, head to Roanoke Island Festival Park to see a light-hearted show, The Fantasticks, as part of the park's free summer performance series. * Presented by the East Carolina University School of Theatre and Dance and Loessin Summer Theatre, the 1960 musical tells the story of two fathers who try to manipulate their children into falling in love. * It runs Tuesday, Wednesday and Thursday at 7 p.m. and it's indoors -- and did I mention free?...
Roanoke Island Festival Park is also hosting the Outer Banks Symphony on Sunday - for the ninth year in a row, thanks to the Outer Banks Visitors Bureau. * Sit under the stars at the Outdoor Pavilion with your dad (don't forget Sunday is Father's Day!) and enjoy a civilized evening of classical music for a change (no offense to the already civilized). * Bring a picnic and a lawn chair or blanket. * Gates open at 6 p.m., the pre-show starts at 7 p.m. and the symphony starts at 8:15 p.m...
The Lost Colony is running all summer, of course, but two of its other specialty programs start this week. * The Tale of the Frog Prince, a delightful performance for children, starts on Thursday and runs every Tuesday and Thursday at 9:30 a.m. through August 12. Show up to Waterside Theatre early to enjoy face-painting, balloon sculpting and games. The show is $7 per person. * This week is also the beginning of Waterside Art Wednesday at the Costume Shop. On Wednesdays from 2 to 3 p.m., participants ages 7 to 12 can create watercolor drawings inspired by John White's 1585 Roanoke watercolors. Instruction, supplies and snack are included. * Call 473-3414 for info about The Lost Colony and its programs...
Have you seen the OBXtreme Magic Show? It's running Wednesday, Thursday and Friday (and all summer) at Outer Banks Music Showcase in Kitty Hawk. * Magician and master illusionist Clive Allen and his wife, Tracy, who've been named in the Top 10 magicians in the U.S., make their home on the Outer Banks and their show is highly entertaining. Call the Music Showcase at 261-7505 for info...
Take the time to look around the site. * The possibilities for entertainment and activities go on and on, from Fish Printing at the Aquarium to Zumba at the YMCA to a Bird Walk on Ocracoke to Wreck Diving with Outer Banks Diving to Surf Lessons with many organizations to Tai Chi in Duck Town Park to Storytime with a Pirate in Nags Head. * And check our By Night listings -- live music is in the air every night of the week in every town. * And don't forget the Shopping section to find something special for your Pa...
Put your 2 cents in. If you'd like to pass information to others about a cool event or add your voice to this blog, you can do that below. Keep in mind that the blog comments are moderated so that this site is only putting positive vibes into cyberspace * We'd really love to hear from you...
.