It's party season! Whether you're entertaining friends, family or co-workers, the next two weeks are the busiest time of the year for hosting and toasting. For all your holiday social events, you're going to need to stock up on gourmet snacks, tasty sweets and refreshing beverages, so here's a helpful list of some of the best places to procure party goods. Whether you're the party host or a guest bringing something to share, everyone will be happy with anything you gather up from these gourmet food stores and beverage shops on the Outer Banks.
Photo: Sensational charcuterie trays from Vine & Board Gourmet Bites in Duck would be a hit at any gathering.
Corolla
Up on the northernmost Outer Banks, Bacchus Wine & Market, 501 Old Stoney Road, has been party-stocking central for more than 30 years. It offers fine wines, craft beers, gourmet foods, imported cheeses, charcuterie and cheese plates and even desserts.
OBX Butcher Block, 807 Ocean Trail, offers Boar's Head meats and cheeses and party platters to go.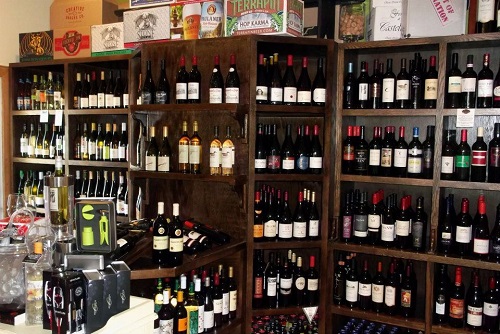 A large selection of wine awaits at Sweet T's in Duck.
Duck
Wee Winks Market,1213 Duck Road, has the largest selection of beer and wine in Duck plus they have gourmet and specialty foods and deli items that would be perfect for a party tray.
Sweet T's Coffee Beer & Wine, 1211 Duck Road, has a huge selection of fine wines, bubblies and beers, and the super helpful staff will help you find just the right ones.
Tommy's Natural Foods Market & Wine Shop, 1242 Duck Road, is a longtime favorite for a fabulous selection of wines, beers, cheeses, gourmet snacks, desserts, seafood, meats and fresh-baked breads. You could easily throw a party shopping at this store alone.
For the charcuterie boards of your dreams, Vine & Board Gourmet Bites, in the Scarborough Faire Shopping Village, 1177 Duck Road, creates beautiful, bountiful boards of meats, cheeses and snacks that would be the hit of any party.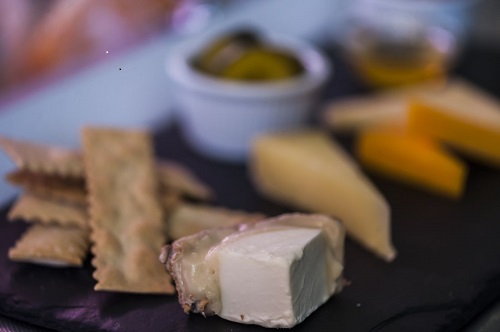 TRiO offers fine cheeses from respected regional, domestic and international artisan producers, and their staff loves guiding you through the different milk types and styles of cheese.
Kitty Hawk, Kill Devil Hills, Nags Head
TRiO Restaurant & Market, 3708 N. Croatan Highway in Kitty Hawk, is the gold standard gourmet market on the Outer Banks. The wine selection is legendary, with something for every palate and a range of craft beer as well. Their cheese selection is epic, and the staff will help you make selections and find the perfect accompaniments.
Buffalo City Jug Shop, 1900 S. Croatan Highway, Kill Devil Hills, is the Outer Banks' original bottle shop. It's the place to purchase growlers of local and regional craft beers as well as a great selection of canned and bottled beer.
Chip's Wine, Beer & Cigars, 2200 N. Croatan Highway in Kill Devil Hills, has a large selection of hard-to-find beers and wines and cheeses plus many chocolates and gourmet snack items.
Sophisticated Charcuterie, 4712 N. Croatan Highway in Kitty Hawk, makes high-end charcuterie trays with top-of-the-line meats, cheeses and snacks. Pick up trays to go, and your guests will be amazed.
The Cotton Gin, 5151 S. Croatan Highway, Nags Head (and with locations in Duck and Corolla as well) is where you can purchase the locally made wines of Sanctuary Vineyards. With grapes grown in Currituck, these award-winning wines are truly delicious and are fun to sample with friends.
Outer Banks Olive Oil Co. has more than olive oil. The Nags Head location, in the Outlets at Nags Head, 7100 S. Croatan Highway, sells wine, beer, cheese, chocolates and snack foods as well.
Brew-Thru, with locations in Nags Head, Kill Devil Hills, Kitty Hawk and Corolla, is the place to go for kegs. They sell a huge variety of bottled and canned beer as well.
If you want to serve non-alcoholic options at your events, Hi-Vibe Holistics, 1209 S. Croatan Highway, Kill Devil Hills, has just the drinks for you! Their Zero Proof Shelf offers several options for delicious pre-bottled mocktails, shrubs, sodas and herbal elixirs that will leave you feeling vibrant and alive.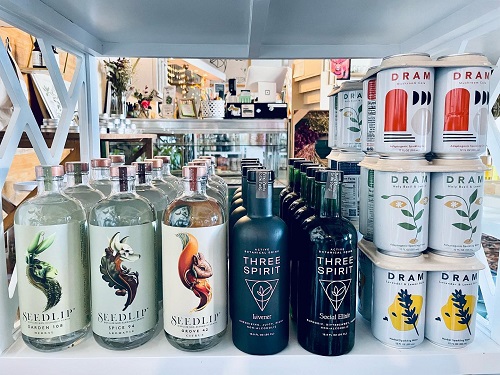 The Zero Proof Shelf at Hi Vibe Holistics in KDH is stocked with alcohol-free beverages that still feel special and festive.
Roanoke Island
For party wines, look to NouVines, 105 Budleigh Street. Downtown Manteo's first and only wine bar. NouVines sells wines by the bottle along with jams and chocolates.
For snacks, head to Mackeys Ferry Peanuts. Their nut and snack selections, from salty to sweet to spicy, are perfect for any party.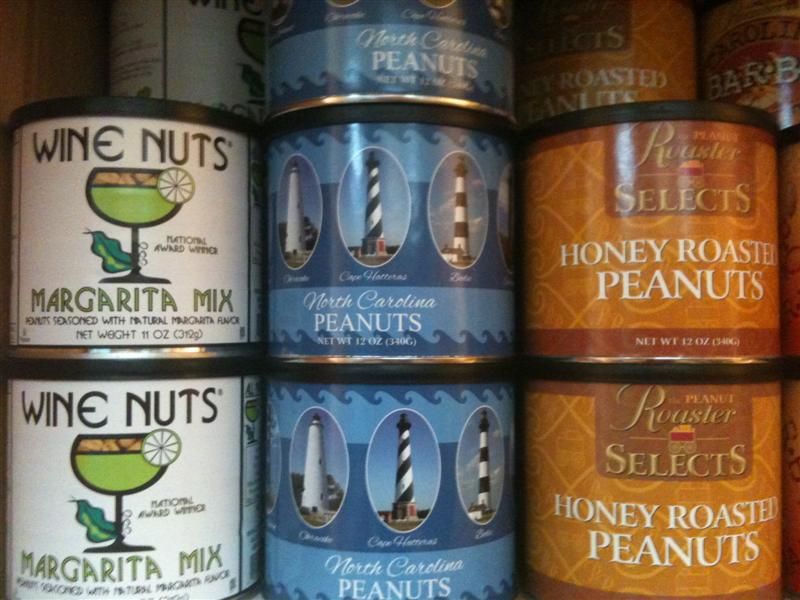 Island Spice & Wine sells gourmet snacks along with beer and wine and culinary items.
Hatteras Island
Island Spice & Wine, 40246 N.C. Highway 12 in Avon, has been selling wines, beer, cheeses, sweets, fancy snacks and much more on Hatteras Island for decades. They have the goods that will make your parties sing.
Village Market Red & White, 57196 Kohler Road in Hatteras, stocks the wine, beer and gourmet items you'll need. Their walk-in beer cooler is fun to explore.
Conner's Supermarket, 47468 N.C. Highway 12 in Buxton, is a large market with a variet of beer, wine and gourmet food options.
If you need a keg for a crowd, Breeze Thru Avon, 40374 N.C. Highway 12, is the only place on Hatteras Island to get one. They also sell beer in cans and bottles.
Ocracoke Island
Ocracoke Variety Store, 950 Irvin Garrish Highway, is the island's largest grocery store. It sells beer, wine and lots of snacks and goods you could gather to build an excellent party spread.
Zillie's Island Pantry, 538 Back Road, is a gourmet wine and beer market with a great selection that you can take with you.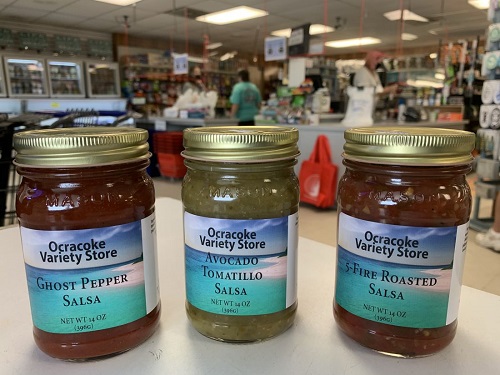 Ocracoke Variety Store salsas pack a spicy punch that would liven up any event.
Need other ideas? You can also get growlers and crowlers from local breweries, prepared foods and snacks from local grocery stores and markets, desserts and baked goods from local bakeries and sweets shops and local seafood from seafood markets. Or better yet, hire a caterer or private chef to do all the work for you!
Happy holidays! May all your parties and celebrations be joyful!