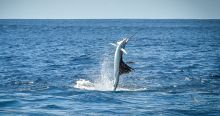 The giving spirit of the Outer Banks community is alive in so many ways, from millions of dollars in scholarships for local students to a wealth of nonprofit organizations with neighbors helping neighbors to fundraising events of every kind you can imagine.
This being a coastal community and a saltwater fishing mecca, it's no surprise that Outer Bankers love to raise money for good causes through fishing tournaments. A variety of annual surf-fishing, inshore fishing and offshore fishing tournaments provide fun fishing camaraderie and healthy competition while raising money for a good cause.
Photo: Alice Kelly Memorial Billfish Tournament Facebook
One of those fishing tournaments, the 40th Annual Pirates Cove Billfish Tournament, is going on this week, and it kicked off on Sunday, August 13 with one of the largest ladies' only fishing tournaments in the world – the Alice Kelly Memorial Ladies Only Billfish Tournament.
The Alice Kelly tournament is a hugely anticipated annual event for Outer Banks local ladies — for serious anglers and novices alike. Some teams are only there to fish and some are a little more interested in the social aspects, but for every angler it's about having a great time on the water (in matching outfits, of course!) for a great cause. For its 34th anniversary event in 2023, the Alice Kelly Tournament drew about 1,000 lady anglers on 163 boats. The purse for the tournament was $107,950, but more importantly, the event raised tens of thousands of dollars for cancer support.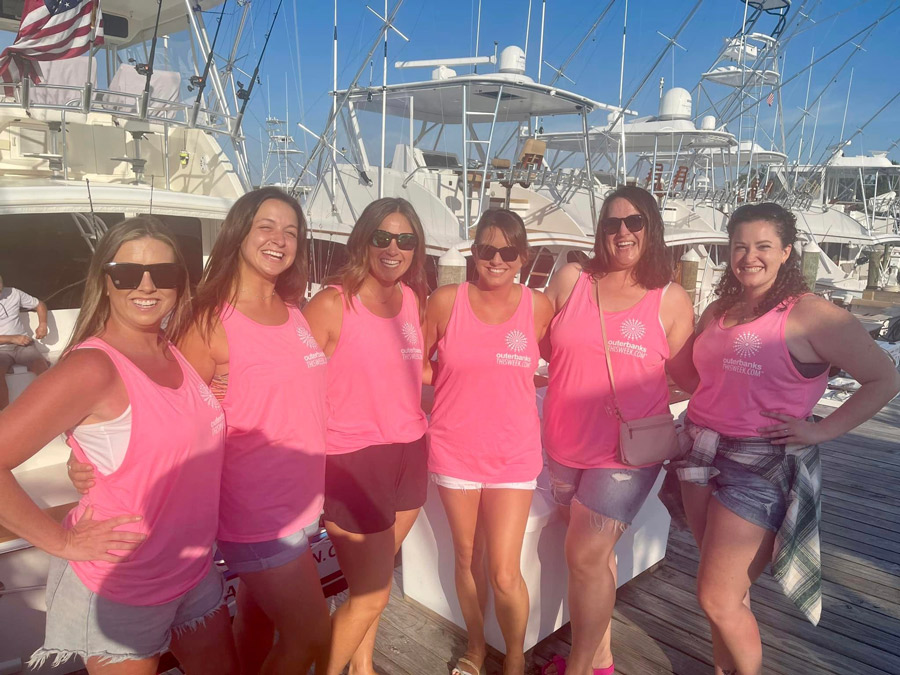 Photo: The Outer Banks This Week team in the Alice Kelly Memorial Billfish Tournament
The tournament's namesake, Alice Kelly, was a passionate angler and tireless community volunteer. While battling Hodgkin's Lymphoma, Kelly was faced with traveling out of town for her chemotherapy and radiation treatments. To help others in a similar situation, she started the Outer Banks Cancer Support Group in 1989. Though Kelly passed away not long after starting the group, volunteers in the group helped Outer Banks cancer patients get the out-of-town treatment they needed (this was before Outer Banks Hospital offered cancer services by the mid-2000s). In 2014 Interfaith Community Outreach (ICO) absorbed Outer Banks Cancer Support Group. Now the Alice Kelly Memorial Ladies Only Billfish Tournament contributes about half of the cancer outreach budget to Interfaith Community Outreach, which specifically uses the funds to continue cancer support for local residents. 
The tournament scoring format is for billfish release. Successful blue marlin releases earn 150 points, while white marlin, sailfish and spearfish count for 100 points each. Tuna, dolphin and wahoo are eligible for the Billfish and Dolphin Jackpot categories for cash prizes. The top boat in the 2023 Alice Kelly Tournament was the Country Girl, with five sailfish releases, followed by Tenacity, Teaz'em, Fender Bender and Hog Wild.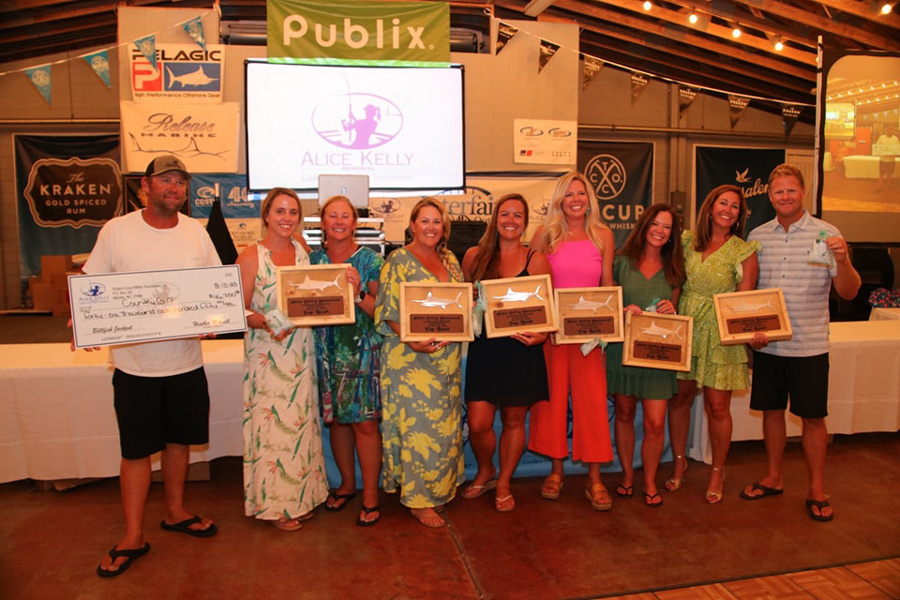 Photo: The 2023 winning team → Country Girl.
The weeklong Pirates Cove Billfish Tournament, through entry fees, raffles and auctions, has raised well more than $1 million for the Pirates Cove Billfish Tournament Charity Fund, which supports ICO, The Billfish Foundation (to conserve and enhance billfish populations around the world) the American Diabetes Association NC Chapter and many other local organizations. The Pirates Cove Annual Billfish Tournament is one of seven Governors Cup tournaments in North Carolina; the other local one is the Hatteras Village Offshore Open that's held in Hatteras in May.
You can learn more about the Pirates Cove and Alice Kelly annual bill fishing tournaments at pcbgt.com.
Other local offshore fishing tournament that raise money for good causes include the Dare County Boat Builders Foundation Tournament, which raises funds for scholarships and financial aid to local students of families in the local fishing and boatbuilding communities. To learn more about the Dare County Boatbuilders Foundation Tournament, go to dcbbf.org.
The Community Care Clinic of Dare is holding its second annual Billfish Tournament on Saturday, September 23. Held out of Oregon Inlet Fishing Center, this is a low-commitment, one-day tournament similar to the Alice Kelly tournament (as opposed to up to a week of fishing). Proceeds will benefit the Community Care Clinic of Dare, which provides primary healthcare and dental care to the uninsured and underinsured in Dare County. For information go to facebook.com/CCCDareClinic or call (252) 340-2030.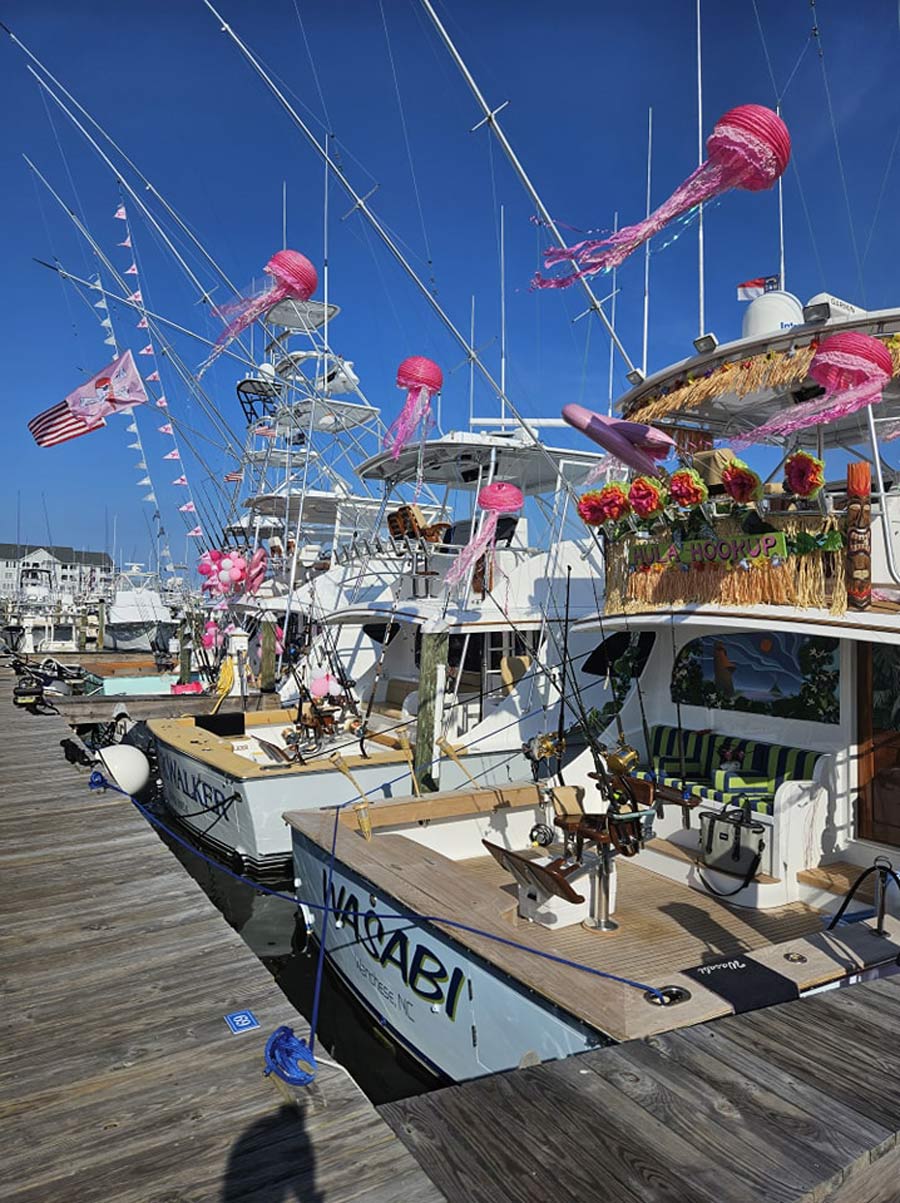 Photo: Dressing up the boats is part of the Alice Kelly tournament fun.