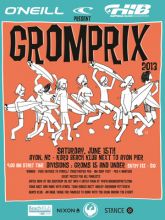 As I write this, my friend Doug Dino is driving through central North Carolina on his way to Bonnaroo, a huge music festival held annually in Manchester, Tennessee. Last year Doug and I attended Bonnaroo together, and it was something of a life-changing experience to be exposed to that much music and that much quality and variety of music all in one place. Basically, for four consecutive days beginning roughly at noon and continuing until the wee wee hours, you can attend six to eight concerts a day, running the gamut from superstars to bands whose previous gig was in a dark, dank little pub in Nowhereville. Because of the number of events going on simultaneously, the huge crowd is spread out, and it's possible to be only feet away from performers you'd previously seen only in the pages of Rolling Stone.
Outer Bankers and visitors will get a brief, small-scale taste of this later this summer when Brew Thru presents Grammy winners Blues Traveler at Roanoke Island Festival Park on July 25. In addition to a Grammy, Blues Traveler has a string of gold and platinum records to their credit. Their Outer Banks appearance is part of a summer tour to support the album Suzie Cracks the Whip. Joining them onstage will be the Pat McGee Band and local favorites Matt McGuire and The Wilders. Tickets are on sale and can be purchased at any Brew Thru location or online at the Brew Thru website. Adult tickets are $30 in advance, $35 at the gate. Tickets are $20 for children age 7 to 12. A sell-out is expected, so don't delay.
Certainly, the Blues Traveler concert is something of a special event. But there is a plethora of great live music every week at venues all along the Outer Banks, and I encourage you to review the entertainment listings at OuterBanksThisWeek.com, pick a gig that seems interesting and experience firsthand the wealth of musical talent that moves the Outer Banks. Support our local musicians...Go see a show!
Other Happenings
Arts
There's a new arts and crafts venue in town. On Thursdays during June and July head over to the Outer Banks Event Site at milepost 15 on the Bypass in Nags Head from 10 a.m to 3 p.m. for The Windmill Point Art Fair. Local artists include painters, sculptors, photographers, potters, wood workers, weavers and more! The event takes place rain or shine. Admission is free. Proceeds from vendor registrations benefit the nonprofit Children at Play Museum in Kitty Hawk.
Of a more established nature is the 12th Annual Under The Oaks Arts Festival taking place at the Whalehead Club in Corolla Wednesday, June 19 and Thursday, June 20. Beginning at 10 a.m. each day, the talents of more than 100 artists will be on display on the waterfront lawn of Currituck Heritage Park. In addition to artists' work in myriad medias, there will be musical entertainment, local food concessions, an art auction and children's activities. Admission is free! A $5 parking donation is requested.
If your interests lean more toward the performing arts, you'll want to treat yourself and your family to an exhibition of grace and movement as Outer Banks Centre for Dance presents Swan Lake and other Dances on Saturday, June 15 at First Flight High School in Kill Devil Hills. A first performance will be at 1 p.m. with a second beginning at 7 p.m. Admission to this classic dance showcase is $15.
Kids
This Friday's Movies on the Sound offers moviegoers a screening of The Muppets, those fuzzy, eccentric and lovable friends from our youth. Admission is free with a $10/car parking fee. Gates open at 7 p.m. and the movie begins at dusk. Concessions are available each evening. Don't forget your blanket or chairs! Call (252) 261-0290 for weather updates and cancellations.
Broadway Goes to the Beach as performers from University of North Carolina at Greensboro bring musical performances from Disney plays (such as Beauty and the Beast and The Little Mermaid) and other children-oriented Broadway productions to Roanoke Island Festival Park's Indoor Theatre in Manteo this Thursday, Friday and Saturday at 10:30 a.m. each day. Tickets are $5/person; children age 5 and younger admitted free. Tickets may be purchased in advance at the Park or at the gate on the day of the event. For more information call (252) 475-1500 or visit the Park website.
History
Theories abound regarding the fate of the Lost Colony, those brave souls who undertook a long and arduous journey from England to gain a new start in the New World only to vanish without a trace shortly after their arrival. A compelling new theory centering on Hatteras Island is offered by Scot Dawson as part of the presentation "What Really Happened to the Lost Colony?" on Fridays at 2 p.m. at Chicamacomico Life-Saving Station in Rodanthe. Documentation and archeological evidence are used to separate the facts from more than 400 years of sometimes wild speculation. The presentation is free with paid site admission fee.
Watersports / Running
The O'Neill Gromprix comes to Hatteras Saturday courtesy of surf gear company O'Neill and Hatteras Island Boardsports. Gromprix is a surfing contest for competitors age 15 and younger. During Gromprix "groms" (talented young surfers) battle it out for free entry into the 8th Annual O'Neill/Sweetwater Pro-am Surf Fest, prizes and, of course, bragging rights. Gromprix will be held in Avon at the Koru Village Beach Klub located on the South Side of the Avon Pier, one of the East Coast's premier surfing spots, and O'Neill Team riders Brett Barley and Brendan Petticrew will be in attendance! Start time is 9 a.m. and entry is $10.
As incomprehensible as it seems, apparently, there are people among us who run without needing to be chased by zombies or snarling, drooling carnivorous aliens. When asked, these folks claim they run for fun. I know, right?! These are not my people. My people can be identified by the coffee held in one hand and the cream cheese pastry in the other. But, if they're your people, then check out Outer Banks Sporting Events' Storm the Beach 5K June 15-16 near the Kill Devil Hills Life-Saving Station and Bath House. Each of the three obstacle/challenge course races will be held Sunday. Pre-registration is required and participants can register as teams or individuals. Shirts and medals will be presented to all finishers with awards given to top team, male and female competitors.
In closing, here's something that sounds like a lot of fun! On Tuesday evenings at 6 p.m. this season The Lost Colony is holding Character Dinners in the newly renovated rehearsal hall. Beginning June 18 and running through August 20, you can take in stunning Sound views while dining on Outer Banks classics or selecting from an Italian buffet. Meet the cast and have the kids' photos taken with actors you'll later see onstage. Take a private backstage tour. And then enjoy the play that was just recognized with a Tony Award! Best of all? No fighting traffic and no rushing through a meal at the restaurant to get to the show on time. Tickets are $40/adult, $25/child age 12 and younger.

This week you have a chance to win a Absolutely Wild Horse Tour for two & a $35 gift certificate to Agave Roja!
For more information about Absolutely Wild Horse Tour, check out their website.
For more information about Agave Roja, check out their website.
Last Week's Winner
Congratulations to Denise DeVore!!!

You won a $50 gift certificate to Gray's Outer Banks & a $35 gift certificate to Trio -- Wine, Beer & Cheese!
For more information about Grays, check out their website.
For more information about OBX TRIO, check out their website.