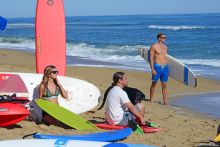 When you go on vacation, what do you need? Personally, I need a gorgeous natural environment perfect for playing outside, relaxing, reading and spending quality time with my family. More than anything, however, nothing should impede on those precious moments. I think most vacationers share these sentiments.
For vacationers on the Outer Banks, it's all the easier to optimize convenience and carefree planning with the help of equipment rentals, delivery and other specialty services. Practically anything you desire for your vacation can come to you. Forget wrangling beach chairs, inner tubes and surfboards during your trip. Instead of purchasing a cabana that'll be used for a week, rent one and save your money for a fun activity, like a hang-gliding class. In this day and age, the only part of vacation you should think about is getting to your destination. From there let the rest come to you.
Equipment Rentals
You're at the beach, and you want toys. Or you made it to your vacation, but you couldn't bring your favorite summertime accessories (grills, golf carts, bikes, etc.) with you. I get it.
Thanks to equipment rental companies on the Outer Banks, you're ready for whatever your vacation has in store (including any surprises it may spring on you). Places such as Ocean Atlantic Rentals have vacationers covered with umbrellas, watersports gear, linens, beach gear, bikes, golf carts and houseware rentals. Rent whatever you may need during your Outer Banks vacation by the day or by the week, and it's delivered and picked up right from your doorstep.
Get outdoor equipment for your beach day, such as rented beach chairs, cabanas and umbrellas. If you want to cook out, rent a grill for the week or just for dinner time. Get around on rented bikes, kayaks and paddleboards. No need to pack a crib into your car or purchase a surfboard to use for a week – try renting for an easier and more cost-effective option.
Set-Up Services
The only drag of a beach day is dragging all that gear – beach chairs, umbrellas, cabanas, tents, kayaks, etc. – through the sand. In my opinion, the short-lived reward isn't worth the effort: You set it up for the day, and when you're ready to leave, all of it must leave with you. I'm eternally grateful for businesses that not only deliver the beach gear to my location, but also set it up and take it down every day.
During your beach vacation, the helpful folks from Ocean Atlantic Rentals, Just for the Beach Rentals and other services deliver rental chairs and umbrellas to you and arrange them on the beach, making inviting spots to soak up the sun. At the end of the day, they stow the equipment back at your vacation rental. Imagine: No carrying of beach chairs, no wrangling umbrellas in the wind, no scurrying to and from your vacation rental. Now that's the life.
Skip the Checkout Line
Speaking of delivery services, Outer Banks visitors and residents can have their groceries picked up and brought to them through local services and select grocers. Visitors who rent through Seaside Vacations can enjoy free delivery from Outer Banks Grocery Stockers, who pick up your pre-ordered groceries and put them away in your rental's kitchen before you even check in. For other renters, Outer Banks Grocery Stockers also offers grocery delivery between Corolla and Ocracoke. By the way, local grocery stores Food Lion and Harris Teeter now offer online ordering and curbside pick up.

Eat Out at Home
I love dining out on vacation, but the height of the summer season isn't always conducive to dining without a reservation or going out with a big group in town. Personal chef services allow you to settle into a restaurant experience in your own home. Chefs on Call, from Red Sky Cafe, brings the popular Duck eatery's talents to your kitchen. They'll help plan your menu and then cook and serve Southeastern-inspired appetizers, salads, entrees and desserts … all in your vacation rental's dining room! It's a fine-dining experience free of cooking, clean up or crowded waits.
Loosen Up
Finally, if you don't unwind and loosen up on vacation, what's really the point? That said, you shouldn't have to leave your vacation home to do so. Bring the spa services to you with in-home massage therapists or in-home yoga sessions. Licensed massage therapists, from businesses such as Atlantic Massage or Integration Massage and Bodywork Therapy, will bring their services to you, and you can ease up with a selection of massage treatments that available for small groups, couples or just yourself.
As the song goes, "Summertime and the livin' is easy." That's the mindset for an Outer Banks vacation. How do you like unwinding on vacation? What are your favorite ways to minimize stress? Share with us in the comments section. You'll save a lot of time on the Outer Banks without the worry of shopping for groceries, running errands, picking up beach supplies or cooking. Use those extra hours to check out the special Daytime Events and Nightlife going on this week across the beaches.