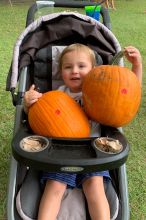 If there is such a thing as a pandemic-friendly holiday, Halloween would be it. Festivities are usually held outdoors, and everyone is wearing a mask anyway, right? Halloween is a little toned down from what we've experienced in previous years, especially where nightlife is concerned, but there is still some fun to be had.
While there will be traditional trick-or-treating going on in many neighborhoods, the tradition is not recommended this year by the N.C. Department of Health and Human Services. See their list of safety recommendations here. If you do venture out, make sure to social distance, clean your hands often and wear protective masks (not just the Halloween kind).
Here are a few of the official Halloween activities happening on and around the Outer Banks this week.
Photo: The Island Farm Pumpkin Patch is being held one last time on Halloween. Photo from Island Farm Facebook.
Theatre of Dare Livestreams
If you're planning for a spooky but safe stay-at-home event, Theatre of Dare has you covered. They're presenting livestream performances of Mercury Radio Theatre's Dracula on Thursday, October 29 and Friday, October 30 at 7:30 p.m. and the reimagined tale of Draculescu on Halloween night at 7:30 p.m. The livestream performances will be free to audiences at theatreofdareobx.com and on their Facebook, YouTube and Instagram pages. 
Children's Fest
Coastal Family Church in Nags Head is hosting Children's Fest on Thursday, October 29, starting at 5 p.m. Kids can enjoy face painting, games, bounce houses, a hay maze, treat bags, free food and more. You must sign up for a time slot to ensure social distancing; here is the link. The church is at 106 E. Finch Street in Nags Head.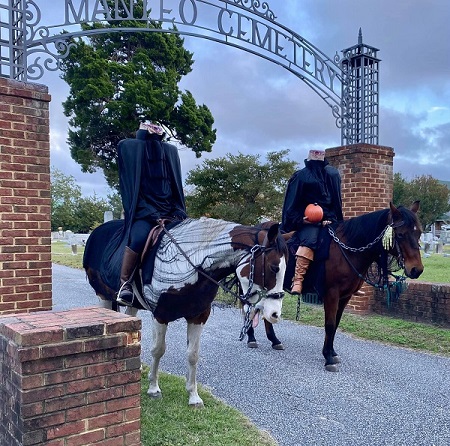 Photo: Two headless horsemen (or are they women?!) have been spotted riding in downtown Manteo lately. You'll be sure to see them on Halloween night. Photo by April Walker Facebook.
Trunk or Treat
Surfside Plaza in Nags Head is hosting a Trunk or Treat on Friday, October 30 from 7 to 9 p.m. There will be prizes, games, costume contests and more. OBX Martial Arts is hosting this one, and they have more information on their website. Surfside Plaza is at 4104 S. Virginia Dare Trail in Nags Head.
Halloween Event in Harbinger
Midgette Auto Supercenter in Harbinger is offering a free community event for families on Friday, October 30 from 4 to 7 p.m. Everyone is encouraged to wear costumes, and pets are welcome. There's even a pet costume contest at 5:30 p.m. They'll have inflatables, a cakewalk, hayrides, contests, a free pumpkin patch, pumpkin decorating and carving, food for sale and more. It's at 9022 Caratoke Highway in Harbinger. For information call (252) 491-8500 or visit their Facebook page.
Wicked Woods
If you're looking for a truly scary Halloween event, this haunted woods walk in East Lake is for you. East Lake is one of the darkest places on the Outer Banks, and the organizers of this event know how to scare the pants off of people. The last two nights are on Friday and Saturday, October 30 and 31, from dark until 11 p.m. Cost is $15 per person, and think twice about bringing young children. You'll find it at 18766 U.S. Highway 64 in East Lake (past Manns Harbor). For information, call (252) 489-1082.
Island Farm Pumpkin Patch
A great family-oriented activity is the Island Farm Pumpkin Patch on Halloween day. Kids can pick a favorite pumpkin, journey through a new straw maze, make their own hand-dipped candle or corn husk doll, learn about and participate in nature weaving, play pumpkin-tac-toe, corncob lob and so much more! The apple press will be turning and the fire crackling; fresh popcorn (cooked over the fire) will be available for sampling. Commemorate your family's adventure with a custom tractor photo booth. Since it's outdoors, masks will only be required where social distancing cannot be maintained. Admission is $8, plus the cost of pumpkins. Children younger than 5 are admitted for free. Hours are 10 a.m. to 4 p.m. Island Farm is a living history site at 1140 U.S. Highway 64, just north of Manteo. For more information call (252) 473-6500.
Downtown Manteo Trick or Treating
The businesses of downtown Manteo are hosting a Trick or Treat event on Saturday, October 31 from 12 to 3 p.m. Almost 40 businesses will be generously passing out candy (while supplies last) to costumed trick or treaters! Look for a Halloween sign on the door of participating businesses. Masks and social distancing are required. Share your Manteo Halloween photos on Facebook and Instagram and hashtag #manteohalloween and #discovermanteo to win prizes. Find more information here. Rumor has it that various houses downtown will also be giving out candy when the sun goes down in a virus-safe way. How about getting your candy via an 8-foot pipe!
Drive-Thru Trunk or Treat
Drive through the Manteo Elementary School parking lot from 5:30 to 7:30 p.m. for a super-safe trick trick or treat experience. Sponsored by Mt. Olivet Methodist Church and the Manteo Library, this event is free. Children must stay in their cars (no walk-throughs). Enter the parking lot from Barlowe Street.
Wanchese Halloween Party
Wanchese Marina and The Landing Grill in Wanchese is hosting a Halloween event on Saturday from 4 to 6 p.m. Bring the kids by for treats, bounce houses, hayrides, costume contests and dockside trick or treating. The grill will have food and drink specials. You'll find it at 4457 Mill Landing Road in Wanchese. Call (252) 473-3247 for information.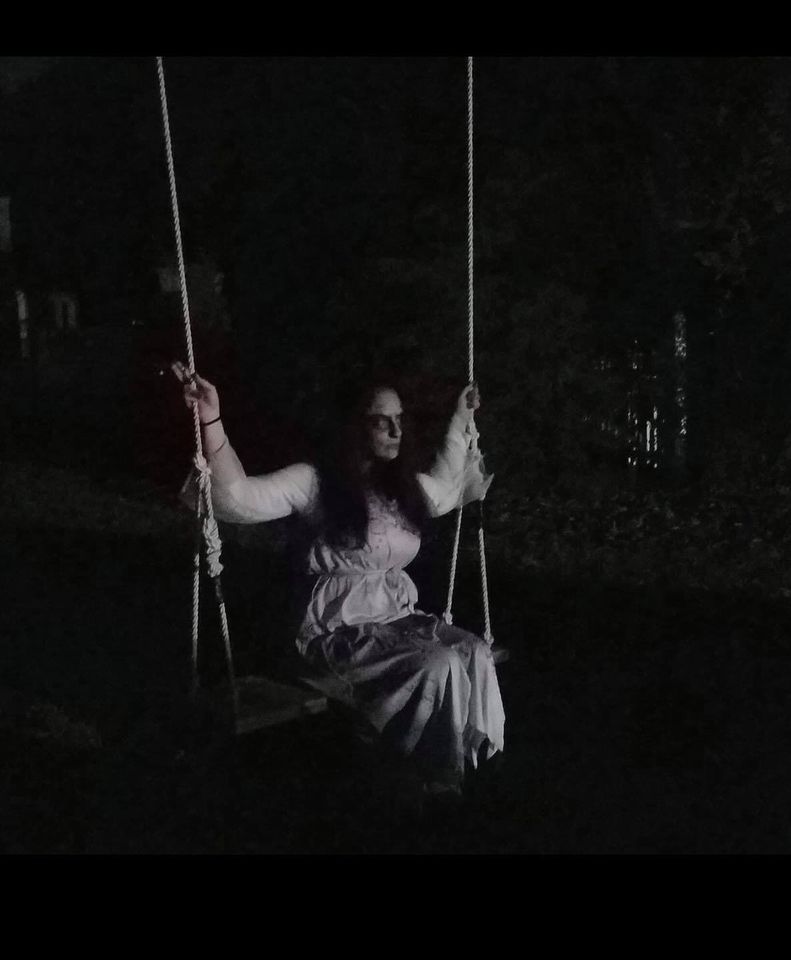 Photo: Wicked Woods is where you want to go if you want a wicked scare. Photo from Wicked Woods Facebook
Haunted Barn and Hayride
Mane & Taill Therapeutic Horsemanship Academy is hosting a Spooking for Change Haunted Barn and Hayride on Saturday night. From 5 to 6 p.m. they'll have a lit barn, a horse to pet and a short hayride, From 7 to 9 p.m. the haunted barn gets a little scarier. Masks and social distancing are required. Admission is $10 per person and $5 for kids ages 10 and younger. Their barn is at 117 Buster Newman Road in Jarvisburg. For information call (252) 489-1774 or visit their website.
Halloween Movie
The Pioneer Theatre in Manteo is showing Hocus Pocus starting Friday, October 30 and running through Thursday, November 5. It shows nightly at 8 p.m. It's at 113 Budleigh Street in Manteo. Call (252) 473-2216 for details.
Free Kids Meals!
Before or after your Halloween activities, head to La Fogata Mexican Restaurant in Kitty Hawk to fuel up. Every child in costume younger than 12 (with an adult) will receive a free kids' meal! This is happening all day at the Kitty Hawk location only.
Halloween N

ightlife
If you're looking for a night out, head to Chili Peppers Grill and Pupuseria on Friday night for a costume contest starting at 8 p.m.  OBX Marina in Wanchese has Jonny Waters on Friday night from 7 to 10 p.m. and Ty Fleming on Saturday night from 7 to 10 p.m. Poor Richard's in Manteo has the Tommy V Band on Saturday night from 8 to 11 p.m.
Bonzer Shack in KDH is going all out by hosting MASKARAVE presented by the Kill Devil Hills Disco. The music of DJs Al Key and Marty Martin Denny will be highlighted by the visuals of Justin Old Suxx. There will be a costume contest. Face masks are required, and capacity will be limited. This is for 21+ only. Hours are 8:30 to 11:30 p.m. Find more info here.
Secret Island Tavern in KDH is hosting the '80s band The Deloreans on Halloween night from 6 to 11 p.m. Grab your friends, wear your costume or '80s attire. Tickets are $10 and can be purchased online or at the door day of show if not sold out. Find more info here.
For more nightlife information this week, visit our Nightlife listings.
Note that the festivities are happening earlier this year. You'll be home by midnight, which is a good thing because Daylight Savings Time ends on Sunday, November 1. Set your clocks back an hour when you wake up on Sunday.