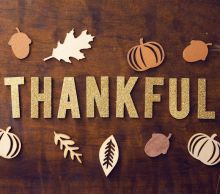 Happy Thanksgiving! Can you think of a better place than here to spend the holiday? Living on the Outer Banks means that we're constantly surrounded by impressive features. That said, I hate to admit I sometimes take living on the Outer Banks for granted. I think we all do at some point or other. It's just what happens when the Extraordinary is also your Every Day (not to brag or anything).
We recognize our good fortune more often than not, however. Everyone appreciates different parts of this incredible place and the lifestyle that accompanies it. This range encompasses everything from universal loves to underrated qualities that many often overlook. This week's blog brings you to the Thanksgiving table at Outer Banks This Week, where we go around and name what we're most thankful for about the Outer Banks. Pull up a chair and fix yourself a plate – we're serving up warm fuzzy feelings alongside the cornbread.
We give thanks for the natural environment:
The concept of living on this string of islands is awe-inspiring, a blessing and sometimes even scary. It's nearly impossible to do it justice with words. Thankfully my friends are more skilled at it than me:
Beth, Publisher: "I'm always thankful for the view of downtown Manteo from the rope house on the boardwalk. At twilight, it's a most beautiful panorama of our sweet little town."
Celeste, Marketing Representative: "I'm thankful to be able to enjoy the peace and serenity of the beautiful sunsets and sunrises and the characters around it, like the occasional surfer … I'm thankful that I can walk or bike to the sound or the beach. And, I'm thankful for the safety of my little island during the quiet hours. No matter what time of the year it is, there's always a piece of art by Mother Nature to enjoy."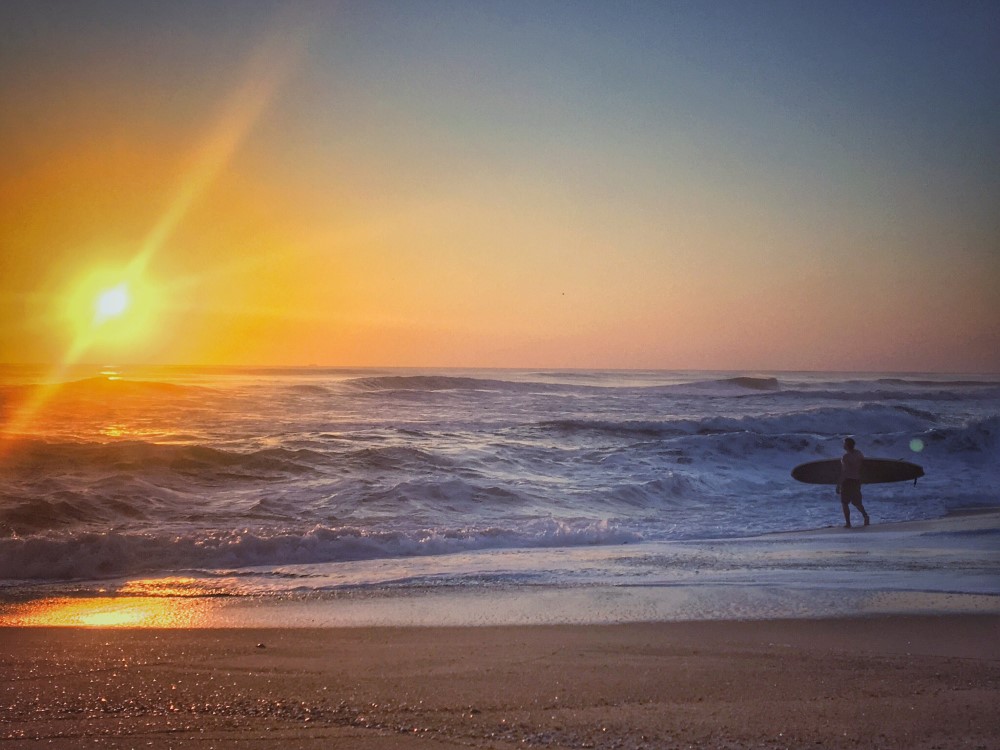 Photo by Celeste Osorio
Molly, Managing Editor: "I'm thankful for sand. Grains of sand are everywhere in my life: in my fuzzy slippers, between my laptop keys, all over my dog, in my jacket pockets, often in my lunch [blogger's note: how does it even get there?!]. There was a time when I might've complained about sand scratching my leather sofa or one little speck in my running show causing a blister. But, one night when I was trying to get comfortable in what felt like a beach in my bed, I had a memory of growing up in red-clay country and remembered how lucky I am to live on sandy land now. Now when I bite down on grit in my campfire s'more or feel it permanently wedged in the grooves of my yoga mat, I feel only a wave of gratitude. Each little grain of sand that's not where it's supposed to be reminds me that I live at my happy place and to be grateful for all the little things."
We're thankful for our neighbors:
Caroline, Content Manager: "I'm thankful for all of the familiar faces I see around town! It's oddly comforting to run into people you know everywhere you go, and it's also amazing to see those folks come together and help each other out during times of trouble."
People are happy to lend a hand on the Outer Banks, and they take care of each other. It warms me how people look out for each other here – from my being invited to join family Halloween festivities to my neighbor carrying my armchair up a flight of stairs before introducing himself; it really makes it feel like one big Outer Banks family.  
We're thankful to be laid-back:
Paul, Content Manager: "I'm thankful for the informality that underlies this community and manifests in phenomena like island time and calloused feet."
It's true: Typical formal and conventional standards relax on the Outer Banks. People wander into coffee shops in their bare sandy feet, dogs hang out in shops and eateries without leashes, colleagues can cartwheel into the room when they have a question to ask (as Paul often does here). The Outer Banks is a place where people live and work without unnecessary pretension.
… while still valuing manners and respect:
Even after you dress them down from excessive formality and "professional" customs, people here pride themselves in their Southern gentile, which manifests in respect for everyone and impeccable manners.
Beth adds: "I'm thankful for Halloween in Manteo and the 1,000-plus kids and parents we give candy to. It's a night when everyone is smiling and enjoying the community. And the kids are so polite! Almost all of them say 'Thank you!'"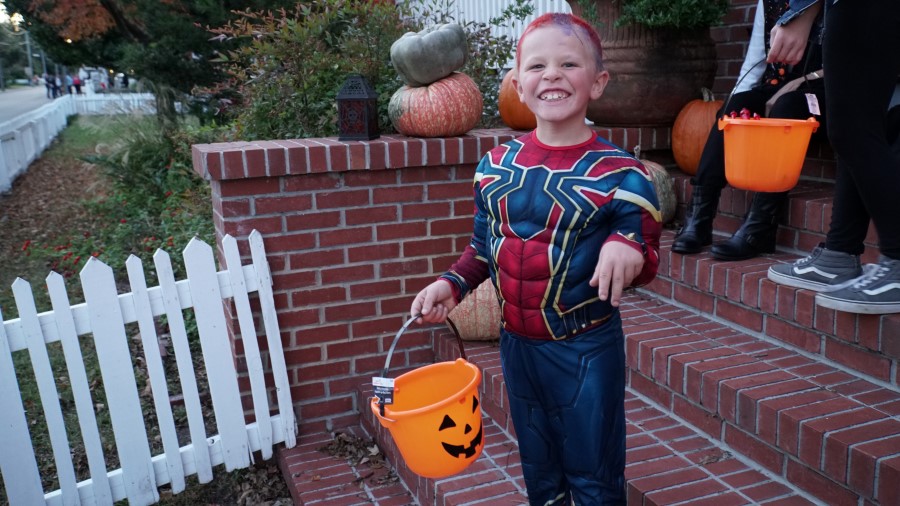 Photo by Hannah Lee Leidy
And, we're thankful for the Outer Banks during the holiday season:
Hannah, Sales Manager: "I'm thankful for teaching my child the traditions of this time of year" and "I'm thankful for little eyes that search the skies for Santa (may we never be too old to do that!)."
I think we're all familiar with that magical sensation that propels a child's gaze to the starry skies. And here, these navy nighttime curtains sparkle with exceptional brilliance.
Personally, I have a long list of Outer Banks thanksgivings, but I'll keep it to two today:
I'm particularly thankful for the Outer Banks during this time of year. It brings these November and December sunsets where the sky moves from azure into a dusky violet that's streaked with magenta and orange rays. And I'm thankful for the boardwalk that wraps around the Town of Duck. It's a mile-long glimpse of an almost untouched portion of the Outer Banks, and it's breathtaking. I go there for everything, whether it's Saturday morning strolls with coffee, jogging or watching nighttime storms roll in. I recommend pairing these two things together, like wine and cheese. Both are fabulous on their own, but together they create an experience that blows the mind and invigorates the soul.
Now it's your turn. Tell us what you're thankful for about the Outer Banks. Is it the sound of crashing ocean waves, the rich artist community, the feeling of cool, soft sand squishing between your toes? The possibilities know no limits. Need time to gather your thoughts? Cut yourself another slice of pie as you ponder. We look forward to seeing what you come up with.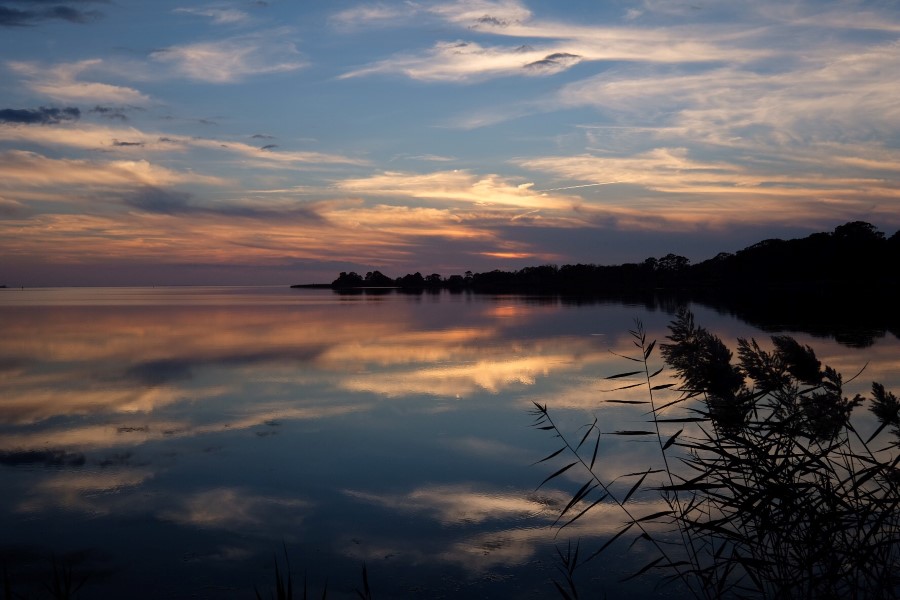 Photo by Celeste Osorio