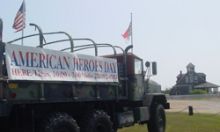 I think Hatteras Island is one of the coolest places on the planet. This might be an oxymoron, but it's one of the most easily accessible remote places I know of. It's just a short drive from my house in Nags Head, but it's a place where I can find ocean and sound beaches that are entirely devoid of other humans and claim them as my own. I've walked for hours on the beach on Hatteras Island without seeing another person. * My parents took us to Hatteras Island in the fall when I was little, and my mind still holds mysterious images of driving and running on miles and miles of open-ended sand, no buildings in sight except for the lighthouse rising in the background. These were odd sights for an inland city dweller and maybe those memories are what still draw me to the island today. * Anyway, Hatteras is on my list of to-dos for the remainder of the summer. I don't get there as much as I used to, but I think about it often, and want to be there more...
Have you been to Hatteras lately? If you're visiting, it's worth a day trip from wherever you're staying. The drive is part of the fun, starting with the view of Oregon Inlet from the top of Bonner Bridge (did you hear that a contract was awarded for the new bridge? It's supposed to be complete by spring 2015). * What to do on Hatteras? Sit or walk on an uncrowded beach (always swim with a buddy). Do some kiteboarding, kayaking or Jet-Skiing in the Pamlico Sound or surf in the Atlantic. Bounce between a few galleries and shops, eat in some local restaurants (Orange Blossom Bakery is calling me...). Climb the Cape Hatteras Lighthouse. Walk in the woods. Visit a museum. There's plenty of stuff to do to occupy a long day...
If you need a more definitive reason to head to Hatteras this week, here's the perfect thing: Chicamacomico Life-Saving Station's American Heroes Day on Thursday from 10 a.m. to 4 p.m. In addition to honoring local heroes, it's a celebration of the centennial of the 1911 station and National Coast Guard Day. * This is a fun event for all ages, but little boys might love it best because it's packed with emergency vehicles. * Our favorite parts last year were the Coast Guard Search and Rescue Demo with a helicopter, the Jet Ski Water Rescue with local lifeguards, and the Beach Apparatus Drill, which Chicamacomico is known for re-enacting weekly in the summer. You can tour the site's buildings, plus there's food, events, stationary exhibits, heroes to meet and much more. Chicamacomico is at milepost 39.5 in Rodanthe, the first village on the island, about 12 miles south of Bonner Bridge. Call (252) 987-1552...
Other good reasons to head to Hatteras: The Hatteras Island Arts and Craft Guild Show on Wednesday and Thursday at Cape Hatteras Secondary School in Buxton. This show features many of the island's best artists (there are so many great artists on the island), and admission is free. Hours are 10 a.m. to 4 p.m. both days. Call (252) 441-1850. * And the Hatteras Island Farmers Market is on Tuesdays from 9 a.m. to 1 p.m. in Avon, next to the Hatteras Realty office...
Then there's the Avon Fish Fry every week through Labor Day at the Avon Fire House. It's from 5 to 7 p.m., and the proceeds go to the Kinnakeet Civic Association to support various community projects. Fried fresh fish, the perfect sides, a bake sale... what more could you ask for? Call (252) 995-4768. * Fish-fry fund-raisers are one of the joys of living on the Outer Banks. The organization raising the funds always picks a local who is known for his or her seafood-frying abilities, so this is a real local treat. * Food for Thought, a nonprofit that provides healthy meals to children in need, is holding a fund-raiser Fish Fry on Saturday from 4 to 7 p.m. In addition to the meal, there will be crafts for kids and info about volunteering. The event will be at the corner of Grenville Street and U.S. Highway 64 in Manteo (across from the Front Porch Cafe)...
Here are some other things going on this week:
If you read this before Tuesday night, be sure to catch Corolla's Festival of Fireworks on Tuesday at 6 p.m. at Currituck Heritage Park. This is Corolla's Fourth of July fireworks, which were cancelled due to weather. There will also be food vendors, live music, contests, activities and more. Call (252) 435-2947. * If you can't make it Tuesday, stop by Currituck Heritage Park on Wednesday for the Whalehead Club's Wine Festival or on Thursday for the Summer Music Series with Sea Level. Call (252) 453-9040. * Duck Town Park has The Crowd playing for its Duck Summer Music Series on Thursday at 6 p.m. Call (252) 255-1286...
Don't forget about The Lost Colony. It's playing through August 20, every night except Sunday at 8:30 p.m. Backstage tours are available (with a reservation) at 7 p.m., and you can also order Sunset Picnics if you'd like. * The Lost Colony's kids' show, Pirates! A Boy at Sea, is a really fun show that's playing at Roanoke Island Festival Park's indoor theater on Wednesdays and Thursdays at 2 p.m. Call (252) 473-3414 for info or tickets on either show...
It's First Friday in Manteo this week. Head downtown between 4 and 8 p.m. for live music, a Historic Inn Tour (check in at Dare County Arts Council), family friendly activities, rock climbing wall, food, art and more. * Stop by the Dare County Arts Council to see the opening art shows and attend the receptions for painter Rob Snyder and jeweler Georgia Griffiths. * Over at Roanoke Island Festival Park, see the new art exhibit of Russell Turner, who creates found-object boxes with unique personal stories, and meet the artist at a reception from 6 to 8 p.m. * Be sure to go to the Manteo Farmers Market on Saturday at 8 a.m. It's more than veggies: you'll find art, craft, food and sweets too...
This weekend is the state's Sales Tax Holiday on clothing, footwear, school supplies, sports equipment and computers. That must mean it's time to start gathering up stuff for school! Yikes. I'm not ready for that, but it doesn't mean summer is over...
Here's a head's up about a few things going on next week that you'll need to register for ahead of time: The Elizabethan Gardens' Children's Gardening Camp is August 8 through 12 from 9 a.m. to 3 p.m. Call (252) 473-3234 for info. * Roanoke Island Festival Park has its Pathfinders Camp from August 8 through 12 for ages 7 to 9. Kids will explore the island as the early explorers did, and it includes an overnight camp out at Festival Park. Call (252) 475-1500...
Next Tuesday, the N.C. Coastal Federation is holding an Ecological Exploration at the Roanoke Island Maritime Museum at 2 p.m. It's a free 45-minute outdoor program with an ecological focus. Call (252) 473-1607...
Musicians take note: Dare County Arts Council is looking for local musicians with original music to participate in the Outer Banks Sounds program. Selected musicians will be chosen to play a date at Kelly's, perform live on the Acoustic Lunch radio show on WVOD and get a track on a CD of Outer Banks music. Proceeds will benefit Community Music School, which brings affordable music instruction to local youth. Call (252) 473-5558 for info...
Keep looking around our site for more things to do. There are a lot of listings for nightlife and more things to do in the daytime, plus restaurant specials and shopping deals. Have fun out there. Be safe...