I love the heat . . . I thrive in it. In fact, it's one of the top reasons I chose to make the Outer Banks my home. But temps in the 90s for the past week are starting to take their toll on the people of this island. Perhaps the strangest thing to happen was the couple that entered the ocean earlier this week with homemade shark cages – as in, yes, to protect themselves from sharks! (It turned out to be a stunt for an equally hilarious greeting card. If you're actually looking to get up close and personal with our toothy friends, check out the aquarium on Roanoke Island.)
The point is – it's hot. But thankfully there are lots of cooling activities in the lineup this week as well as a forecast of temps in the upper 80s. (I'll take it!) With the real scorchers backing off, you'll notice the locals returning to the farmer's markets and street festivals this week and everybody coming out for some of these fun, refreshing events.
Kitty Hawk Kites Watermelon Festival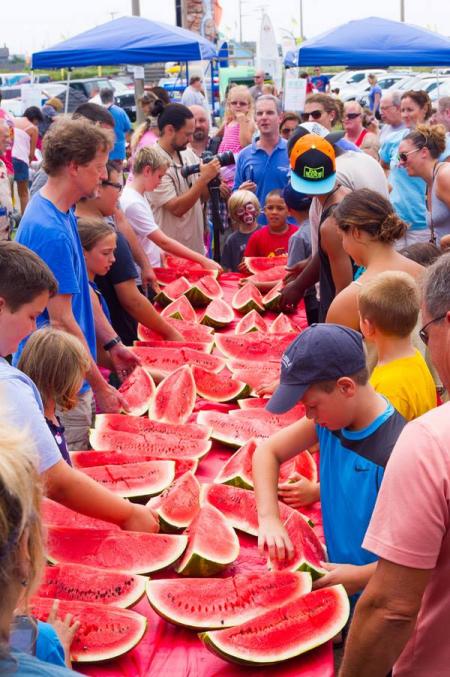 There's something about watermelon that speaks of summer. Whether it's handing out succulent slices on the beach or splitting open a melon at an evening barbecue, watermelon and summer go hand in hand. But have you ever participated in a seed spitting competition? How about a watermelon eating competition?
On Thursday, July 30, Kitty Hawk Kites will host their annual Watermelon Festival outside the Nags Head Kitty Hawk Kites store. There will be splash blast, face painting, toy demos and LOTS of watermelon. Rumor has it there will even be watermelon ice cream. The fest runs from 10 a.m. to 4 p.m. with competitions scattered throughout the day. (KHK will post the competition schedule on their website.) The event is completely free, so come cool down with a slice of watermelon and meet me at the corn hole boards.
Movies on the Sound
Movies on the Sound is always a great time for everyone in the family, but I'll tell you now, this one is going to be a good one. One of my all-time favorite movies, The Princess Bride, will be screening this Friday on the Duck Town Green. It's a famous, fantasy adventure film with action that will keep kids riveted and with jokes that adults can enjoy. Keep an eye out for the R.O.U.S.'s!
The gates open at 7 p.m. on Friday, July 24, and the feature starts at dusk. I would get there early to stake out your viewing spot, then catch the sunset from the boardwalk over the Currituck Sound. There will be lots of activities prior to the movie, like the Kitty Hawk Kites rock wall towering at 30 feet, face painting, special character appearances and snow cones. (Take note that not all activities may be at all movie events.) If you drive to the show, a $10 per car donation is appreciated and will benefit low income and special needs families.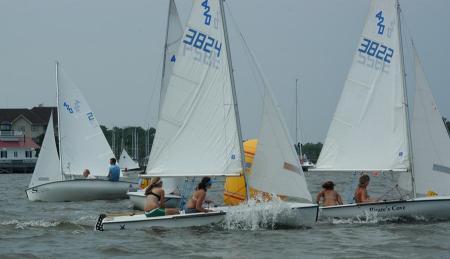 One-Design Sailboat Regatta
There's nothing like the feeling of the wind controlling your movements. Experienced sailors know it well and can participate in this weekend's Annual One-Design Regatta, while non-boaters get a taste of the exhilarating sport from shore. This one-day event hosted by the Roanoke Island Maritime Museum takes place the last Saturday in July each year – with this summer's regatta falling on July 25. There will be boat races starting every three minutes and an awards presentation and cookout at the end of the event. For more information, email sailing@townofmanteo.com.
Surfing for Autism Silent Auction
Come support an incredible event that is near and dear to many locals' hearts. Surfing for Autism is an annual autism and Asperger's awareness event that gives kids the opportunity to surf. Children of all ages are paired with two surfers (you'll see my dad out there!) and a skilled therapist or teacher who is well educated on the special needs of children with autism. This awesome event will take place for the fifth time this August, and the Silent Auction on Saturday, July 25 allows the families of children with autism to participate for free. The auction goes from 7 to 9 p.m. at Trio in Kitty Hawk.

Tuesdays in Manteo
I can't get enough of the street festivals on the Manteo waterfront. This is one cool town, and each Tuesday through September, the waterfront comes alive with music, local arts and crafts, watersports and all kinds of activities. Businesses stay open late, and restaurants put out all the specials. If you're going to explore downtown Manteo, Tuesday is the day to do so...well, at least, the most fun day! Arrive by boat or car for the free local arts and crafts show from 10 a.m. to 6 p.m., live music by Mojo Collins from 1 to 3 p.m. and good times extending into the evening. There's a ton of great places to get a cold draft at day's end too. I, for one, will be at Poor Richard's right on the main downtown stretch.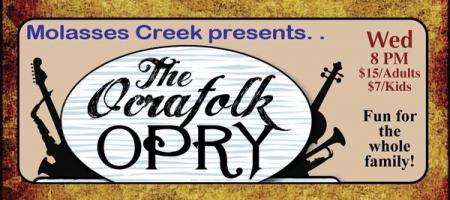 Molasses Creek presents The Ocracoke Opry
Locals and visitors down in Ocracoke . . . this one's for you. From June through October, The Ocracoke Opry brings a night of music, stories and theatrics that are unlike any other show on the Outer Banks. And if you've been to Ocracoke before, then you know that most things there are unlike anywhere else in a great way! The talented Opry performers have been featured on National Geographic and have traveled all across the country. You can see them at Deepwater Theater on Wednesday, July 29 at 8 p.m. Try to reserve your tickets in advance – $15 for adults and $7 for kids – because this one does sell out.
You know there's great nightlife this week too. Check out our Nightlife & Events page for all the after dark happenings from musical performances and dance parties to late night sushi nights and magic shows. It's all happening on the Outer Banks This Week.