Whether you're a serious birder or a casual birdwatcher, now is the time to enjoy all the winter bird visitors on and around the Outer Banks. Waterfowl like snow geese, tundra swan and more than 25 species of ducks are here in great numbers, wintering on the beaches, sounds, marshes, lakes and ponds in the national wildlife refuges, national seashore and other natural areas. Additionally, songbirds and raptors are seen here in winter. The Outer Banks offers an abundance of places to see winter birds, and if you have a little extra time, there are even more places to visit within an hour or two's drive. Here are a few of the don't-miss places for birds this winter. 
Photo: Scaup. All photos in this blog were taken by Becky Harrison in Pea Island National Wildlife Refuge.
Don't forget your binoculars and your birding guides to identify what you're seeing. Or you might want to download a birding app before you go (Merlin Bird ID, eBird and Audubon Bird Guide are recommended). Bring snacks and water as some of these locations are pretty remote.
Pea Island National Wildlife Refuge
A key stop along the Atlantic Flyway, Pea Island NWR is one of the most popular winter birding locations on the Outer Banks. The impoundments behind and near the visitor center are always full of waterfowl this time of year, and if you're looking for sheer numbers, this location never fails. There are paths and boardwalks so you can walk farther along the impoundments. No dogs are allowed on these trails. It's also worth walking on the beach to look for birds on the ocean and along the shore. Also, be sure to visit the north end of Pea Island near the inlet. Walk out on the terminal groin to see gulls, terns, shorebirds and wading birds or even falcons. Find more information here.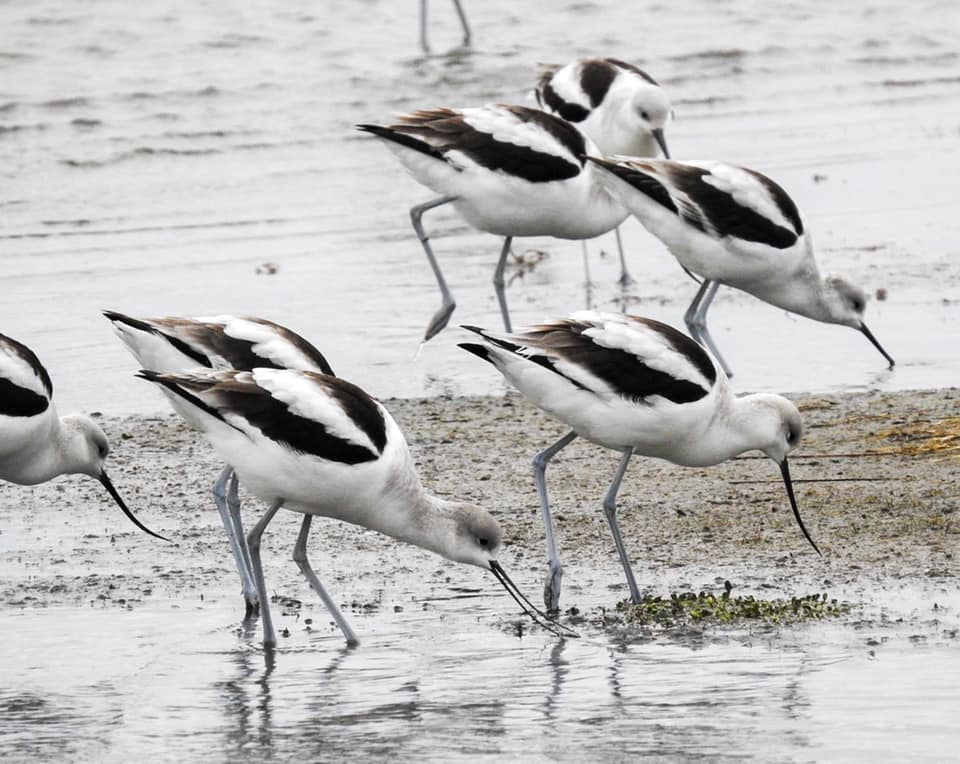 American avocets 
Alligator River National Wildlife Refuge
Drive along the roads of Alligator River NWR, and you'll find impoundments full of waterfowl. If you're feeling more adventurous, park and walk along some of the trails at the refuge. You can also bring kayaks or a canoe and paddle through the creeks and lakes. Find more information here.
Cape Hatteras National Seashore
Any stretch of beach you choose to walk on will reveal some kind of birdlife, but the best places to look for more variety are Cape Point and the beaches near Hatteras Inlet. You might see gulls, loons, grebes and diving ducks. Another good spot in the national seashore is at Bodie Island Lighthouse. Park at the lighthouse and walk the trails to see snow geese and tundra swan in the ponds as well as a variety of other birds. A snowy owl is making the rounds between Ocracoke Island and Hatteras Island and has been seen lately on the north end of Pea Island and in Ocracoke. Find more information here.
Donal C. O'Brien, Jr. Sanctuary and Audubon Center
This location between Duck and Corolla is a good place to take a walk along and look for wintering waterfowl on the Currituck Sound. Find more information here.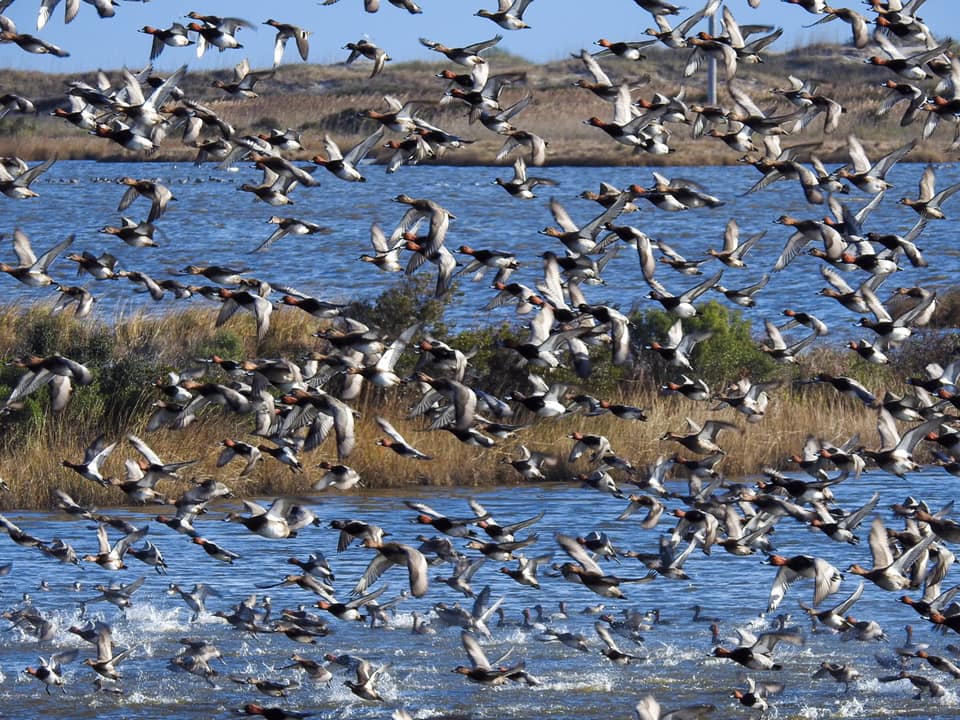 Redheads
If you're looking for some daytrip adventures from the Outer Banks, these are some good ones. You'll get a long drive in the country, maybe even a ferry ride, and you'll find opportunities to get out and stretch your legs on a walk.
Mackay Island National Wildlife Refuge
On Knotts Island in Currituck County, Mackay Island National Wildlife Refuge is a consistent spot for viewing winter waterfowl. You'll need to take a ferry over from the Currituck mainland or you can drive from Virginia. You can walk in the refuge, and there are a few boardwalk overlooks where you can see tundra swan, snow geese and ducks. Find more information here.
Mattamuskeet National Wildlife Refuge
In neighboring Hyde County, Mattamuskeet NWR is considered the holy grail for a great variety of wintering waterfowl as well as bald eagles. The impoundments near the refuge office tend to hold more birds, but it's also worth it to drive across the lake on the causeway road. Find more information here.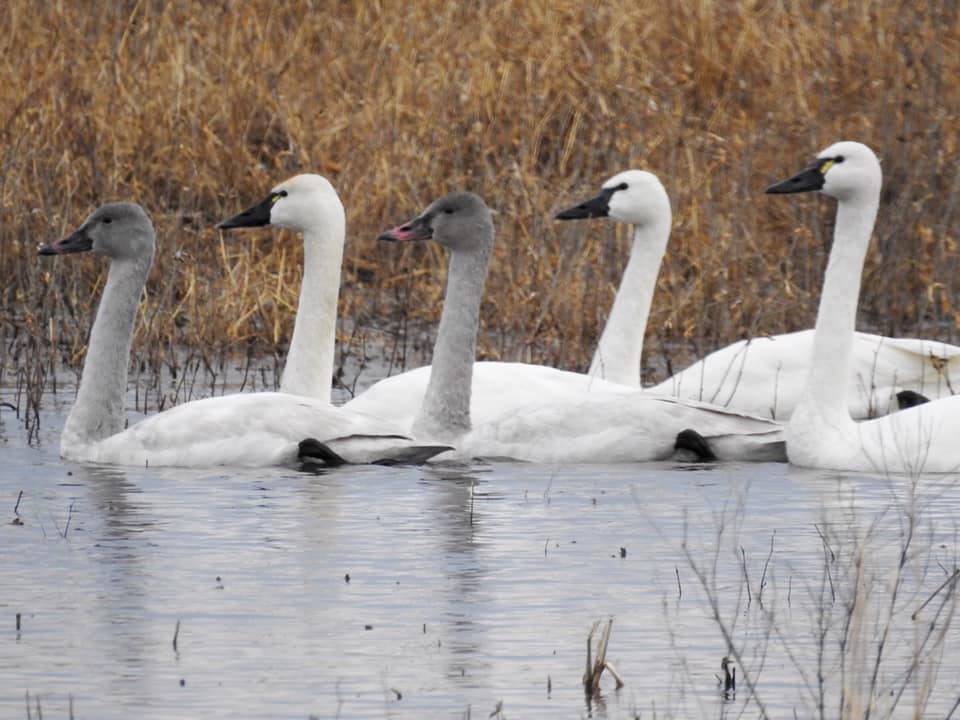 Tundra swans
Pocosin Lakes National Wildlife Refuge
Home to Pungo Lake, one of the region's top locations for viewing winter waterfowl, Pocosin Lakes NWR is 6 miles south of Columbia. You can go to a viewing platform along Pungo Lake to see swans, geese and ducks, or you can take a walk along the Scuppernong River behind the refuge headquarters to see and hear a variety of birdlife. Find more information here.
Birding is a socially distant activity so it's the perfect pandemic pastime. Be sure to bring your mask for any stops you make along the way. Have fun out there!
For more things to do on the Outer Banks, be sure to check our Daytime and Nightlife pages.