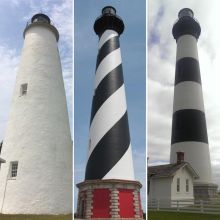 Hatteras and Ocracoke islands were spared from the physical effects of Hurricane Isaias, but economically they took a hit. Losing four days of summer business due to storm evacuation is a big deal for the islands' small, locally owned businesses. Now that the islands are open to visitors once again, we should all plan a day of island hopping on the southern Outer Banks. Take a long drive, stop for some meals and snacks, pick up a few souvenirs, ride a ferry, take a walk or do something fun on the water, and you've found the perfect daytrip that will also help out a few businesses along the way.
Photo: Cape Hatteras National Seashore'ss three lighthouses, courtesy of Cape Hatteras National Seashore Facebook
If you've never been to these islands, you're going to be amazed at all the open space. Thanks to the protected lands of Cape Hatteras National Seashore, Hatteras and Ocracoke islands are way less developed than the northern Outer Banks. Long stretches of scenic highway without a house in sight connect the seven villages on Hatteras, and a ferry and another long drive bring you to Ocracoke village. Driving through this surreal barrier island landscape will magically clear your head and slow you down to – I hate to say it but the cliche is true – island time. 
Roadtripping to Hatteras and/or Ocracoke is a perfect day-long activity and distraction from the busy northern Outer Banks. For comparison's sake, drive time from Corolla to the northern tip of Hatteras Island is about an hour; from Duck it's about 45 minutes and from Kitty Hawk it's about a half-hour. It will take you about an hour to drive the length of Hatteras Island (without stopping, though you'll want to stop). The ferry ride to Ocracoke takes about an hour. Just so you know, the villages in order from north to south are Rodanthe, Waves, Salvo, Avon, Buxton, Frisco and Hatteras on Hatteras Island then Ocracoke village on Ocracoke Island.
Here are 10 tips for making a successful daytrip to Hatteras and Ocracoke.
Do Not Make a Plan
A daytrip to these islands is really about the journey, not the destination. It's one of those times when you can jump in the car without a plan and always have a great day. Trust me on this one. Let the day evolve on its own. The only thing you might need to keep in the back of your mind is the schedule for the ferry to Ocracoke if you're planning to go that far. Check the times for the ferries here.
Gather a Few Necessary Supplies
Travel light. Be prepared for swimming spontaneity with bathing suits, flip-flops or sandals for hot sand, sunscreen, beach towels, a boogie board or surfboard if you like. Bring a cooler but don't stock it up before you leave; plan to gather provisions on the islands. Bring your masks.
Turn Off the GPS and Navigation
To find the entrance to Hatteras Island, head south on N.C. Highway 12 or U.S. Highway 158 from the northern beaches or east the causeway from Roanoke Island. You'll see the entrance to Cape Hatteras National Seashore in Nags Head and lots of signage. Highway 12 is the main road on both islands. You cannot get lost. If you turn off that road you will not get very far at all; these islands are narrow.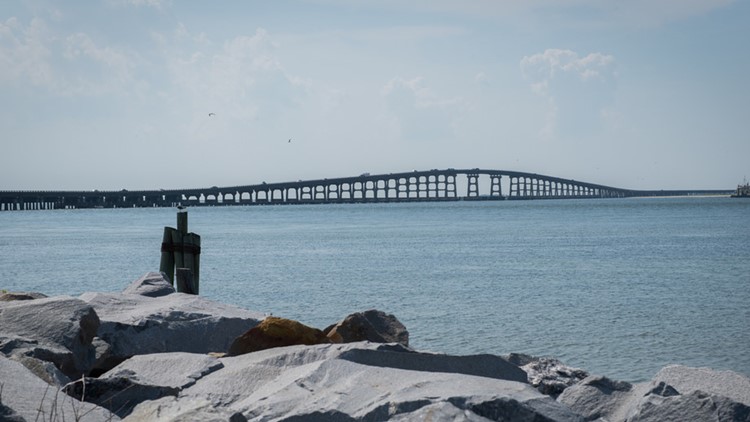 Photo: A trip to Hatteras Island includes a ride on the Marc Basnight Bridge over Oregon Inlet. Photo courtesy NCDOT
Get the Camera Ready
A trip to Hatteras starts with a drive over the Basnight Bridge over Oregon Inlet, an auspicious start if there ever was one. The crest of the bridge provides the Outer Banks' most stunning view – a wide landscape of inlet, ocean, dunes and sound with a historic U.S. Lifesaving Station thrown in the mix. It's gorgeous and you will want a photo. Don't slow down or, god forbid, stop the car at the top of the bridge. Have your front-seat passenger at the ready with the phone camera once you start climbing the high part of the bridge. 
Set the Mood
For the long drive, you need to set the mood with the right music. I like to tune in to the local community radio stations. These are nonprofit, non-commercial ventures run by the islanders. The DJs are locals and they select their own music. You'll hear some island news and commentary and commercial-free music. I find that it doesn't really matter what the music is; just listening makes you feel more connected to the island. Once you're on Hatteras Island's northern end, you can tune in to Hatteras Radio at 99.9 FM. Once you get down to the middle of the island, you'll have to switch to 101.5 in Buxton. On Ocracoke you can tune in Ocracoke Community Radio WOVV at 90.1 FM. If you like what you hear, send them a few bucks or buy a t-shirt from their website to support them.
Make the Pitstops
Say goodbye to that inner dad in you that wants to get where you're going without any family bathroom breaks. You're going to see a lot of cool stuff along the roadside on this trip and the whole point is to stop and check it out. Stop at the Chicacomico Life Saving Station, Bodie Island Lighthouse, Cape Hatteras Lighthouse and Ocracoke Lighthouse. Stop in the souvenir shops, surf shops, art galleries and boutiques. Stop and play a round of mini golf. Stop and get a photo in front of the far-out spaceship in Frisco. Poke around the old island family cemeteries if that's your thing.
Come Hungry
Do not do something practical like bringing mugs of coffee and sandwiches from home. Food choices on both islands are varied and tasty. Experience the local flavor at the village coffee shops and bakeries, pick up sandwiches from a deli or tacos from a food truck. Sit down for a meal in a restaurant to enjoy locally caught seafood, Italian food, North Carolina barbecue, burgers, Chinese food or Mexican fare. Enjoy a meal in a restaurant with a water view, or take a picnic to the beach. When you see a fudge, taffy, ice cream, froyo or acai bowl shop, hit the brakes. There's even a local brewery on Ocracoke Island. That empty cooler you brought? If you decide to hit the beach or take the ferry, stock it up with drinks and food. (Keep in mind that drinking alcohol is prohibited on the Hatteras-Ocracoke ferry.) You can view the full list of Hatteras and Ocracoke restaurants here and here.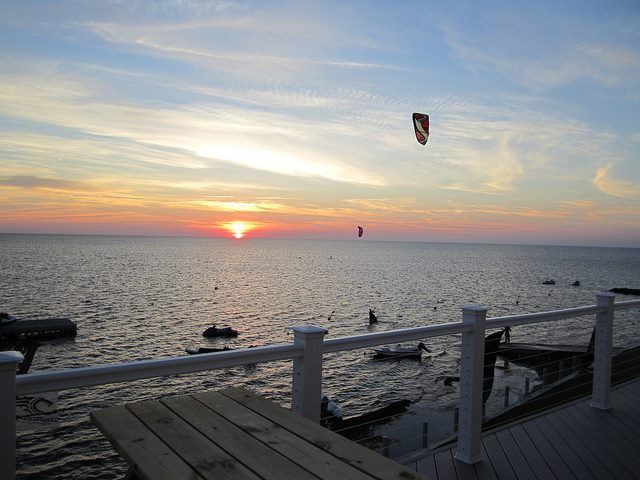 Enjoy lunch or dinner with a view. Photo: Good Winds Restaurant, Rodanthe
Do Something Outside
These islands are all about natural beauty and being outdoors. If you don't do something outside, you're going to regret it. At the very least, park at a beach access and take a walk or a swim. The beaches here are gorgeous, wide, flat and, if you're outside of the villages, undeveloped and uncrowded. Click here for a link to the lifeguarded beaches on the islands. If swimming where there is no lifeguard, do not swim alone and bring along a flotation device like a boogie board. If you have a 4x4 and want to drive on the beach, you can do that here and it's a really fun option, but you'll have to get a permit first. Click here to do it online. You can also walk on trails through woods or marsh on either island. Watersports options are .on both islands – kayaking, standup paddleboard, Jet Skiing, kiteboarding, windsurfing, surfing, sailing, boating, fishing and much more. You'll see options for all of these watersports at businesses right along the side of Highway 12.
Get a Souvenir
You'll want to remember this day, so pick up something to help you do that. It can be something simple – stickers and t-shirts from a local surf shop, miniature lighthouses from the souvenir shop or taffy from the taffy shop. I think the best souvenir is art made by a local artist. Stop in a gallery for a photograph, painting, jewelry or pottery. You might be lucky enough to catch an outdoor art show or farmers market on the day you visit; you'll see signage if that's the case. You could even buy a locally made surfboard on Hatteras for the ultimate Hatteras souvenir. That cooler you brought along? You could stock it with locally caught seafood and ice from a seafood market to cook later in the week. Ask what's being caught when you're in town and stock up on the freshest seafood available.
Practice the 3 Ws
Hatteras and Ocracoke islands will make you feel so relaxed and far away from it all that you'll be tempted to let your pandemic guard down. Don't do it. Wear your masks inside all businesses, wash or sanitize your hands often and stay at least 6 feet away from others.
To learn more about the islands, visit our complete Hatteras and Ocracoke websites for all the restaurants, shops, things to do and information you need.
I hope you're able to take a Hatteras or Ocracoke daytrip while you're here! What is your favorite thing to do, shop or restaurant on Hatteras or Ocracoke islands? Got any other daytrip tips? Share with us what you love about these islands in the comments below.