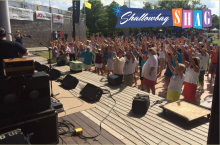 I love seeing the lifeguard stands go up each year. They've become associated with the unofficial start of summer and the arrival of the first real waves of visitors for Memorial Day weekend. As the holiday approaches, the sun is shining and the American flags are already up around town. It's a time for leisurely cookouts and some of the first real beach days of the year, but it's also a time for summer's earliest festivals, a couple of cool kickoff events and the re-opening of the incredible Lost Colony outdoor drama. There are too many events going on to attend them all, but you can certainly try – and I recommend it.
Shallowbag Shag Beach Music Festival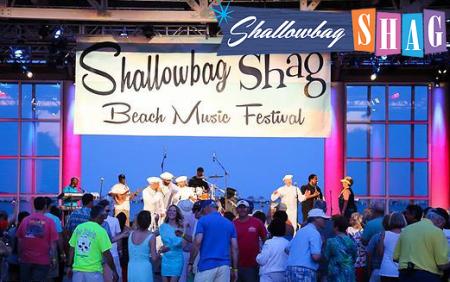 I can't think of a better way to kick off summer than with a family friendly beach music bash. For the third year, the Shallowbag Shag Beach Music Festival will be bringing the good tunes and good vibes at one of my favorite event sites on the Outer Banks, Roanoke Island Festival Park. The outdoor pavilion will play host to The Temptations Revue, Jim Quick & Coastline, The Tams and Steve Owens & Summertime on Monday, May 30 for a spectacular Memorial Day concert. Tickets are $40, and the fest runs from 11:30 a.m. to 9 p.m.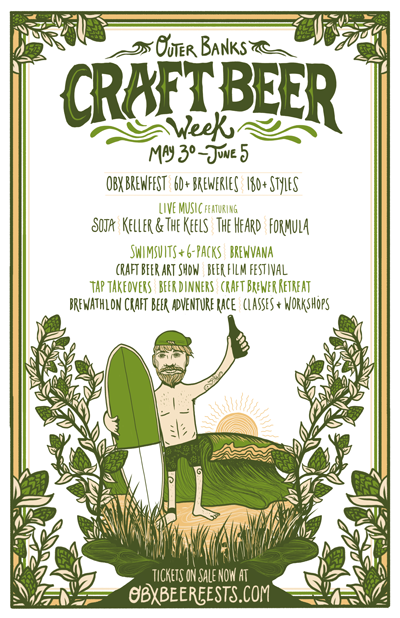 Outer Banks Craft Beer Week
If you loved OBX Brewfest last year (I definitely did!), then you are about to be in craft beer heaven. What started as a single-day festival has grown into a week-long event with awesome new attractions like tap takeovers, beer dinners, a Beach Party/Can Swap, Brewvana (a beer-meets-yoga experience) and much more throughout the entire week of Monday, May 30 to Sunday, June 5. The event culminates on Sunday with OBX Brewfest, a craft beer event at the Outer Banks Event Site boasting more than 160 tasty libations from around the United States along with a showcase of the area's best culinary, performing and visual arts. Visit the Outer Banks Craft Beer Week website for individual event details, and grab your tickets to OBX Brewfest now – they're going quick!
The Lost Colony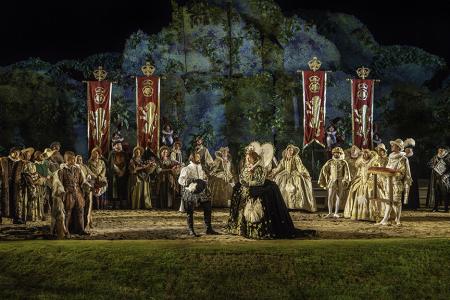 Nearly 20 years have passed since I first saw The Lost Colony, and I'm still wondering at the grandeur of it all. The mysterious story of the first English colony's disappearance in the New World has captivated audiences for the last 79 years, from the very facts to the magnitude of the performance. The stage itself is more than three times larger than most Broadway stages in New York, and the action spills out into the isles and is often taking place on three sides of the audience. First timers can expect epic battles, Indian dances, Queen Elizabeth's full court and the birth of Virginia Dare, the first English child in the New World.
Even if you're not usually into theater, go to this play. The story is one of the centerpieces of Outer Banks history, and I can't recommend it highly enough. This weekend marks the first performances of the year with shows on Friday, May 27 and Saturday, May 28 at 7:30 p.m. Tickets are $30 for adults and $10 for children ages 6 to 12.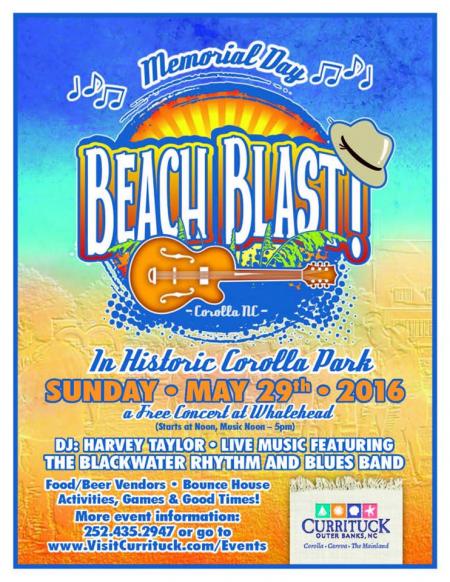 Memorial Day Beach Blast
It looks like it's going to be beach music heaven this weekend with a second fest happening up in Corolla. Grab your beach chairs and get ready for a free day of live music, food and beer vendors, children's activities (including a bounce house!) and good times alongside the beautiful Currituck Sound. The Blackwater Rhythm and Blues Band will be taking center stage, and attendees can also enjoy the musical offerings of DJ Harvey Taylor. The Memorial Day Beach Blast will take place in Historic Corolla Park on Sunday, May 29 from noon to 5 p.m.
Tuesdays in Manteo
I can't get enough of the street festivals on the Manteo waterfront. This is one cool town, and each Tuesday from now through September, the waterfront will come alive with music, local arts and crafts, water sports and all kinds of activities. Businesses stay open late, and restaurants put out all the specials. If you're going to explore downtown Manteo, Tuesday is the day to do so ... well, at least, it's the most fun day! Arrive by boat or car for the free local festival happening outdoors between 10 a.m. to 5 p.m. on Tuesday, May 31 and extending into the evening in some businesses.
Summer Yard Party and Evan Netsch Kiteboarding Clinic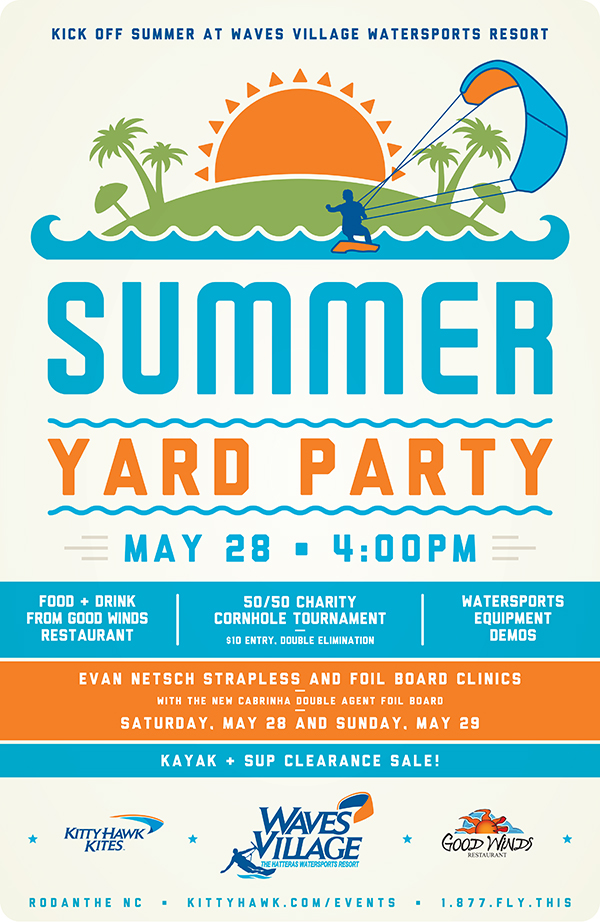 It's shaping up to be a spectacular weekend for both families and water sports enthusiasts down in Rodanthe. The Kitty Hawk Kites Summer Yard Party will take place this Saturday, May 28 with kiteboarding videos on the big screen, food and drink from Good Winds Restaurant, a 50/50 charity cornhole tournament, water sports equipment demos and an equipment sale. The party is free to attend (there is an entry fee for the cornhole tournament), and it kicks off at 4 p.m. at Waves Village Watersports Resort.
Also happening at Waves Village this weekend is the Kiteboarding Clinic for strapless air and foil boarding. Cabrinha Kiteboarding pro and Outer Banks local Evan Netsch will be leading the clinic on Saturday, May 28 and Sunday, May 29 at 9:30 a.m. The cost is just $15 for the entire weekend, and you can head over to the Summer Yard Party afterward.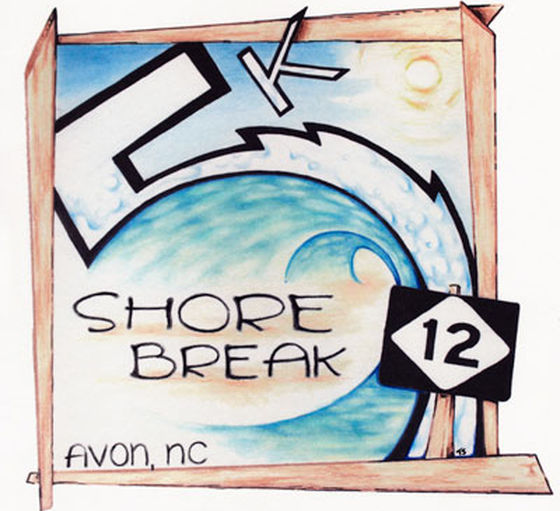 Shore Break 5K and Tide Pool Fun Run
Athletes on the island, here's one for you. For the fifth year Midgett Realty will host the Shore Break 5K and Tide Pool Fun Run in the village of Avon. Runners and walkers can make their way across Hatteras Island traversing both paved roads and beach terrain while raising money for the Hatteras Island Youth Education Fund. The 5K begins at 8 a.m. on Monday, May 30 followed by the Fun Run on the beach and and a Beach Post Party at Koru Village's oceanfront Beach Klub. Pre-registration is required.
The Virginia Symphony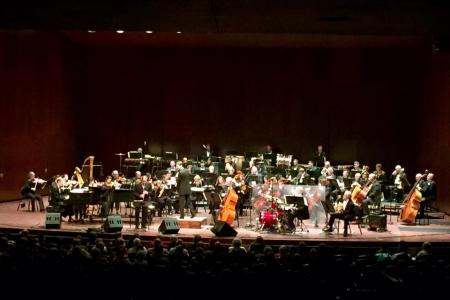 The beautiful classical music of The Virginia Symphony will fill the auditorium of First Flight High School this week. The symphony is recognized as one of the nation's leading regional symphony orchestras and has long been at the center of the Hampton Roads arts community. Led by a nationally acclaimed conductor, the symphony will perform on Thursday, May 26 at 7 p.m. Tickets are $28 for adults and $15 for students.
Summer nightlife is back in full effect this weekend with national touring bands and DJ dance parties taking the spotlight. There's also a a poker night, trivia nights and all kinds of after parties following this week's main happenings. Visit our Nightlife & Events page to plan your night(s) out this Memorial Day Weekend.