Warm sunny days, purple wisteria draped from the trees, blooming camellias, the scent of jasmine wafting through the air – ah, I love the signs that spring has officially come to the Outer Banks. I'm taking Claritin and sporting a new sunburn I got over the weekend, and I couldn't be more excited. Not only does this weather mean that we can go outside without the cold numbing our noses, but it also means that the activity level on the Outer Banks is revving back to the summer season swing. Simply look at the increasing number of people on the road, visiting shops and dining in restaurants. It all puts me in a spring-time mood, and what better way to celebrate spring than with the essential vernal holiday Easter? Thanks to the events scheduled around the Outer Banks this Easter weekend, I'll be doing a lot of celebrating, indeed.
Easter Activities
Spring break is this week for many, and so it's a great time to rally the family and take advantage of Easter activities (read: egg hunts!) beginning on Friday. The Easter Eggstravaganza at Whalehead in Corolla is a chance to dive into seasonal fun as well as local history. Kids explore Historic Corolla Park as the Easter Bunny helps them search for eggs. Other activities including face painting, egg-and-spoon races, a bean-bag toss, pony rides and more to continue the fun even after all the eggs have been found. This free event is from 1 to 3 p.m.
Spending time in Historic Corolla gives you certain exposure to the Outer Banks' culture, but also near and dear to the area is our love of flight and aviation. Get a healthy dose of that – and still keep up the springtime shenanigans – at Kitty Hawk Kites' Fly into Spring Easter Eggstravaganza in Nags Head. Children can visit the Easter Bunny and hunt for eggs while giant, colorful kites fly over Jockey's Ridge. Be sure to check inside the eggs too; some contain special prizes. Fly into Spring happens both Friday and Saturday from 10 a.m. to 4 p.m.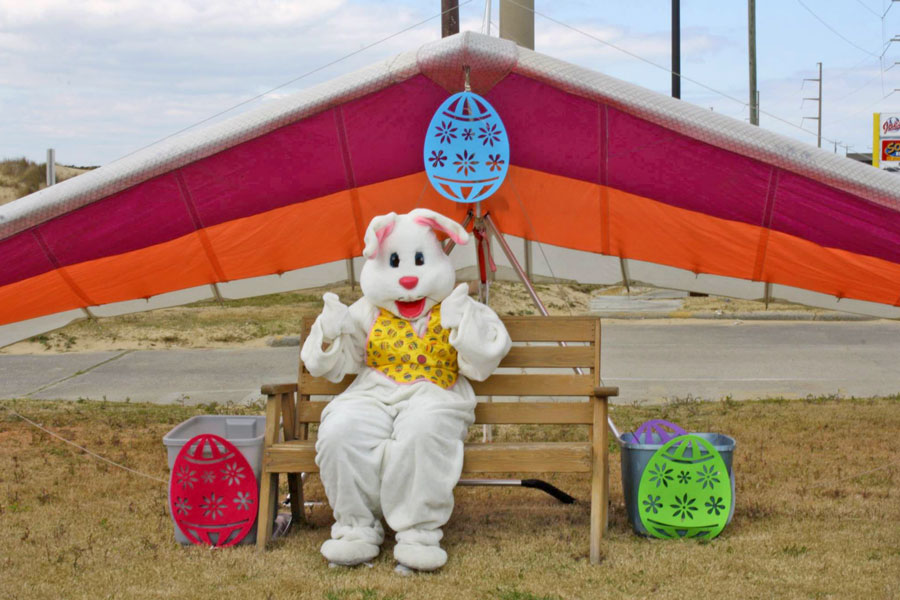 Photo credit: Kitty Hawk Kites
Heard enough egg puns yet? Hardly, and for an Outer Banks Easter weekend must-do event, head to the Easter Eggstravaganza at The Elizabethan Gardens. Although searching for eggs in blooming gardens is the featured activity, this event is not your typical egg hunt. Children can also make crafts, get their photos made with Sir Walter "Peter" Wabbit, participate in the egg roll on the Great Lawn, play games and be entertained by the musical and dancing performances. There will also be a homemade bake sale and an Easter bonnet/hat contest. This event is from 10 a.m. to 1 p.m. and is free for members of The Elizabethan Gardens. For non-members, one child (younger than 5 years old) is admitted free per paying adult.
Easter Brunch
Just as necessary as the egg hunts, an Easter brunch is a cornerstone Easter activity. Many of your favorite Outer Banks restaurants know this, and they're ready to help you brunch like a beast come Sunday.
If you're on the northern side of the Outer Banks, Mike Dianna's Grill Room is serving up some special treats in addition to their brunch menu, including half-priced bottles of wine, $5 mimosas and a $5 Bloody Mary Bar. Call (252) 453-4336 to reserve a table between 10 a.m. and 3 p.m.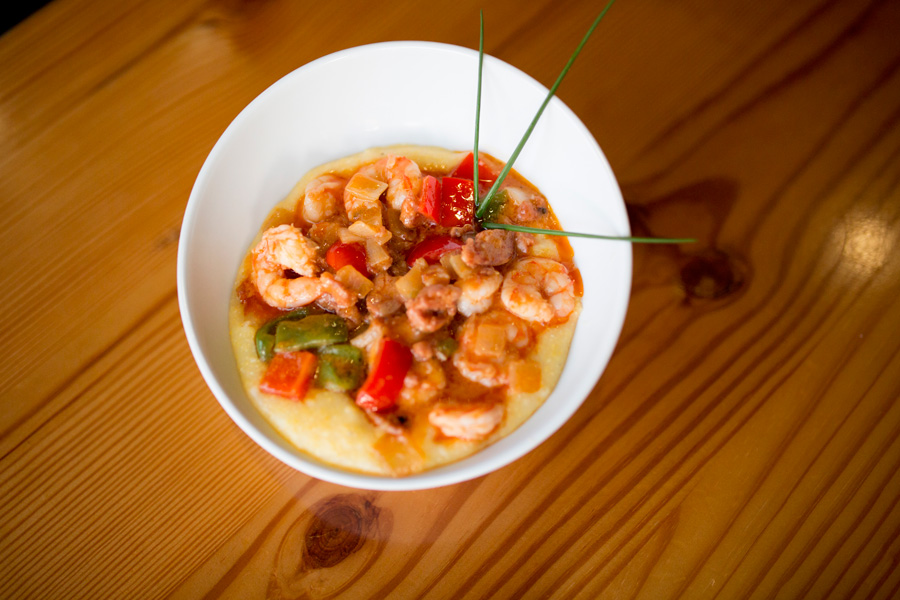 Photo: Dig into Spicy Shrimp & Grits at Lone Cedar Cafe's brunch buffet
For a variety of coastal and Southern-fusion fare that bursts with fresh ingredients, join Red Sky Cafe for its annual Easter Brunch buffet from 10 a.m. to 4 p.m. This prix fixe meal satisfies all palates with meat, seafood and vegetarian dishes as well as vegan and gluten-free items. For reservations, call (252) 261-8641.
For those spending Easter farther south on the beach, tuck in to the annual Easter Buffet at Basnight's Lone Cedar Cafe. For a set price, adults and children can take their pick of surf and turf items, an assortment of seasonal vegetable side items and, of course, many desserts. This brunch starts at 10 a.m. and continues until 3 p.m., and reservations are recommended; call (252) 441-5405.
Believe it or not, these are just a few of the Easter activities and brunches happening this weekend around the Outer Banks. See what else is going on in our Daytime Events page. And for evening entertainment (because brunch and egg hunts can only last so long), find live music, trivia and themed fun on our Nightlife page.