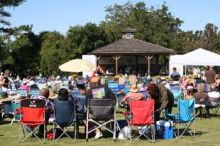 Days like these are why many of us live on the Outer Banks. The temperature is cool and crisp (upper 60s, low 70s), the sun is shining and the fall air is so clear that the color of everything is eye-popping. * Visitors obviously like this weather, too; the beach in Nags Head has been downright crowded lately. You should definitely try to hit the beach sometime this week, for a walk or a swim. The ocean is the same temperature as the air, hovering around 68, and it might warm up if the wind shifts to the NE, so go ahead, jump in! Or at least let your kids get in. It's definitely not cold to them...
I really hope you're going to be here this weekend because there is a lot going on, and I'd hate for you to miss out...
The Town of Duck is going to be one big continuous party all weekend long. The big deal is Duck Jazz Festival on Sunday starting at 11 a.m. and lasting all day. It always amazes me that this event is totally free! * Kirsten Thien Band plays at 11 a.m., Adrian Crutchfield at 12:15 p.m., headliner TIZER with Chieli Minucci and Karen Briggs at 2 p.m. and Soul Rebels Brass Band at 4:15 p.m. * Spectators sit on the lawn, so bring chairs and blankets, picnics and coolers, and you can set up camp as early as 10 a.m. Tents and umbrellas are not allowed, by the way. New this year: Food vendors. Aqua Restaurant, Coastal Cravings and Dockside-N-Duck will be selling good things to eat. Shuttle service will be available. See www.duckjazz.com for info...
The Duck merchants and restaurants are also getting involved in the Duck Jazz Festival this year, with many Pre-Jazz Festival events. On Thursday from 3 to 7 p.m. Scarborough Faire is hosting a free Jazzy Blues concert with Mojo Collins and Triple Vision. * On Friday: at Wee Winks Square there will be a Shrimp and Beer Feast and live bands from noon to 4 p.m.; The Blue Point is hosting a Porch Party with live music from 6 to 9 p.m.; Coastal Cantina is hosting Latin Jazz in Paul Rowlen Project on their waterfront deck from 4:30 to 7:30 p.m.; Aqua is hosting Sax in the City from 7 to 10:30 p.m. with the Hound Dog Family Band. They're also having a "High Heeled Shoes" contest at 10:30. * On Saturday Roadside Bar and Grill is hosting an Oyster Roast and Beer Tasting and live music from 3 to 7 p.m. Coastal Cantina is hosting a Wine & Tapas event with the band Connected from 4:30 to 7:30 p.m. * Duck Jazz Festival Co-Host Adrian Crutchfield and other Jazz Festival performers are going to be dropping in on a lot of the live music performances throughout the weekend. There are also many other parties, wine tastings and sales in the local shops (including Urban Cottage's 12th annual Open House). All of these extra events are listed on the Jazz Festival website...
Did you know that the 2011 World Championships of Surf Kayaking are taking place in Nags Head this week? This is going on through Sunday at Jennette's Pier. Competitors from more than 20 countries are here competing! Go check it out. It seems like the best vantage point for these events is from the pier. * If you haven't gone up to the pier's second level to sit in the rocking chairs yet, you should. It's a great place to hide out from the crowds, and a really good place to take an older person, or anyone, to sit and watch the ocean...
Roanoke Island Festival Park Art Gallery opened a new show in October: Art of the Costume: Joan Brumbach, Nancy Harvey, Genna Miles. Brumbach is a costume designer for The Lost Colony, Harvey designs masks and Miles crochets art hats from found objects. You can see the show Monday through Saturday through October 31, but you can meet the artists on Friday from 6 to 8 p.m. during Manteo's First Friday celebration...
First Friday happens from 4 to 8 p.m. in Manteo. Shop in the boutiques and galleries, dine in the local restaurants, listen to live music in the streets and taverns, try your hands and feet on the rock-climbing wall or take a walk along the lovely waterfront boardwalk...
On Saturday morning take the time to hit a few sales and get some good deals. The Mommy & Me Yard Sale is from 7 to 11 a.m. in the Outer Banks Brewing Station parking lot. This is a multi-family yard sale, and there are some deals to be found on clothing for kids (and sometimes adults) plus toys and household items. * The Dare Literacy Council is holding the Dare Literacy Book Sale at the Baum Center (just around the corner from the Brewing Station) from 9 a.m. to 3 p.m. This is a great sale, and they have books for every interest. If you've got any books to donate, this is a good time to do it! They'll also be accepting nonperishable food items for the Beach Food Pantry. For info, call (252) 216-777. * The North Carolina Aquarium on Roanoke Island is hosting the 16th Annual Native Plant Sale on Saturday from 10 a.m. to 3 p.m. This year they're focusing on native, drought-resistant plants, plus they'll have rain garden information from the N.C. Coastal Federation. Call (252) 473-3494 for info. * The Elizabethan Gardens is also having its Fall Clearance Plant Sale this weekend, with 30% to 50% discounts on perennials, shrubs, ornamentals, grasses and trees. Their sale is Saturday and Sunday from 9 a.m. to 4 p.m. daily. Call (252) 473-3234 for info. * Fall is the ideal time to plant, so hit a plant sale and spend some time in the yard...
First Flight Rotary Club's Oink 'N Oyster Roast is this Saturday from noon to 4 p.m. at Longboards Island Grill in Kitty Hawk. Tickets are $25 in advance and $7 for children and can be purchased the day of the event or online at www.oinkandoyster.org. Part of the proceeds will go toward Hurricane Irene Disaster Relief via the Outer Banks Community Foundation...
Kitty Hawk Kites' 25th Annual Outer Banks Stunt Kite Competition is this weekend at the Wright Brothers National Memorial. The competition is on the Eastern League Circuit for sport kite flying, and spectators are welcome. Non-competitors can enjoy kite workshops and demos and kids' activities plus a kite ballet and team flying presentations. Call (252) 441-4124 for info...
The 19th Annual Outer Banks Homebuilders Parade of Homes runs Thursday through Sunday. There are 18 homes on this year's tour, located from Corolla to South Nags Head, and you can tour at your own pace. Go to www.obhomebuilders.org for ticket info...
Next week is the beginning of a brand-new event: Roanoke Colonies Archaeology and History Week. A team of archaeologists will be in town digging and looking for clues about the past plus hosting events and workshops. It starts Monday and lasts through next weekend. I'll be posting more about it in next week's blog, but you should know about the things going on Monday. At 3 p.m. a new exhibit, "Beneath the Sand: Past and Present Archaeology at Fort Raleigh" will open at the Fort Raleigh National Historic Site at 3 p.m. At 6:30 p.m., see Shepherd of the Ocean, a whimsical comedy about Queen Elizabeth and Sir Walter Raleigh starring Barbara Hird and Chris Chappell. At 7:30 p.m., attend a post-play reception and meet the actors from the play and the archaeologists who will be working on Roanoke Island all week...
That's not all. Keep looking around our site for more things to do at night, by day, in the shops, in the restaurants, in the schools and local nonprofits...
Before I go, here's a feel-good story from Hatteras Island: The National Park Service invited more than 300 students from the first through eighth grades at the Cape Hatteras Schools to climb the Cape Hatteras Lighthouse for free over the last two weeks. The NPS wanted to give the island's children a special treat after the hurricane. Surprisingly, for about 60 percent of the younger kids, it was the first time they had climbed the lighthouse...