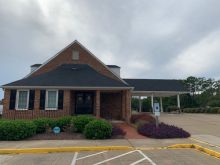 Have you ever walked on a clean, trash-free Outer Banks beach at sunrise, attended a performance with a view of the sound or seen Outer Banks locals coming together to support a neighbor and thought about how much you love this place? And have you ever thought that you would love to give back to a place that gives you so much joy?
This is exactly what happened to actor Andy Griffith. Back in 1982, during an interview with local author David Stick, Griffith mentioned how thankful he was for the support the Outer Banks community gave him when he was starting his acting career (Griffith was in The Lost Colony and later bought a home here). He said he wished he could find a way to show the local community just how much it meant to him.
Photo above: Outer Banks Community Foundation's new headquarters in Manteo, in the former Southern Bank building, is home to its staff offices as well as the Outer Banks Center for Nonprofits.
Stick mentioned the concept of community foundations, and the two agreed it was just what the area needed for him and others like him to give something back to the Outer Banks.
Stick enlisted local businessmen Edward Greene of The Christmas Shop and George Crocker of A Restaurant By George, banker Ray White, attorney Martin Kellogg and accountant Jack Adams to help, and the Outer Banks Community Foundation was born in November of 1982. Within a few months, they had received more than $90,000 in contributions and awarded $10,000 in grants to local nonprofits.
The founders of OBCF: Ray White, Andy Griffith, David Stick, Edward Greene, George Crocker, Martin Kellogg. Jack Adams is not pictured.
Forty-one years later, Outer Banks Community Foundation (OBCF) is the Outer Banks' largest charitable organization. It works in all the Outer Banks communities (Corolla to Ocracoke) across all areas of need, from the arts and education to health and human services and animal welfare to historic preservation and the environment. It has helped donors give back more than $13 million in grants and scholarships on the Outer Banks. 
"It is truly remarkable what our founders and directors have created over the years," says OBCF CEO Chris Sawin.
In September 2023, OBCF awarded $134,873 in grants to nine nonprofit organizations and more than $190,000 in scholarships.
If you have ever felt inspired to give back to this place you love, OBCF makes charitable giving easy, and they get the funds to where they are needed most. Here's how it works.
Contribute to a Fund
Outer Banks Community Foundation manages more than 220 charitable funds, including unrestricted, donor-advised, designated, scholarship and field-of-interest funds. By clicking here, you can scroll through the entire list of funds and pick one to contribute to. You can donate to a fund that supports a specific area of interest and support causes like food insecurity, animal welfare, bicycle safety, people in crisis, childcare, cultural arts, scholarships and so much more. Or you can donate to a fund that memorializes a person and does good work in their name.
If you donate an unrestricted gift to the general Greater Outer Banks Fund or Directors Fund, you will support OBCF's charitable activities, operational expenses, grants program and efforts to respond to the region's challenges. One thing that OBCF does that many people do not know about is support all the nonprofit organizations on the Outer Banks. OBCF offers continuing education, trainings and workshops as well as networking opportunities for nonprofits. In their new office in Manteo, which tripled their office space, OBCF has opened the Outer Banks Center for Nonprofits, offering much-needed meeting and training space for local nonprofit organizations. OBCF also partners with Outer Banks Visitors Bureau to support Voluntourism and worked with the Visitors Bureau to create an Outer Banks Nonprofit Directory.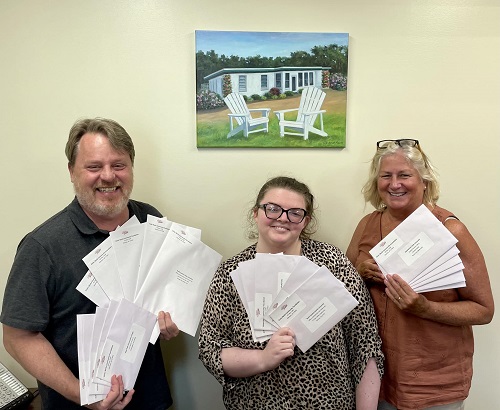 Photo: OBCF staff preparing to send out more than $190,000 in scholarship checks to recent high school graduates and returning college students in 2023.
Start a Fund
OBCF CEO Chris Sawin stresses that you do not have to be wealthy to start giving.
"We have really creative ways for beginner philanthropists to start small, and it does not take long to build a powerful fund," he says.
Sawin and Grants Manager Scout Schillings gave two examples of people building powerful funds.
One example is the Kelly Family Fund, one of the earliest funds, started in 1994. The fund's founder Mike Kelly got involved early on with OBCF as a volunteer, board member and donor. He started a golf tournament – the Kelly Hospitality Group Charity Golf Classic – to raise money to grow this fund. (This event is coming up on October 23 and the details are at the end of this blog.) All proceeds from this event, the longest-running charitable golf tournament on the Outer Banks – go to the Kelly Family Fund with Outer Banks Community Foundation. Over the last 28 years, the donor-advised Kelly Family Fund has contributed more than $400,000 to primarily arts and culture, health and human services and education initiatives.
Let's say you do not want to pull off a major event like a golf tournament. Schillings gave the example of Nancy Gray, who wanted to start a scholarship fund in her husband's name. To raise the money to get the scholarship fund started, she held a fish fry at her church and wrote letters to friends and family. In three months she raised $25,000, and the R. Wayne Gray Memorial Scholarship Fund, which helps COA graduates continue their higher education at a college or university, was born.
You can read about more donor stories and what their funds do here.
"A donor-advised fund is the shortest path to becoming a philanthropist," Schillings says. "There is a reluctance for small donors to think of themselves as philanthropists, but that's why community foundations exist. We were created to represent this community, our board comes from this community, and our donors concentrate their charitable efforts on this community."
These are just a couple of the ways you can contribute to Outer Banks Community Foundation. To learn all about OBCF, visit their website. To apply for grants, click here and to apply for scholarships, click here.
Have Some Fun While Supporting Outer Banks Community Foundation
Kelly Hospitality Group Charity Golf Classic
Monday, October 23, 12:45 pm shotgun start
Sea Scape Golf Links, Kitty Hawk
Click here to register.