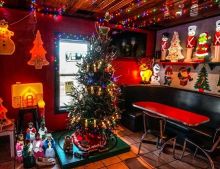 If you're looking for a taste of holiday spirit to take your mind off the pandemic, here are some places on the Outer Banks to find it.
WinterLights
Strolling around in the glow of millions of lights, listening to children squeal with delight, my heart grew three sizes that night.
Yes, I have been feeling a little Grinchy this season (no parties, no visiting family), but recently I found the holiday magic to be alive and well at The Elizabethan Gardens. Their annual WinterLights show is on, and if you need a shot of holiday spirit, this is the place to find it.
First of all, the drive out to the North End of Roanoke Island lifted my spirits. The locals have decorated their businesses, yards and homes with lights, each in their own unique way. I found myself so full of gratitude for all these expressions of holiday joy. Holiday lights are really about giving joy; they're not as much for yourself as they are for others. If you go, be sure to take a detour through downtown Manteo on your trip; the town tree on the Manteo waterfront is stunning, and the town has set up a new Letters to Santa Mailbox nearby.
We found the gardens to be abuzz with visitors. Admission is timed this year to keep things socially distant, but even still it was heartening to see how many people were out on a chilly night. Our fellow timeslot visitors included several families with toddlers and babies in strollers, a couple pushing an elderly woman in a wheelchair, a leashed Labradoodle, two Labradors being pulled in a wagon and, intriguingly, a couple of different parties speaking French and German.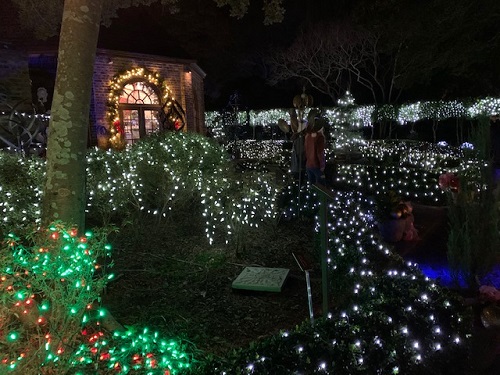 In typical fashion, the teenagers in our group rushed through the whole thing in about 10 minutes then texted that they were done and waiting for us at the gift shop. We convinced them to come back through, where they found us, the adults, not even past Queen Elizabeth yet, oohing and ahhing over the themed vignettes and creative displays and the beauty of the plants and trees in the twinkling light. We convinced them to slow down and stroll with us, maybe imagine the work it took to set up and take down all these lights, and we all had a great time together.
The best part truly was listening to the little children who were stopping and squealing at every little thing. A deer with lights! A goose! An elf house!
We stopped by the fire pit on the Great Lawn to warm our hands and watch a little bit of Frosty the Snowman. We strolled through the Butterfly House to see the gnomes and white trees. We took pictures with the illuminated statue of Virginia Dare. We hugged the giant live oaks for good luck. In Odom Hall we admired all the decorated trees and got our hearts warmed to see all the donations of toys and coats for kids piled up on tables. We bought garden ornaments at the Gift Shop.
It feels like the holidays are supposed to feel at The Elizabethan Gardens right now, in spite of the masks and hand sanitizer and carefulness not to stand too close to people. Leaving there, walking out into the darkness of the parking lot, I was feeling more merry and bright inside.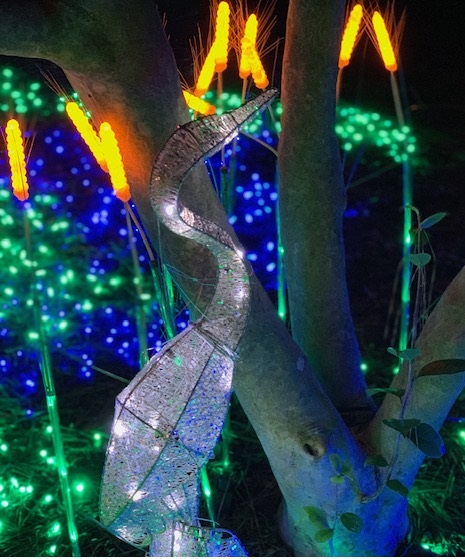 WinterLights presented by Southern Bank
The Elizabethan Gardens
1411 National Park Drive, Manteo
(252) 473-3234
elizabethangardens.org
Tuesdays through Saturdays in December (closed Christmas Eve, Christmas Day and New Year's Eve)
Fridays and Saturdays in January (closed New Year's Day)
6 to 9 p.m.
$11 adults, $9 youth ages 6 to 17, $6 children ages 5 and younger
Season passes: $17 adults, $14 youth, $11 children
Tickets must be purchased online for a specific time of entry. Passes can be printed or sent to your phone.
Masks are required, even outdoors.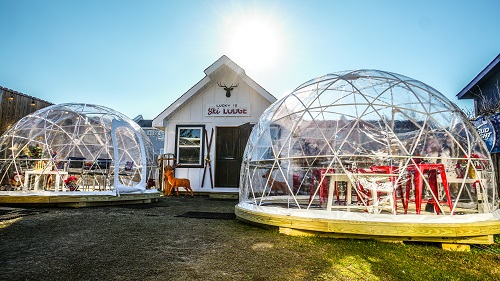 Jingle 12 at Lucky 12 Tavern
Lucky 12 Tavern on the Beach Road in Nags Head always celebrates Christmas with a full-on explosion of holiday decorations (see top photo). The interior of the restaurant and bar is bedecked beyond belief, so it's a fun place to dine and imbibe around the holidays. And this year they've taken it a step further with their pop-up bars in the backyard. The pop-up bars, which include snow globes, a ski lodge and an ice-fishing hut, are private bars for individual parties of up to eight people. For safety's sake, it's best to stick to individual family groups in the pop-ups. You reserve a time, then the bar is yours, with your own server offering all the menu items plus holiday-themed apps and drinks. It's a very creative way to be socially distanced and have fun! Remember that due to COVID rules, bars in North Carolina stop serving alcohol at 9 p.m., and there's a curfew in effect from 10 p.m. to 5 a.m.
Jingle 12 reservations: (252) 255-5825
Lucky 12 Tavern
3308 S. Virginia Dare Trail, Nags Head
lucky12tavern.com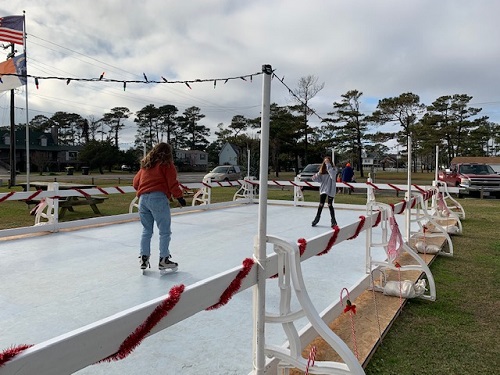 Ice Skating at Wanchese Marina
It's not Rockefeller Center or Central Park by any stretch of the imagination, but you can get a taste of the slipping and sliding fun down at the docks in Wanchese. Wanchese Marina and The Landing Grill has set up a skating rink, and they have the ice skates for you to wear. It's not really ice, but it is a slippery surface that requires some skill to get used to, and it's a funny sight to see the local kids trying to get the hang of it. One man I met there, who must've been at least in his 40s, said this was the first time in his life he'd ever even seen a pair of ice skates. Local as it gets! All ages are welcome. Reservations are recommended, but drop-ins are welcome too. The rink will be set up through January 1, and skating is offered daily from 10 a.m. to 8 p.m. Landing Grill serves hot chocolate, hot cider and s'mores to enjoy by the fire, or you can eat lunch or dinner at The Landing Grill. Adults can enjoy a window seat inside and watch all the action.
Ice Skating reservations: (252) 423-3157, Facebook: Ice Skating at Wanchese Marina
Wanchese Marina & The Landing Grill
4457 Mill Landing Road, Wanchese