Running a business in the middle of a pandemic is challenging for people all over the world, and that's especially true in tourism economies like the Outer Banks. From implementing new cleaning protocols to dealing with state regulations to coping with a smaller local workforce than ever before, Outer Banks businesses have had to think fast, make difficult decisions and implement countless changes in order to survive. We applaud all the Outer Banks businesses, most especially those in the tourism industry, for their ingenuity, determination and hard work this summer. Here are just a few examples of the ways local businesses have implemented changes during the pandemic. Show these and other local businesses some love however you can, whether it's with a positive review online or spending some money in the establishment and being kind to the owners and employees while you're there.
A private bar and nightclub/entertainment venue in Kill Devil Hills, Secret Island Tavern has been closed for five solid months due to the state's mandate that private bars were not allowed to open in phase 2 (which is in effect until at least September 11). Drastic times call for drastic measures. This Friday, August 21, Secret Island is reinventing itself as a dine-in restaurant with live music experiences. Think of it as a dinner theater for the club crowd. From 6 to 10 p.m. on select nights, guests can come in for a sit-down dinner accompanied with live DJ, bands and national artists. This Friday DJs Styles and Smilez will be providing the entertainment. Next Saturday, August 29, it's DJ Fresh's Birthday Dinner, and on Saturday, September 5, there will be a dinner with the popular reggae band SOPOZ. Secret Island's new menu includes shareable appetizers, entrees, sandwiches, salads and a kids' menu. All of their beers, wines and spirits will be available. It won't be the nightclub atmosphere of the days of yore (they have to close at 10 p.m., you'll have to stay seated, the pool tables won't be open, etc.), but it is a way to get out and enjoy live music until nightlife is allowed in phase 3. Support a local business that's trying to stay afloat by making a reservation at (252) 441-7484.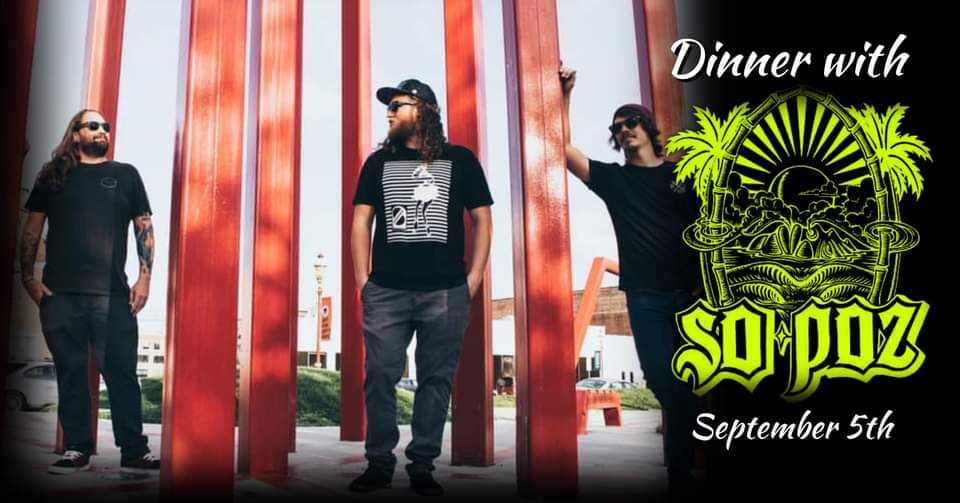 Outer Banks Brewing Station, a restaurant, brewery and bar in Kill Devil Hills, is also used to making a good chunk of their profits from nightlife, including bands, DJs and a late-night bar scene. That's out for now, of course, but they've still got live music in the backyard where it's safer in the open air. The crew at the restaurant has also implemented some creative concepts for social distancing. When you arrive at the restaurant, you check in at a window (ring the bell if no one is there). You tell the host if you want to order or pick up take-out or sit inside or outside at a table or at the bar. Depending on your intentions, the host will lead you to your destination, either through the restaurant or to the backyard using the outside entrance. This reduces the number of people walking through the restaurant and bar. After a hiatus, the Brewing Stations Brewery Tours are back. From 11 a.m. to noon on Wednesdays, the all-new tours include a video tour hosted by Eric, tasting and smelling of ingredients, live questions and a tasting tour with 5 oz. beer samples. The tours begin on the mezzanine at socially distant tables, and only 20 people are allowed per tour so sign up online early. Cost is $10. Sign up for a tour and stay for lunch, come for dinner and drinks (maybe in the backyard) or order something for take-out (a growler, a meal, dessert or their house-made bread on certain days).
On a sad nightlife front, Paparazzi OBX, a private club and entertainment venue in Kitty Hawk, has closed permanently. "It is with a great deal of emotion that we regretfully inform everyone that Paparazzi OBX has unfortunately fallen victim to the devastating financial fallout brought on by the Corona Virus Pandemic," the owners wrote on their Facebook page. The family-run business will be missed, and Outer Banks This Week wishes the owners the best in their new endeavors. If you were a fan, send the owners a message on Facebook.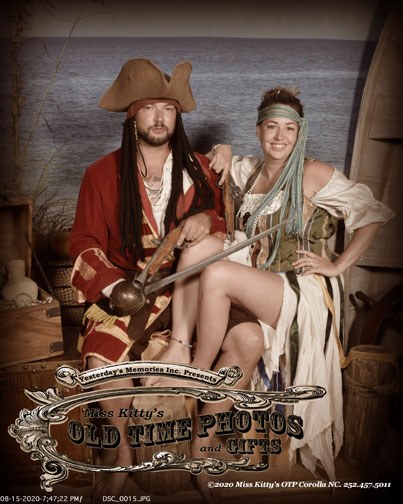 At Miss Kitty's Olde Time Photos and Gifts in Corolla, owner Chuck O'Brien has had to implement unheard-of cleaning protocols. This is a place where people try on different costumes that other people have recently worn and then pose for pictures, so you can imagine that the risks are high. Some of the sanitation steps they've implemented include temperature taking, requiring masks, hand sanitizer stations, employees wearing gloves, UV light sanitation and heat-steaming the outfits and even using hospital-grade sanitizer to clean the sets. "We've gone to the extreme," Chuck says, "and taken every cleaning measure we can." All this cleaning really slows down the amount of time people can spend in the studio (business in the photo studio is down almost 40% this year!). So, Chuck has increased his shop's focus on gifts in the gift shop. If you're up in Timbuck II Shopping Village, stop in the gift shop or maybe even get a photo taken (it's more than likely cleaner than your own house).
Can you imagine running a buffet restaurant during a pandemic? John Marmann of Agave Roja in Corolla opened a new buffet restaurant, Corolla Seafood Buffet, this year, so he knows a thing or two about it. Safety is their number one priority, and they offer a multi-step process to allow customers to serve themselves safely. They offer hand sanitizer stations and gloves for patrons at the buffet, they change out utensils every 30 minutes and offer an ultra-protective sneeze guard. Of course, patrons are required to wear masks when serving themselves or when they are not seated. Staff is standing by to ensure everyone follows the rules. Marmann says his biggest challenge is consumer confidence, not implementing changes. "Adaptability as a business owner is vital," he says. "As a restaurant, we're built for this. We already have to maintain strict health standards that are above and beyond, and this is just one step up." Now that you know it's still safe to eat at a buffet, pay them a visit. Or check out Jimmy's Seafood Buffet in Kitty Hawk if you're farther down the beach; they've implemented extreme safety practices as well.
Some local restaurants never even opened for inside dining this summer and instead offered take-out meals only. Woo Casa Kitchen, a small family-run business in Nags Head, did this because they needed to bring their young daughter to work with them every day and also because staff was so hard to find this year. Owners Katie and Aaron Wooten run the whole show themselves. "It's been going pretty good," Katie says. "The flow of take-out is different than it is for dine-in, but it's working for us." Kill Devil Grill in Kill Devil Hills, Sanya Sushi Bar in Kitty Hawk and Taiko Japanese Restaurant in Nags Head did the same and implemented creative contactless systems for pick-up. Stop by these or any restaurant on the Outer Banks for take-out; they'll be glad to see you!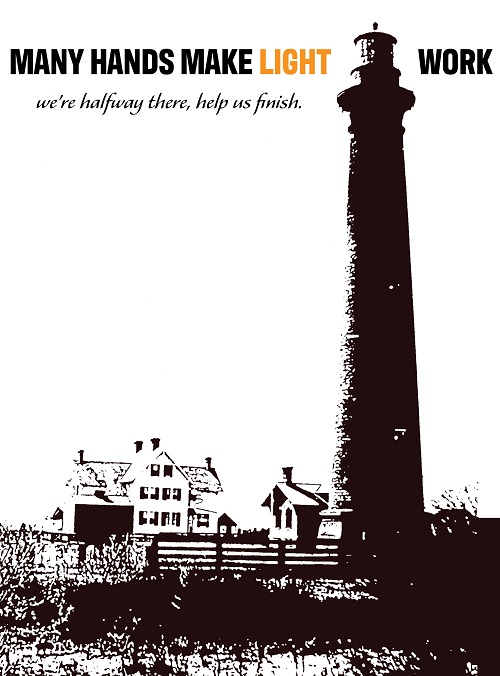 Finally, I want to tell you about Currituck Beach Lighthouse. Due to social distancing guidelines and state requirements, the tower has been closed for climbing all year. They had planned to open March 14, but that never happened due to COVID-19. So, they've missed a whole season's worth of revenue from tower admission fees, a devastating loss for a nonprofit organization.
Meanwhile, Outer Banks Conservationists (OBC), the nonprofit group that has been doing restoration at the site since 1980 and opened the lighthouse to climbing in 1990 (it was the first one open to climbing in the state), had already planned and implemented a restoration project for the lighthouse roof brackets and cornice pieces. These features, original to the 1875 lighthouse, were degrading, so in 2020 OBC began removing these items and hired a company in the Northeast to recast them. They are halfway through the project and need help to finish. The season's admission fees were a crucial element of paying for this historic preservation project. Outer Banks Conservationists rarely asks the community at large for help, but with no income, they need help right now. They are hoping to raise $345,000 in a variety of ways, including a fundraiser. "It's a tough time for everyone," OBC Executive Director Ladd Bayliss says. "We're all experiencing this on different levels, and this is our level. If ever there was a time to give to or care about the Currituck Beach Lighthouse, the time is now." You can donate to Outer Banks Conservationists through obcinc.org/give.
I don't think there's one business or nonprofit on the Outer Banks that couldn't use a leg up right now, so keep the generosity flowing and help where you can. Look around our site for the full rundown of Outer Banks businesses, and check out Daytime and Nightlife events pages for fun things to do.