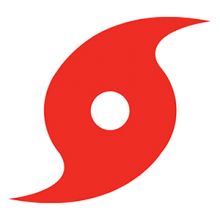 The approach of then tropical storm Arthur and now Hurricane Arthur has thrown a monkey wrench into the Outer Banks' Fourth of July celebrations, causing a multitude of cancellations and re-schedulings which are detailed below. At press time Hurricane Arthur was projected to be a Category 2 hurricane by the time it makes contact with the Cape Hatteras coastline. For the most up-to-date information on Outer Banks conditions visit the Dare County Emergency Management website.
Daytime Events
The 3rd Annual Sun Realty Outer Banks Firecracker & Freedom 5K Run, the Old Glory Mile and the Little Sparkler Fun Run is on standby. According to Race Director, Matt Costa, race officials are working with local law enforcement and emergency management officials regarding the delay of the race until after Arthur passes. An update will be posted to the race organization's webpage and Facebook page at 7:30 p.m. Thursday evening. An e-mail update will also be sent to race entrants. For more information visit the website or text (252) 489-8239.
The Town of Duck's Fourth of July festivities have been cancelled. Because of logistical difficulties regarding the availability of staging areas and parade participants (many of whom were expected to be weekly visitors leaving on Saturday), the parade and other Fourth activities will not be re-scheduled for this year. In addition, the changeover of rental properties on Saturday and Sunday makes a weekend parade impractical. For more information visit the Town of Duck website.
On Roanoke Island, Island Farm's Independence Day 1850 and other Fourth of July-related activities have been re-scheduled for Saturday, July 5. The 1850s-style celebration of our nation's beginning includes musket-fire, period games, slices of refreshing watermelon and a reading of the Declaration of Independence at 2 p.m. Bring a picnic lunch to enjoy on the grassy lawn. Ox-wagon rides, a favorite kids' activity, will take place from 10 a.m. to 12 p.m. and again from 1 until 3 p.m. Admission is $6/person with children 5 and younger admitted free.
The Town of Manteo's pre-fireworks Independence Day celebrations have been re-scheduled for Sunday at the same times - starting at 3 p.m. and continuing until dark. Festivities begin with the singing of the national anthem followed by performances by The Lost Colony Choir and Echoes of Heritage, the Wacky Hat Contest, the Decorated Bike Contest and Apple Pie Contest and then more music from The Spiritual 80s Band at 4 p.m. and Old Enough to Know Better at 6 p.m. For more information call (252) 473-2133 or visit the Town of Manteo website.
All Fourth of July festivities in Hatteras Village have been cancelled.
Fireworks Updates
Corolla - Fourth of July events at Whalehead in Historic Corolla have been re-scheduled for Monday, July 7 beginning at 5 p.m. with food, family-friendly activities for all ages and musical entertainment followed by a fireworks extravaganza beginning at dusk. Admission and parking are free!
Kill Devil Hills - Fourth of July fireworks in Kill Devil Hills will now take place after dark on Saturday, July 5 at Avalon Fishing Pier at Milepost 6 on the Beach Road.
Nags Head - Nags Head's Independence Day Fireworks Extravaganza, a free fireworks show performed by Zambelli Fireworks, will be held Saturday, July 5 at Nags Head Fishing Pier at Milepost 11.5 on the Beach Road at 9:25 p.m. Visit the Town of Nags Head website for more information.
Manteo - Along with the daytime Independence Day events, Manteo's fireworks display has been re-scheduled for Sunday at the same time. Unfortunately, the United States Air Force Heritage of America Band originally booked to give a pre-fireworks concert was unable to re-schedule a post-storm performance. Fireworks begin at 9:30 p.m. The event and parking are both free with parking available at Roanoke Island Festival Park until the lot is full (handicap parking is available). Parking space can also be found in downtown Manteo and many folks choose to watch the fireworks from the boardwalk of Manteo's beautiful waterfront.
Hatteras Island - Our neighbors to the south have re-scheduled their Fourth of July fireworks fix for Monday, July 7 at 9 p.m. on the Avon Pier. Fourth festivities at nearby Koru Village's Beach Klub have also been re-set for Monday at the same times. The Independence Day party is free for club members and $5 for non-members. Parking at Koru Village is $10/car although you may find free parking in other areas adjacent to Koru Village and the pier.