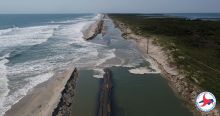 When Hurricane Dorian barreled toward the Outer Banks last week, little Ocracoke Island took the main hit. The storm moved quickly, but it left the island ravaged from waters that rose like a tidal wave in merely two hours. In a 7-foot storm surge, waters from the Pamlico Sound spilled over the village, flooding homes, destroying businesses and altering every life of the island's several hundred locals. Floodwaters in the village reached the greatest depths since a 1944 storm.
Photo credits to NCDOT
The island's older homes and cottages – which tend to sit closer to the ground – faced the worst flooding. As water levels rose, some people were airlifted from their homes; others sought rescue from boats motoring up the canal-like streets.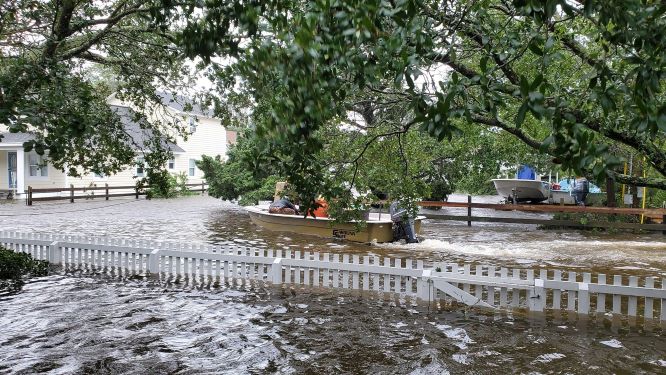 Photo credits to Karen Rhodes
Thankfully, no one lost their lives in the hurricane, but many lost their livelihoods. Nearly every car on the island flooded as did plenty of the village's restaurants, shops and hotels. Island-wide power outages lasted three days after the storm. Damage to Highway 12 in Hatteras Village halted the Hatteras-Ocracoke Ferry Terminal operations for the foreseeable future. For days the only people who could get to the island were relief personnel and resources. Even the locals who evacuated before the hurricane had to wait until Monday before being allowed to return home. The Ocracoke Community Center has turned into a temporary shelter for those who lost their homes.
Ocracoke Island is closed for business, and it's hard to say for how long. With an incalculable halt to tourism, commerce and business operations, islanders are reckoning with the very real possibility that their fall season is gone for the year.
Hatteras Island, particularly the southern areas, suffered too. It experienced the same storm surge as Ocracoke, and much of the island was closed to visitors in the days following the hurricane. While the villages between Rodanthe and north Buxton have reopened as of Wednesday, September 11, everywhere south remains closed for the time being.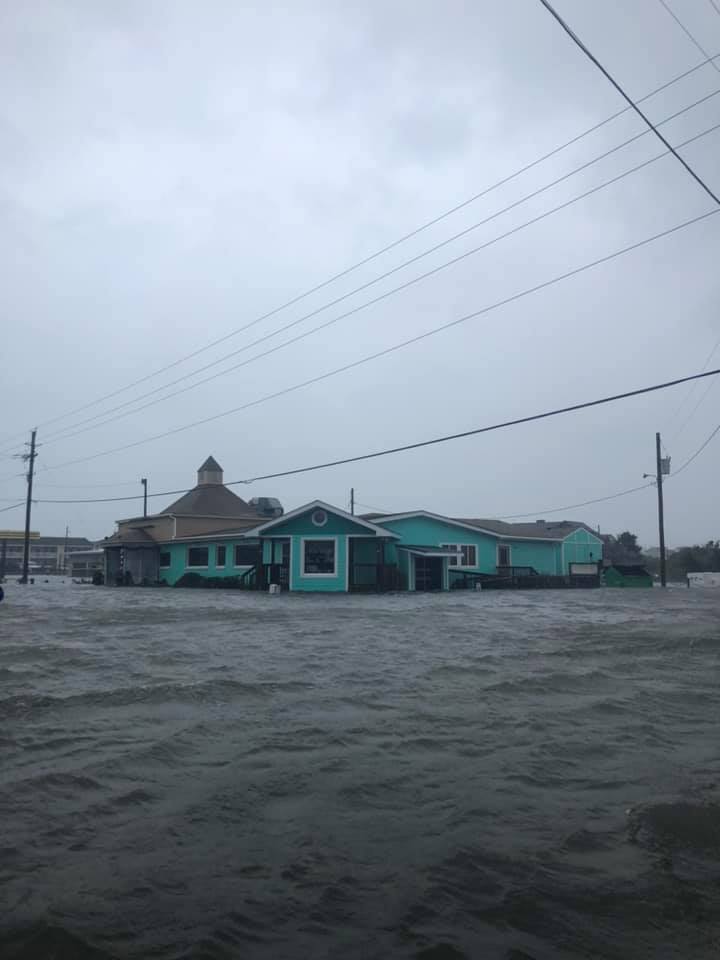 Photo of Diamond Shoals Restaurant in Buxton
Much of the rest of the Outer Banks experienced minimal damage. The long power outages, fallen trees and flooding that occurred pale in comparison to Ocracoke's devastation.
The destruction and loss caused by hurricanes hurts. However, similar to the area's response to Hurricane Matthew's devastating impact on Hatteras in 2016, the widespread support displayed across the area is nothing short of inspiring.
The Outer Banks community wasted no time in rushing to Ocracoke's aid. By Saturday morning, generators, fuel, water and emergency medical assistance and aid were under way to the island, aboard the Swan Quarter Ferry. However, the level of devastation on the island is forcing many eager volunteers to stay away until it reopens to nonresidents. So folks in other parts of the Outer Banks are helping from afar, pooling relief supplies and personally taking them by boat to Ocracoke.
Groups of locals organized supplies drives. Specific items that Ocracoke residents desperately need are listed here. Over the weekend, Country Deli in Kill Devil Hills hosted a two-day long drive where people brought items to help with clean-up efforts and help people get back on their feet. At the end they filled two trucks provided by Ocean Atlantic Rentals with generators, power cords, cleaning supplies, hygiene products, baby ware, nonperishable foodstuffs and more. Current plans for the proceeds from the next supplies drop off will go to Hatteras Island victims.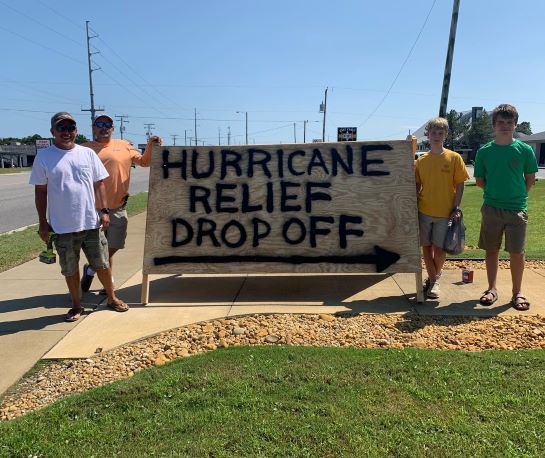 Photo credits to Country Deli
If you want to help, you can do so by contacting the Hyde County Emergency Operations Center, (833) 543-3248, or you can make monetary donations and gifts. As of Monday, September 9, more than $337,000 in donations had been raised throughout the local community for relief efforts and hurricane victims. The Outer Banks Community Foundation, a nonprofit dedicated to supporting the Outer Banks, is accepting donations for people affected by Hurricane Dorian. All proceeds go directly to victims in order of need. The Foundation is well on their way to achieving their goal of raising $100,000 in donations. Give online, or mail gifts to the Outer Banks Community Foundations' offices. Funds raised are divided evenly between victims on Ocracoke and those in Dare County; however, you can specify if there's a particular area you want your gift to go when you make the donation.
New updates about re-entry to Hatteras and Ocracoke Island are happening every day, and you can find up-to-date information on the Dare and Hyde county websites. Property owners can plan their route to the island through the N.C. Department of Transportation's website. For anyone with an upcoming trip planned for Ocracoke in the next month or two, it'd be a good idea to check in with your accommodation or vacation rental company for a status update.
---
There's a lot happening around other towns on the Outer Banks, though! Businesses have reopened across Corolla through mid-Hatteras. Scope out the scene using our Daytime Events calendar. Find information about evening entertainment, live music, dance parties and more on our Nightlife page.