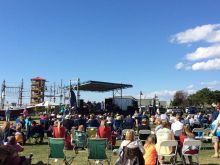 Whew. It's been quite the past few days, hasn't it? Hopefully you stayed safe over the weekend and are finally drying off from all that rain Hurricane Matthew brought. Matthew hit the Outer Banks. Hard. Some businesses and events were impacted more severely than others. If there's one thing that growing up in the Outer Banks taught me, though, it's never to doubt the resilience of this community. People band together in the face of difficult times. Neighbors offer helping hands. Strangers turn into friends as they assist each other. When you take a step back, there's a beauty in these expressions of humanity. When you're ready for a break from cleaning up fallen limbs or pumping the water out of buildings, relax and enjoy the Outer Banks community in social and entertaining settings at this week's events and programs.
Lying in State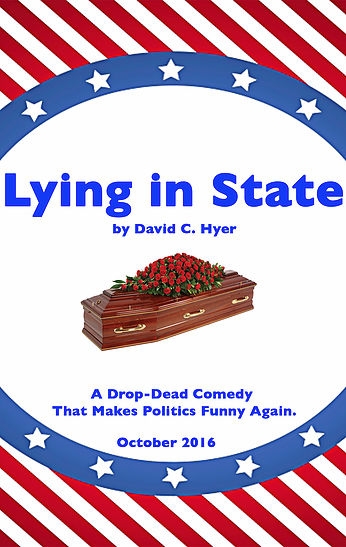 We're all watching the political scene heat up in Washington, and now you might be ready to watch a completely different one that's happening on the Outer Banks: Lying in State, the Theatre of Dare's latest production. Visit the Theatre of Dare in Manteo this weekend for this interpretation of David C. Hyer's drop-dead funny play. It has senators, ex-wives, death, romance, votes and a purple squirrel named Mel – what more could you want? Come support your friends acting in the show. Support the local arts community. Shows will be held on Friday, Saturday and Sunday at 7 p.m.
Billy Sydnor Memorial Drum Tournament – Rescheduled For This Week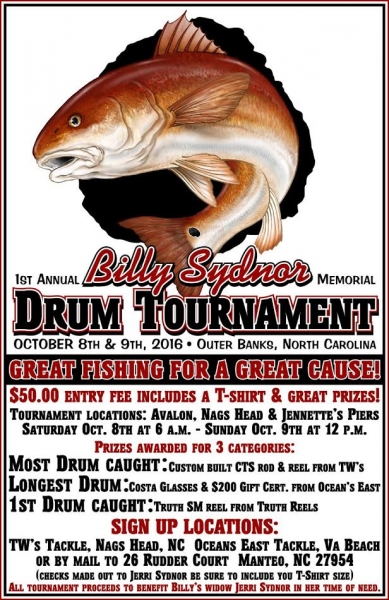 Previously scheduled for last Saturday, the Billy Sydnor Memorial Drum Tournament was rescheduled for this weekend — in three different locations. Come to Avalon, Nags Head or Jennette's Piers and enjoy the company of friends as you compete. The tournament starts at 6 a.m. Saturday and lasts until 12 p.m. on Sunday. Three different prize categories, all drum-themed, comprise the tournament: the Most Drum Caught, the Longest Drum and the 1st Drum. Sign up at TW's Tackle in Nags Head, Oceans East Tackle in Virginia Beach or by mail to 26 Rudder Court, Manteo, N.C. 27954. The $50 entrance fee includes a t-shirt and prizes.
Outer Banks Seafood Festival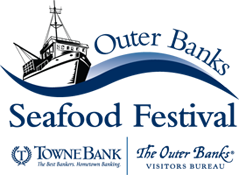 The Outer Banks was built on fishing. The bustling towns you currently see between Corolla and Ocracoke began as humble fishing villages. Fishing runs through locals' veins, with many fishermen carrying out the practice of their fathers and grandfathers. As you know, the Outer Banks likes festivals, so why not have one to celebrate the resource that spurred civilization on the Outer Banks? At the Outer Banks Event Site in Nags Head this Saturday, you'll find the Outer Banks Seafood Festival. This event is your chance to engage with and appreciate the working traditions of the waterfront and the culinary science behind delicious seafood. Check out cooking demonstrations, fishing boat and gear displays, competitions and contests for fishing skills, author readings, activities just for kids and a Blessing of the Fleet. Prepare your best batch of chowder for the chowder cook-off while enjoying the festival's music filling the air. The Outer Banks Seafood Festival is an opportunity to learn how the fishing industry impacts Outer Banks residents and how it benefits the economy. This event runs from 10:30 a.m. until 6 p.m., and general admission tickets are $3. Children 12 years old and younger get in free when accompanied by a paying adult.
Kelly's Hospitality Group 23rd Annual Charity Golf Tournament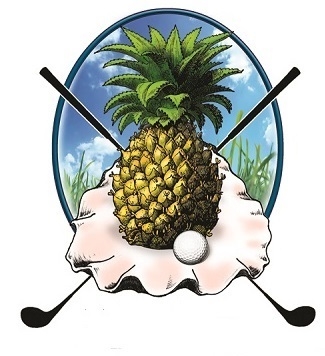 Golf for a good cause at the Kelly Hospitality Group 23rd Annual Charity Golf Tournament. Since its beginning this tournament has raised almost $350,000 for the Outer Banks Community Foundation, which has allocated the majority of those proceeds to local charities and nonprofit organizations. Want to help? Show off your golf skills at the Nags Head Golf Links on Monday, October 17. The shotgun start is at 12:45 p.m., and a party at Pamlico Jack's Restaurant from 6-8 p.m. follows the tournament. Hungry golfers can enjoy the hors d'oeuvres buffet and the open bar. Whether you see golf as an opportunity for solitude or a social event, the tournament can accommodate — play solo or in a team of four. Entry is $175 per person or $650 per team. You can register for the tournament here.
Wings Over Water Festival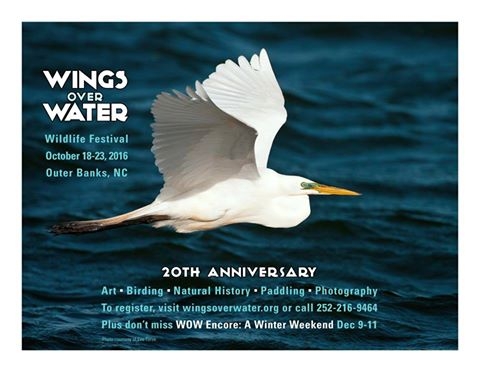 The Outer Banks is a haven for migratory birds in the winter months, and the Wings Over Water Festival is your opportunity to celebrate the arrival of these feathery visitors. Starting Tuesday, October 18 this six-day long event featuring birding excursions will whisk you away into the depths of the Outer Banks' wilderness. Venture into national wildlife refuges, state parks and preserves as you search for eagles, woodpeckers, owls and more. The festival offers more than birding — explore the beauty of the landscape on photography tours, watch the sunrise during a paddle trip or take a history tour of local villages. There's something for everyone, whether you're a bird lover, artist, athlete, historian or socialite. Pre-registration is required for the festival's events, which can be done here.
---
Some of these events may be subject to change, depending on the conditions of the roads and venues. Check back here or on our Daytime Events page to stay up to date on any changes. If you're on the hunt for live music or social happenings, our Nightlife listing tells you who's playing when and what's happening where.