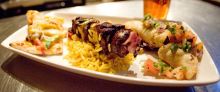 Am I right in my headline? Of course I am. And the coming week provides a treasure trove of epicurean adventures and delights. Chief among these is the fall incarnation of Outer Banks Restaurant Week, a bi-annual food festival that entices the taste buds of locals and visitors alike with nine exciting days and nights ripe with the possibility of culinary discovery. The 2014 Fall Outer Banks Restaurant Week, which runs from Friday, October 31 through Saturday, November 8, gives local and visiting food enthusiasts an opportunity to enjoy three-course, price-fixed lunch and/or dinner menus at 20 restaurants located throughout the Outer Banks. Meals selected from a Restaurant Week menu will be priced at either $20 or $35 (please note: sales tax and gratuity are not included). There's no pretense or snobbery associated with the event — just talented local chefs serving up delicious cuisine in some of the area's best dining establishments. 

New for this year will be the Outer Banks Fish Taco Tasteoff at the Sea Ranch in Kill Devil Hills on Saturday, November 2 from 12 to 3 p.m. For a list of participating restaurants and menus visit the Restaurant Week website.     ***UPDATED RAIN DATE OF NOV. 2nd***
Local blue crab reigns in all its succulent glory — steamed, stewed and fried — this Saturday from 1 to 6 p.m. at the Stumpy Point Crab Feast held at the Stumpy Point Community Center. This all-you-can-eat extravaganza, complete with crabs, fried fish, coleslaw, baked beans and hush puppies, a bake sale and raffle, benefits the Stumpy Point Volunteer Fire and Rescue Department. Admission is $20/adults; $12/children younger than 12.
On Sunday, provided you've recovered from the gastronomic exertions of the previous day, you can loosen your belt once again for a good cause at the 5th Annual Outer Banks Shrimp Cook-Off held from 12 to 3 p.m. at Ocean Boulevard Bistro in Kitty Hawk. Chefs representing restaurants throughout the Outer Banks will compete for bragging rights that come with preparing the cook-off's best shrimp dish. Included in the event is large silent auction featuring donations from local businesses, a 50/50 raffle, a live MC and a dolphin conservation outreach booth. Sponsored by Nags Head Dolphin Watch, the cook-off benefits the Outer Banks Center for Dolphin Research. Tickets are $20 and can be purchased at the door or in advance at Ocean Boulevard Restaurant and Outer Banks Veterinary Hospital (both in Kitty Hawk) or Salty Paws Biscuits (Duck/Nags Head).
Argh! Blackbeard's Pirate Jamboree
Aye, mateys, it's a pirate weekend down in Ocracoke as the annual Blackbeard Pirate Jamboree channels the buccaneer spirit to celebrate the centuries-long maritime history of Ocracoke and Hatteras Islands! Chart a course to Ocracoke Island on the evening of Friday, October 31 and begin a weekend of free, family-friendly swashbuckling fun that includes a treasure hunt, pirate activities throughout the village, a Scallywag School for the kids, hearty seafarers grub and grog and scandalous pirate markets where you'll be tempted to spend your hard-won doubloons on arts, crafts and assorted pirate gear. On Sunday you'll quake in your boots as the cannons roar and members of Blackbeard's Pirate Crew invade Ocracoke Island by land and by sea, culminating in a three-ship pirate battle in Ocracoke Harbor!
Coming Together For A Friend
Outer Bankers and the Outer Banks Relief Foundation are coming together to help one of our own on Sunday, November 2 from 3 p.m. to 6 p.m. with Rockin' For Shirley, a benefit concert and silent auction held at Western Sizzlin' in Kill Devil Hills for Shirley Corren. Corren, a 31-year employee of Western Sizzlin', suffered severe spinal injuries during a fall and now faces overwhelming medical bills for surgery, medical transport and the intensive physical rehabilitation necessary to regain the use of her hands, not to mention months of lost wages. Popular local band Old Enough To Know Better will provide the musical entertainment. Tickets are $10, and all proceeds will go toward helping defray Corren's medical expenses.
Halloween Central
Halloween activities have populated the Outer Banks calendar with the speed of a zombie infestation. The latest crop of family activities begins with Creepy in Corolla on Thursday, October 30 at 5 p.m. at Whalehead in Historic Corolla. Get your fright started in the historic village before climbing the Haunted Tower to discover what spooks reside at the top! Admission is $10 (children younger than 5 are free), and costumes and flashlights are encouraged. Call (252) 453-9040 for more information.

In Kitty Hawk, Children at Play Museum's Halloween Spooktackular begins Friday morning with Story Time at 11 a.m., Ooey Gooey Science from 1 to 3 p.m. and a costume parade followed Monster Bubbles and Flying Ghost Science at 4:30 p.m.

At Island Farm just north of Manteo on Roanoke Island you can join costumed interpreters for Evening Lantern Tours: Draped In Black – Victorian Death Rituals, a night-time journey into the home of a grieving widow, exploring the unique and peculiar ways Victorian families mourned the loss of a loved one. You'll hear stories of the farm's former residents and travel by lantern light to their final resting place in the nearby circa 1800s graveyard. The 15-20 minute tours will be held Friday, October 31 and Saturday, November 1 between 7 and 9 p.m. and are $8/person for adults and children 6 and older.

But it's not all kid stuff. On Ocracoke Island you can choose between Gaffer's Sports Pub's 5th Annual Halloween Bash, which gets rolling at 8 p.m. and Howard's Pub's Annual Halloween Party beginning at 9 p.m.

In Kitty Hawk, celebrate Halloween Trio-style from 7 to 9 p.m. with prizes for scariest, funniest and most creative costume, a wine station dedicated to spooky wines, a selection of seasonal brews and live music by the Yacht Dogs.

The ghoulish fun kicks off at Kelly's Outer Banks Restaurant and Tavern in Nags Head at 10 p.m. with a Midnight Costume Party, contest and prizes and tunes from DJ Fresh and DJ Russ.

Outer Banks Brewing Station in Kill Devil Hills will keep the crypt kicking from 10 a.m. until the wee hours with the Exotic Erotic Halloween Ball XIII featuring a $100 Exotic/Erotic Costume contest and Party Rock Dance Music with DJ Sho.
Holiday Creativity
When I was in grade school we all somehow managed to get educated and yet time was still found for arts and crafts that covered refrigerators and adorned holiday tables for Thanksgiving and Christmas. I suspect that the artsy projects folks of my generation recall have gone the way of the dodo in this era of stringent academic requirements and the obsession with testing. But, if the kids need a creative outlet — and perhaps you need a little something extra for the centerpiece of your Thanksgiving table — you'll want to get them to Glazed & Confused in Kill Devil Hills for the Kids Thanksgiving Votive Workshop. Each Saturday from now until November 22 Glazed & Confused staff will be on hand from 10 a.m. to 5 p.m. to assist and guide the kids as they create a special holiday votive from fused glass. The workshop fee of $19.95 covers all materials.
Shopping Season! Aggghhh!
Ghouls and goblins don't scare me one wit. But it is with a certain sense of cold and clammy trepidation that I acknowledge the monstrous and inexorable fact of Shopping Season rapidly bearing down on us. Perhaps if I began earlier than December 20 this year? Hmm. If you want to get a head start on your gift-giving, check out the Annual Hatteras United Methodist Church Holiday Bazaar at the Hatteras Village Civic Center this Saturday from 10 a.m. to 5 p.m. Peruse the wares of craft vendors while you combine your shopping with yet more eating — a hot breakfast or a lunch featuring chili, Brunswick stew and homemade apple dumplings.

Also on Saturday from 10 a.m. to 5 p.m., the Hilton Garden Inn in Kitty Hawk welcomes the Fall & Christmas Gifts Show featuring wood carvings, wreaths, Santas, snowmen, handmade cards, pillows, ornaments, aprons, sugar scrubs, dog soap, wind chimes, jewelry, pumpkins, placements, spice, rubs and more!