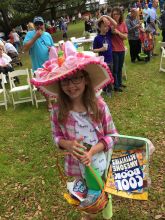 Spring is in the process of springing on the Outer Banks. Everyone wishes it was a little warmer, but after the March weather we had on the Outer Banks, even the low 50s feel kind of tropical and fabulous. After a couple of warm days this week, temperatures are going to drop again for Easter weekend and the week that follows Easter. Look for temperatures mostly in the 50s and low 60s with not too much precipitation. 
You might not be lying on the beach in your swimsuit in that weather, but there's a lot to do this holiday week on the Outer Banks, so let's explore some of your options.
First off, you should know that almost all the shops, restaurants and attractions are open. Most businesses that closed for the winter have finished up their off-season spruce-ups and are welcoming all the visitors coming in for the holiday weekend and school spring breaks. Some of the shops are hosting sales for the holiday weekend, and accommodations and vacation rentals are offering deals.
Photos: The Elizabethan Gardens, Facebook
Love Local Art
A bunch of local artists are getting together in Rodanthe on Friday, March 30, for the first Island Art Show of 2018. This is a very popular art show series and includes an eclectic mix of artists plus food and music. It's held at the Rodanthe-Waves-Salvo Community Center, just across the street from Chicamacomico Life Saving Station. Hours are 10 a.m. to 4 p.m. 
Spring Means Butterflies
The Elizabethan Gardens is celebrating butterflies, the most springy of things, for an entire month starting this weekend. The 2018 Butterfly Festival will offer educational booths, demonstrations, activities, events and so much more. On Saturday, March 31, the Butterfly Festival kicks off with A Magic Wings Grand Release at 3 p.m. On Tuesday, April 3, there will be another Butterfly Release at 11 a.m., in addition to a Butterfly Batik class at 1 p.m. On Wednesday, April 4, painters are invited to join master artist Robin York for a Painting in the Gardens class.
Totally Easter 
Whether you recognize the Christian traditions of this holiday or not, there are Easter-themed events happening for you on the Outer Banks this week.
Sunrise church services are popular here on Easter morning. Coastal Family Church's sunrise service will be held at Kitty Hawk Pier (Hilton Garden Inn's pier) at 6 a.m. Corolla Chapel holds a sunrise service at 6:30 a.m. at the Corolla Light Oceanfront Pool. Nags Head Church will hold an Easter sunrise service at Nags Head Pier at 6:30 a.m. Sail Ministries holds a Son Rise Drama atop Jockey's Ridge at 6:30 a.m. There's also a sunrise service at 6:30 a.m. on the Manteo waterfront near the playground.
Of course there are secular Easter events aplenty too – races, egg hunts, visits with the big bunny and more. Here are a few:
Kitty Hawk Kites' Fly Into Spring Kite Festival and Easter Eggstravaganza happens at Jockey's Ridge State Park and Jockey's Ridge Crossing on Friday, March 30, and Saturday, March 31. Climb the dunes to see all the kites flying, then head to the shopping center across the street for egg hunts at 11 a.m. both days. Take pictures with the Easter bunny from 12 to 1 p.m.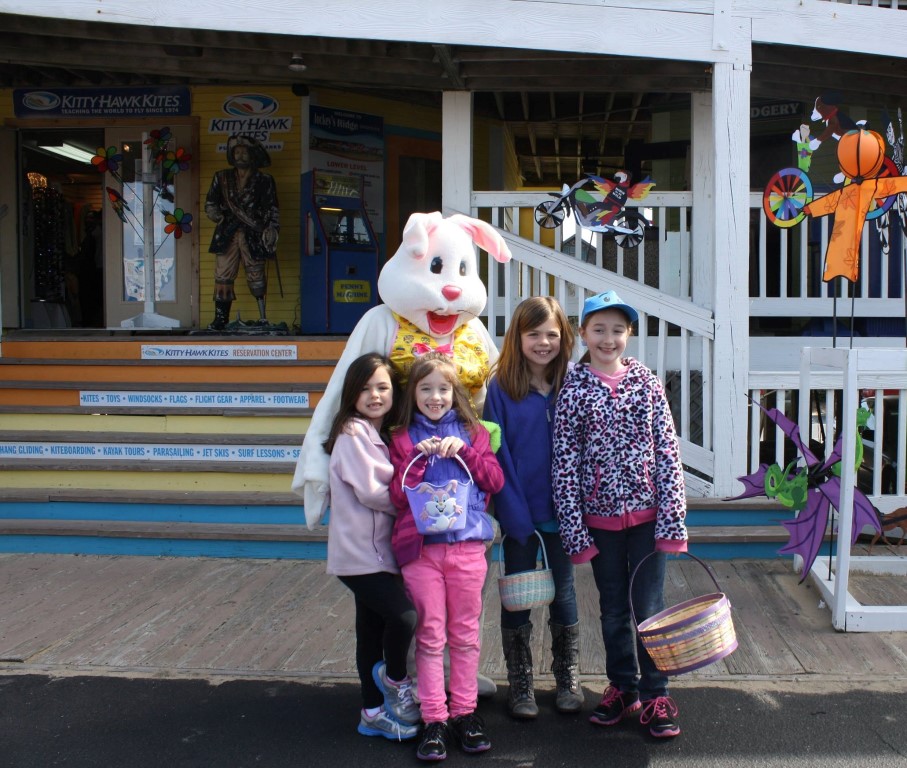 The fifth annual Hoppin' 8K, 5K and Fun Run happens in Manteo on Saturday, March 31, starting at 7:30 a.m. The race starts at the tennis courts beside College of the Albemarle on Grenville Street. Proceeds benefit a young girl with cerebral palsy.
The Duck Merchants Association's Easter Egg Hunt will take place on Saturday from 10 a.m. to 2 p.m. In this one you hunt through the stores of participating merchants.
The Elizabethan Gardens hosts its Easter Eggstravaganza on Saturday from 10 a.m. to 1 p.m. The Gardens is such a lovely location for this scavenger egg hunt for all ages along with performances, crafts, activities, a cupcake walk, egg races, a bonnet contest and more. Bring your own basket.

The North Carolina Aquarium on Roanoke Island hosts a Sea Turtle Egg Hunt on Saturday from 11 a.m. to 1 p.m. This includes an education program, meeting a sea turtle, a craft and an egg hunt.
Pangea Tavern in Avon hosts a Hoppy Easter event on Saturday starting at noon. This one includes a kids' egg hunt and adult beer hunt. 
For Easter brunch ideas, see our Daytime events section.
That's not all there is to do this week. Find much more, including live music shows, in our Daytime and Nightlife sections.
---