For more than a year our Outer Banks This Week events calendar was depressingly sparse, dotted with a virtual event here and there each month. But times have changed! Now our Daytime and Nightlife calendars are filling up, almost if by magic overnight (but really due to the behind-the-scenes work of Lissa and Paul – thanks, y'all!). Thanks to vaccinations, waning cases and looser COVID restrictions in North Carolina, we can be social again – safely, of course!
North Carolina currently allows 100 people to gather indoors and 200 people to gather outdoors, and masks are no longer required outside; however, masks are required indoors and encouraged in crowded outdoor settings where social distancing is difficult. Restaurants and bars can stay open and serve alcohol until 2 a.m. again to boot.
Of course, social distancing at these events might be a challenge with all the people who are visiting the Outer Banks these days.
"Visitation patterns are through the roof right now," said Lee Nettles, executive director of the Outer Banks Visitors Bureau, in his tourism recap video in April. Occupancy figures for 2021 so far are up more than 160 percent, and Nettles said he expects that trend to continue through the summer and early fall. We don't need statistics tell to us that, however; one trip out on the Bypass and N.C. 12, even out to the beach, and you can feel the palpable shift in the number of people here.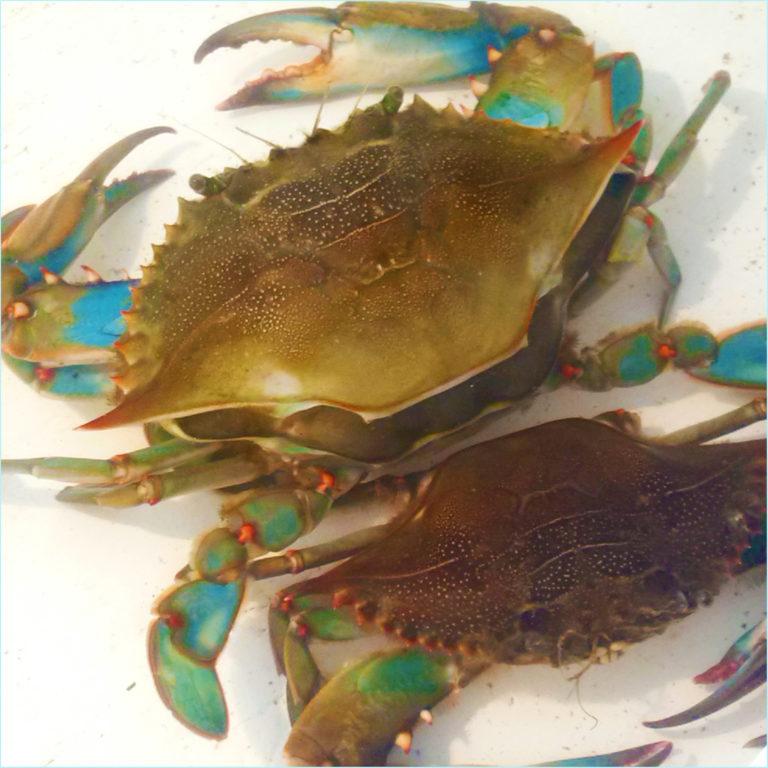 Fresh soft-shell crabs are one of the best reasons to visit the Outer Banks in May. Photo: N.C. Sea Grant
I can't say I blame anyone for wanting to be here. It's a great time to be on the Outer Banks. If you love seafood, this is the most wonderful time of the year – soft-shell crab season. Crabbers are hard at work to bring these local seafood favorites to restaurants and seafood markets. The season is short, so get them while you can. My favorite way to eat them is lightly breaded and fried, preferably right out of the fryer when they so hot I have to hold them by a leg while I wait for them to cool down enough to take a bite. Maybe dipped first in a bit of Sriracha/mayo combo. Cobia are also being caught in good numbers, and this dense, white, flaky fish is best when it's fresh. Look for it on restaurant specials boards and ask for it at your local seafood market. If you're cooking it yourself, it's a great fish for the grill.
If you're on the Outer Banks, there are some fun things to do this week and coming up.
The National Park Service is opening Bodie Island Lighthouse for climbing on Thursday, May 13 for the first time in more than a year! And climbing hours are longer this year: first entry at 9 a.m. and last entry at 5:30 p.m. daily. Climbing tickets can be purchased online at recreation.gov for the day of your climb only starting at 7 a.m. Masks will be required. Bodie Island Lighthouse will host Full Moon Climbs on June 24, July 23, August 22 and September 20. Tickets for these special climbs can be purchased up to three days in advance, and they sell out quickly. By the way, Cape Hatteras Lighthouse is closed to climbing due to repairs and probably won't be open for climbing until late summer. 
Kitty Hawk Kites is hosting its annual Hang Gliding Spectacular, which is now in its 49th year. Hang gliding pilots from all over the country come to compete at Jockey's Ridge State Park in Nags Head over the weekend, and the public is welcome to watch on the dunes. Just climb up there and watch.
If you love gardening and plants, you'll love the Master Gardeners Plant Sale in Kill Devil Hills. Perennials, vegetables, herbs and more will be for sale at the Baum Center, 300 Mustian Street in Kill Devil Hills, starting at 9 a.m.
Theatre of Dare is back with live performances. They're performing The Diaries of Adam & Eve in the Eden-like setting of The Elizabethan Gardens. It's the perfect time of year for an outdoor event, and the gardens are simply stunning right now. The play is taken from a series of Mark Twain short stories that wittily chronicle the Biblical couple's meeting, verbal sparring and falling in love. Only 50 tickets are available per performance on Saturday, May 15, at 2 p.m. and Sunday, May 16, at 2 p.m. Tickets cost $10.
In the world of nightlife, live music is coming back. Check our Nightlife listings for live shows from Corolla to Wanchese to Ocracoke, including many outdoor offerings.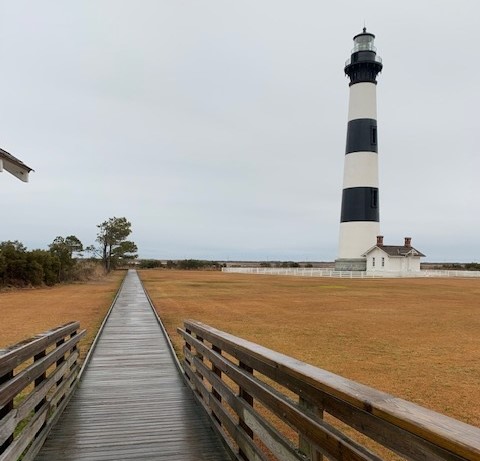 Bodie Island Lighthouse opens for climbing this week. Photo: Molly Harrison
A couple of fun events on the horizon to add to your calendar:
The Lost Colony is returning for its 84th season on May 28. The show has a new director/choregrapher, Jeff Whiting, who has impressive Broadway, Disney, film and TV credits, and new creative staff. Visitors can expect a lot of positive new updates, music and special effects to the show this year (I'll be writing a blog about that soon). The show runs Monday through Saturday nights at 8:30 p.m., and tickets are on sale now. Kids younger than 5 get in free every night thanks to PNC!
Rock the Cape – This event celebrates art on Hatteras Island with five live bands and an art show. It will be held Wednesday, June 2, from noon to 8:30 p.m., and it's worth the drive to Waves Village Resort in Rodanthe to catch it.
Ocrafolk Festival – Ocracoke's annual festival of art, music and storytelling is being held the weekend of June 4, 5 and 6. The main event is Saturday, June 5 at the Berkeley Manor and Barn. It's always a great day of fun and it's very popular, so make your accommodations reservations now.
Homegrown: A Collaborative Fashion Event – With a runway show, an artisan market and live music, this new event is coming to Manteo on Friday, June 11. We'll bring you more information about this one soon.
Keep checking back to our Nightlife and Daytime pages as our team is adding new events every day. Have fun and be safe!