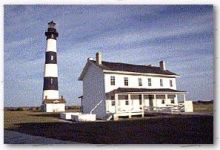 Many Outer Banks residents are a little squeamish about expressing their enthusiasm for lighthouses. Maybe we feel like it's uncool to be enthralled with a "tourist attraction." Or maybe we just take the lighthouses for granted because we see them all the time. It's OK for visitors to go lighthouse hopping and carry on with their lighthouse factoids, but locals, not so much...
I'm not talking about the Lighthouse Society members, the good folks who love lighthouses with all their hearts. I'm talking about the average Joes. But I know that every Outer Banks resident, deep down, has a favorite lighthouse. Even the most weathered fisherman, hippest surfer and jaded establishment-hater has in their heart a sentimental connection to at least one lighthouse...
My connection is with the Bodie Island Lighthouse. It's the closest lighthouse to my house and I see it the most. I can see it from my back porch on those rare power outages when all the other lights in Nags Head are out. I can see it from the roof of our fish camp; sometimes sitting out there in the pitch dark waiting for that light to flash, I can imagine what it was like for mariners on a dark sea, looking for that one spot of hope. * I also like it because it's kind of the underdog lighthouse - since you can't climb it like Currituck Beach or Cape Hatteras and since it's not the only thing in town like Ocracoke, Bodie Island gets overlooked a little on the lighthouse scene. Plus, I like its quaint inland setting surrounded by grass and pine trees. I often go there to hike the quiet trails, and my kids often ask to go there at dusk to see the deer come out of the forest edges...
I'm telling you this because I'm happy that the National Park Service has announced that they're set to resume restoration of the Bodie Island Lighthouse. With the help of Senators Burr and Hagan and Congressman Jones, $1.89 million has been unearthed so that the restoration project that was stalled last year can resume. In spring 2011, restoration was halted because workers found structural integrity issues that were too costly to fix with the money they had at the time...
Restoration will begin again in late February and should be completed by October 2012. They're planning to restore deteriorated metal, restore components on the lantern level, replace galley cornice segments, paint interior and exterior masonry, replace windows and glass on the lantern level, repair the oil house, paint new metals and wood, install a fire suppression system and rehabilitate electrical power, and install stair strengtheners. * In essence, the lighthouse is going to look brand new and should be open for climbing by spring 2013. I look forward to seeing the view from the top of Bodie Island for myself...
In the meantime, Bodie Island Lighthouse's Visitor Center and bookstore will remain open - from 8 a.m. to 5 p.m. daily - and the nature trails and boardwalk on the property will be open. There are quite a few tundra swan and snow geese down in those parts this year...
What's your favorite lighthouse? Leave us a comment below, or post something on our Facebook wall...
If you're following the National Park Service's ORV use issue in the Cape Hatteras National Seashore, you need to see Irene Nolan's blog post, "The New Normal" on Island Free Press. It lays out where exactly we are and are not going to be able to drive on Hatteras and Ocracoke islands when the new rules take effect on February 15. * The National Park Service is also working on publishing maps that will lay out exactly which areas of beach are open and closed to ORV use. Stay tuned...
It's kind of a quiet week on the Outer Banks. I don't have a ton of big stuff to tell you about, but we do have a lot of listings you can look over in our By Day and By Night sections...
This week is the beginning of After Dark @ All Saints - a three-week series of workshops taught by local experts. The topics are interesting and all the proceeds go to charity. See all the events (some still have space open) here.
You might want to stop by Glenn Eure's Ghost Fleet Gallery in Nags Head to see all the entries in the Frank Stick Memorial Art Show. While you're over there, stop by Seaside Art Gallery on the Beach Road to see their Animals in Art exhibit. And if I were you I'd also swing into the new Seagreen Gallery in Nags Head to see repurposed art at its finest...
Sunday, head to Manteo to see a couple of history films. The N.C. Aquarium has Rescue Men, The Story of the Pea Island Lifesavers at 1:30 p.m. Then hightail it over to the Pioneer Theatre in Manteo by 3 p.m. to see the digitally remastered 1921 silent film on The Lost Colony. This film has a pretty cool backstory: In 1921 the North Carolina Department of Public Instruction appropriated $3,000 for the making of a silent film. Through the untiring efforts of Dare County Schools superintendent Mabel Evans Jones, state officials selected as the film's subject the English attempts to colonize Roanoke Island between 1584 and 1590. "Miss Mabel" delved into research, wrote the script, organized residents and assembled a cast of 200, mostly locals. After the film's release, Jones kept the actors busy performing in annual outdoor pageants based on the film. These pageants eventually led to the more permanent Waterside Theatre and Paul Green's The Lost Colony in 1937. This film has not been shown to the public in more than 85 years!
Want to hear live music this weekend? You can see Vinyl Headlights at Kelly's on Friday or Saturday. Or see Pairadocs on Friday at Poor Richards in Manteo. Or the Wilder Brothers on Friday at Peppercorns. And, of course, lots of places will be doing it up for the Super Bowl...
Here's some exciting news: Outer Banks This Week is giving away cool stuff every week in a Giveaway. Simply like us on Facebook to be able to register, then make sure to enter to win each week!...
Have a great February! This morning when I said to my four-year-old, "Well, January is over," she replied in a sad voice, "Oh. It was January? I didn't know it was January." May we all live such a timeless existence this month...

This week you have a chance to Win A FREE Night at The Cameron House Inn.
A beautiful bed & breakfast in the heart of downtown Manteo.
For more information about The Cameron House Inn check out their Facebook Page & Website.