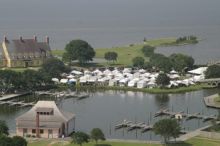 "In summer, the song sings itself." That's William Carlos Williams. I've always loved that piece of poem. * Somehow, summer fun is effortless. The simple things seem to have more mileage, and impromptu dinners and gatherings and activities just come together more easily and they're more fun, simply because it's summer...
June 20 was the official first day of summer, the longest day of the year. With the sun rising so early (5:46 a.m.) and setting so late (8:23 p.m.), you've got some serious daylight hours to fill. * And because our energy levels naturally rise in the summer months and our normal routines shift to later hours, you've also got a good amount of time to get out and enjoy those Outer Banks nights...
It's pretty happening out there, my friend, on any given summer night. * Whether you're inclined to walk the beach looking for ghost crabs or you want to take it out on the town, you'll have no trouble finding entertainment and like-minded souls to hang with you. * In the bars and restaurants, you'll find acoustic shows, karaoke, DJ dance parties, live bands, open mic nights, teen nights, bikini contests, comedy clubs, wine tastings and a lot more. * Take a look at our By Night listings: You might just be amazed. * Here are a few nightlife highlights for this week: Joe Bonzi and Pat McCool at the Comedy Club in KDH; Derrick Berry at Brewing Station on Friday; Teen Nights on Monday, Wednesday and Friday at The Pit; Buster Brown and the Get Down Band at Port O Call on Friday and Saturday; Dreadnecks at Harbor Point in Manteo on Friday; The Zen Monkeys on Friday at Poor Richard's in Manteo; Cowboy Mouth at Kelly's on Thursday; Live Jazz on the Deck at the Brine & Bottle in Nags Head on Thursday; Cheap Thrills at Kelly's on the weekend. And check out what's going on down on Ocracoke's scene: Gaffer's Sports Pub is having regular bands all summer ...
Early birds and families should take it to the Brewing Station on a Thursday afternoon, enjoying a few beers and the live music in the back yard with Soul One. It's every Thursday afternoon from 6 to 8:30, with a DJ starting earlier, at 4. It's the perfect place for the kids to run around and the adults to relax. * Another early show can be found in Duck at the Duck's Summer Music Series. This Thursday they've got Aquarium playing at 6 p.m. on the Duck Town Green...
And you've got a lot more choices this week for filling those 15-hour summer days.
A big deal on the Outer Banks this weekend is OBX Pridefest, the first gay and lesbian festival on the Outer Banks. Of course, everyone is welcome. The main staging area is at the First Colony Inn in Nags Head, where there will be music and entertainment all day long on Saturday. Over the course of the weekend there will be about 10 bands and 50 entertainers, including singers, dancers, musicians, comedians, drag performers and impersonators. There's also a sunset cruise, cocktail parties, Jell-O wrestling and more from Friday through Sunday. The all-day music festival at First Colony on Saturday is free to the public and the events will be family-friendly. Go to www.obxpridefest.com for full event details...
The popular Under the Oaks Arts Festival - now in its 10th year - is this week at Currituck Heritage Park in Corolla. This art show features more than 100 artists in a variety of media plus music, food, an auction and children's activities. It's a beautiful show in a beautiful setting. Call (252) 453-9040 if you need info...
The Lost Colony's family show, Pirates! A Boy at Sea, debuts this week. The show will run on Wednesdays and Thursdays at 2 p.m. through August 20. It's going to be held at Roanoke Island Festival Park's Indoor Theatre. Tickets are $12 a piece. Kind of steep, but The Lost Colony crew puts on a quality show that will likely be worth the price. * And be sure to catch The Lost Colony this season if you haven't already...
At Festival Park this week is a children's show: The Country Mouse and the City Mouse, a classic tale of tolerance and appreciation performed by students of NC A&T University. It runs this Tuesday, Wednesday and Thursday at 10:30 a.m. Be forewarned: last week's children's show by NC A&T State, Cinderella, was so popular that they had to turn people away some days. Get there early if you're going. The show is free, and the performers are fantastic. It's no wonder the house has been full...
In the evenings at Festival Park, NC A&T is presenting Cabaret in the Outdoor Pavilion at 8 p.m. on Tuesday, Wednesday and Thursday. The university's award-winning Richard B. Harrison players are performing Broadway's best songs including gospel, jazz, blues and show tunes. Bring your lawn chairs, blankets, picnics, kids, well-behaved dogs. If the kids get antsy they can run around on the back lawn. Call (252) 475-1500 for info about shows at RIFP...
For next week at RIFP, mark your calendars for the children's show and evening performances by NC A&T. The children's show African Animal Tales Dance and Drum Workshop is sure to be a hit. And the evening show with the E Gwynn Dancers is a spectacle not to be missed. They were here last year and I was blown away. Shows will be on Tuesday, Wednesday and Thursday. Both are free. Call (252) 475-1500...
If you love local art, artist Katy Caroline is auctioning off 32 paintings she has created during her popular Sip & Dip painting classes. The paintings in the Sip & Dip Charity Art Show are being auctioned online at http://katycaroline.webs.com/charityartshow.htm or you can stop by the ARTspace gallery in Southern Shores to see them in person. Katy Caroline is donating all the proceeds to 16 local charities. Call (252) 261-2787. Hurry! This auction ends Saturday, June 25...
Keep in mind that the Outer Banks Daredevils Baseball team is playing Wednesday, Thursday and Sunday this week and Tuesday of next week. These games are fun. There are games and activities and food, and it's just a good old time. Go to www.obxdaredevils.com...
Thanks to Coastal Harvesters, Inc., the Hatteras Island Farmers Market is up and running on Tuesdays from 9 a.m. to 1 p.m. in Avon. It will run on Tuesdays through the summer. Stop by to pick up your locally grown fruits and veggies or to register to receive a weekly veggie box...
On Saturday, the N.C. Beach Buggy Association is holding a Beach Clean Up. Volunteers should meet at 7:30 a.m. at Ramp 4 across from Oregon Inlet Fishing Center. Call Rod at (757) 407-5095 for info...
For you locals out there, there's a fund-raiser going on for Taylor Cahoon, a recent Manteo High School graduate who suffered a head injury and is in the hospital. There's a fund-raising event at MexiCali Brewz in KDH on Sunday from 1 to 6 p.m., and donations are being accepted at any Southern Bank. Help this local family through a hard time if you can...
BTW, the Town of Duck is trying to organize a Flash Mob for its July 4 celebration. (A Flash Mob is a live group dance that's videoed and put online in hopes of going viral.) To participate and learn the routine, go to http://www.youtube.com/duckpr. A Flash Mob practice will be held on Tuesday, June 28 at 6 p.m...
That's all for now. Let's go enjoy the first days of summer. "Sun is shining. Weather is sweet. Make you wanna move your dancing feet." That's Bob Marley.