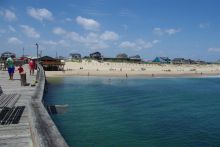 With Labor Day come and gone, we are now officially in the shoulder season. While that typically signals a dip in tourism, this year tourism officials are predicting that the visitation numbers will be higher than normal. Remote workers, families in remote learning situations and people who just want a vacation have booked up the rental houses through October.
"We are expecting a busier fall," says Lee Nettles, executive director of Outer Banks Visitors Bureau. "Booking reports are very strong for September but also higher than usual for October and November. Of course, anything can happen." Nettles notes that these predictions are based on a sample of reports from property management companies.
That's not surprising since the Outer Banks is a stellar fall destination. The weather and water are still warm, and all the outdoor activities, from kiteboarding, surfing and paddleboarding to Jet Skiing, kayaking and hiking, are just as good if not better. The shops and restaurants are open, and now, thanks to eased COVID restrictions in North Carolina, most museums and attractions are open too.

Photo: Town of Nags Head Facebook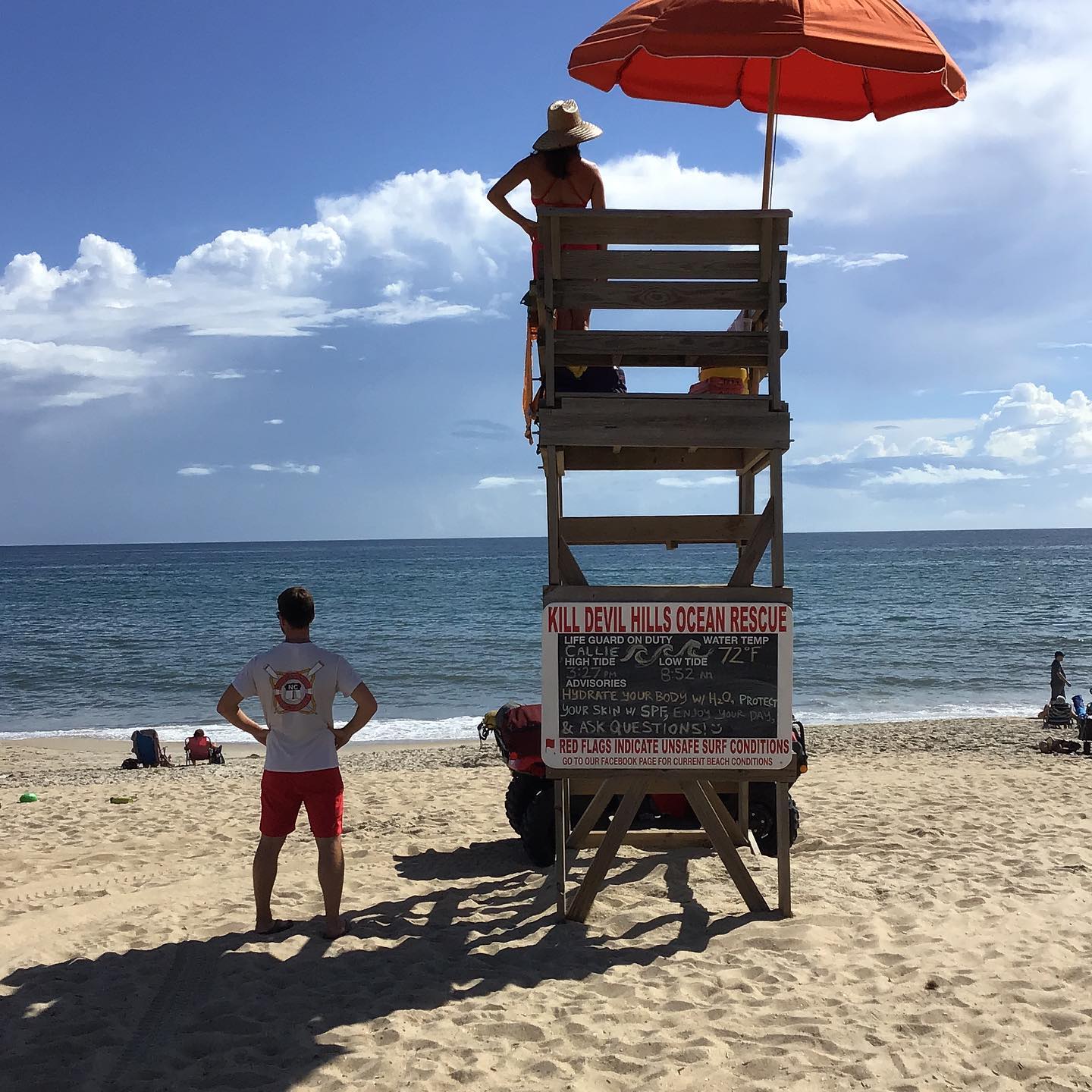 Photo: KDH Ocean Rescue Facebook
Off-Season Ocean Rescue
An unprecedented bonus this year is extended ocean rescue service. Cape Hatteras National Seashore and the Dare County towns are extending their lifeguard service, which typically ends or is greatly reduced on Labor Day.
Cape Hatteras National Seashore: Lifeguards will be on duty through September 30 at Coquina Beach Access on Bodie Island, Frisco Beach Access on Hatteras Island and Ocracoke Beach Access on Ocracoke Island. Hours are 9 a.m. to 5 p.m. Cape Hatteras Lighthouse Beach in Buxton will no longer have a lifeguard.
Duck: Four fixed stands at Four Seasons, Sprigtail Drive, Schooners Ridge and Carrol Drive (Caffeys Inlet) as well as roving guards.
Southern Shores: Two additional roving lifeguards on staff through October 3.
Kitty Hawk: Two fixed stands (Byrd and Kitty Hawk Bath House) and roving lifeguards through the end of September, possibly longer.
Kill Devil Hills: Five fixed stands (Hayman, 5th, 2nd, Ocean Bay and Neptune) plus roving ATVs through October 15.
Nags Head: Four fixed stands (Bonnett, Epstein, Gulfstream and Juncos) and roving ATV patrols until October 1. ATV patrols only through October 15.
Swimming near a lifeguard is the safest way to swim in the ocean. You can check daily rip current forecasts for any Outer Banks beach at weather.gov/beach/mx or sign up for ocean safety text messages by texting Join OBXBeachConditions to 30890. Text STOP to 30890 to stop receiving messages.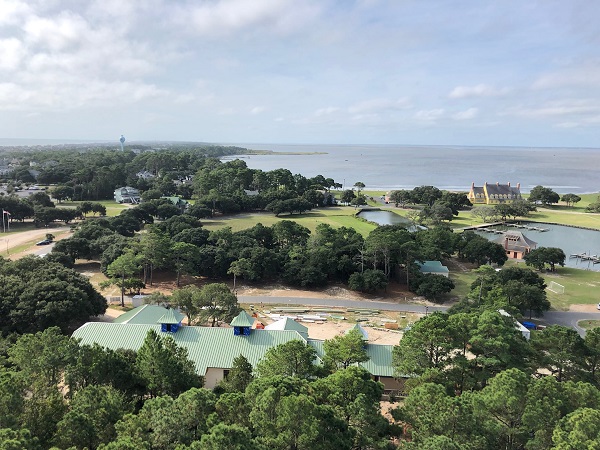 Photo: View from the Currituck Beach Lighthouse, Facebook
Museums and Attractions Are Opening
With North Carolina in Phase 2.5 of COVID-19 restrictions, museums, attractions and playgrounds are now open. Here's a rundown of some of the favorite Outer Banks attractions and their plans for the fall.
Currituck Beach Lighthouse – Open daily from 9 a.m. to 5 p.m. Get up there and climb! After being closed for five months, they need income, plus it's the only lighthouse open for climbing on the Outer Banks. Consider pitching in a little extra donation to their ongoing restoration project.
Whalehead in Historic Corolla – Still closed this week; expected to open soon so call ahead at (252) 453-9040
Outer Banks Center for Wildlife Education – Still closed; call ahead (252) 453-0221
Duck Town Park – The playground is now open.
Wright Brothers National Memorial – Open daily 9 a.m. to 5 p.m.
Dowdy Park – The playground is now open. Dowdy Park Farmers Market has been extended to run on Thursdays September 10, 17 and 24 from 9 a.m. to 1 p.m.
Jockey's Ridge State Park – The visitors center is now open from 9 a.m. to 5 p.m. daily. The outdoor areas of the park have been open all summer; hours are 8 a.m. to 9 p.m.
The Elizabethan Gardens – The gardens have been open since May; hopefully, restrooms will be open by this weekend.
Fort Raleigh National Historic Site – Visitors center/museum now open daily 9 a.m. to 5 p.m.
Roanoke Island Festival Park – The Adventure Museum and traveling exhibit gallery are partially open. Outdoor venues continue to be open. Hours are Tuesday through Saturday from 9 a.m. to 5 p.m.
North Carolina Aquarium on Roanoke Island – The aquarium will open on Monday, September 14. Hours will be 9 a.m. to 5 p.m. daily. Guests will need to reserve tickets online in advance.
Island Farm – This mainly outdoor attraction has been open all summer and will continue through the fall. Hours are Tuesday, Wednesday, Thursday and Friday from 10 a.m. to 4 p.m.
Chicamacomico Life-Saving Station Historic Site – Open Monday through Friday from 10 a.m. to 5 p.m. through November 27.
Cape Hatteras National Seashore – The Museum of the Sea at Cape Hatteras Lighthouse is open daily 9 a.m. to 5 p.m. Cape Hatteras Lighthouse and Bodie Island Lighthouse are closed for climbing.
NPS campgrounds – Oregon Inlet Campground is now a year-round campground. Cape Point and Frisco campgrounds will close on November 30. Ocracoke Campground is open, and its closing date later this fall has not been announced. You can check the status of NPS operations here. 
It's going to be a great fall season on the Outer Banks (don't mess this up for us, hurricanes!). Book a hotel room or campsite and come on down and join us. Look around this site for all the live music, things to do, restaurants, shops and more.