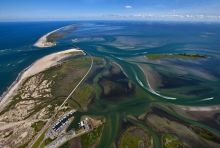 Aren't you tired of seeing trash on the beach? A friend of mine posted a plea on Facebook the other day begging people to stop throwing cigarette butts on the beach. (Who smokes anymore anyway?) * I see a lot of fireworks trash on the beach (even though they're illegal in Nags Head), and believe it or not, I still see people on the beach who don't clean up after their dogs. * And how about those people who just pile up their broken beach chairs and umbrellas next to the beach trash cans as if the large-item pickup fairy is going to come along behind them. Come on people. * I know that anyone who is reading an events blog is not a criminal litterer, so I'm not actually speaking to YOU; I'm just marveling that there are people who do things like this. * Local resident George Mendelson is tired of seeing balloon trash on the beach and in the water; he's on a letter-writing campaign to get officials to ban balloons on the Outer Banks (especially the freebies at grocery stores). As you likely know, turtles, dolphins and other sea life ingest balloons that have drifted into the ocean. I don't know if he'll ever get his wish (supposedly cruise ships are a big part of the problem) but maybe we Outer Bankers could stop using balloons, or at least be more aware of the fate of those we use...
Speaking of beaches, did you hear that the NPS has reopened off-road vehicle access to Cape Point? BTW, if you want to comment to the NPS as they finalize their plan to restrict beach driving in some areas of the Cape Hatteras National Seashore, you have until September 6 to do it. Call the NPS at (252) 473-2111 for details on how to comment and how to see a copy of the plan in progress...
Of course everyone is talking about the shark attack of a 6-year-old girl in Ocracoke. I just saw the girl and her parents on Good Morning America and some other national morning show. (One question: Why did the dad have perma-grin? His daughter was in a wheelchair talking about her shark bite and he was sitting there with this huge grin. Must've been nerves.) She was playing in just 18 inches of water around 5 p.m. and was bitten by the shark on the foot and ankle. Luckily she's OK. The last shark attach in the Cape Hatteras National Seashore was way back in 2001, so the event is certainly not common here. Officials warn that late afternoon and early morning are when sharks are most active close to shore. I'm sad that I'll feel cautious swimming after 5 p.m. now, but this isn't going to keep me out of the ocean...
Beyond the beach, here are a few things going on this week:
Want to see a natural phenomenon? It's purple martin season at the William B. Umstead Bridge. Over the next couple of weeks, around 100,000 purple martins arrive to spend their nights under the William B. Umstead Bridge between Roanoke Island at Manns Harbor. Every day at sunrise the birds leave the bridge en masse to eat flying insects in Dare County (go birds!). The birds return all at once to the bridge at sunset. Their numbers are so large that their mass flights can be detected on Doppler radar! By the end of August, they're gone, departed on their 2,600-mile journey to South America for the winter. It really is a sight to see so many birds flying together; the sky turns almost black for a minute. The Coastal Purple Martin Society offers free bird-watching sessions every Thursday through August 11 at the new fishing pier and observation platform at the western end of the bridge. This week the session is at 7:30 p.m. In August, the sessions are at 7:15 p.m...
Know a local baby? This Saturday The Lost Colony is holding baby auditions for the role of baby Virginia Dare in the August 18 performance of the show. The show casts four babies in this annual tradition in honor of Virginia Dare's birthday. The baby auditions are being held on Saturday at 10 a.m. in the indoor Gazebo Theatre backstage at Waterside Theatre. Babies can weigh no more than 15 pounds. For info, call (252) 473-2127...
Got some kids to entertain this week? Consider the Dare County Library's Rainbow Puppets Around the World program. The award-winning puppeteers will be in Manteo on Thursday at 10:30 a.m., Hatteras on Thursday at 3 p.m. and in KDH on Friday at 11 a.m. and 3 p.m. * The Lost Colony's Pirates! A Boy at Sea is a great show for kids on Wednesday and Thursday at 2 p.m. at Roanoke Island Festival Park. * The Faire Days Festival at Scarborough Faire in Duck, on Wednesdays from 2 to 7 p.m., has tons of kids stuff. * An oft-overlooked kid favorite is OBX Children at Play Museum in Kitty Hawk. It's best for kids younger than 7. * All the local attractions are kid friendly with special programs and events at all of them in the summer; check our By Day listings. * Inexpensive art classes can be found at Found Colony Art School in Manteo, (252) 256-3034, and Blue Pelican Art Gallery in Hatteras, (252) 986-2244. * Don't forget the Outer Banks Daredevils Baseball games in KDH. This week they're on Tuesday, Wednesday and Thursday...
Looking for local goods? Don't miss the Manteo Farmers Market on Saturday from 8 a.m. to noon and the Hatteras Island Farmer's Market on Tuesday from 9 a.m. to 1 p.m. Another good place to find local artwork is the Sunset Art Festival on late Wednesday afternoons at the Marketplace at MP 1 in Southern Shores...
Want to see some live music or comedy this week? Here are some highlights: The Town of Duck has Coyote on Tuesday and Laura Martier on Thursday in Duck Town Park starting at 6 p.m. * The Whalehead Club has the Uphill band on Thursday at 6:30 p.m. * The Comedy Club at the Ramada has Carole Montgomery and Mark Roccadonna every night through Friday of this week. The local bars from Corolla to Ocracoke have bikini contests, live music and DJs all week. For the weekend, Brewing Station has Ballyhoo on Friday and The Recipe on Saturday. The Pit has Teen Night on Friday and Sunny Ledford on Saturday. Port O' Call has up-and-comers Scars on 45 on Friday and Buster Brown and the Get Down Band on Saturday. Beach Road Grill has J2K on Friday and Rubber Pants on Saturday. Kelly's has Borderline Crazy on Friday and Saturday. Poor Richard's has Josh Burgess on Friday and The Walker Brothers on Saturday. That is certainly not all. Check our By Night listings for more...
A few other things: On Friday at noon, The Outer Banks Hospital's Cancer Resource Center is hosting Caregiving: A Roundtable Discussion with Cancer Survivors and Caregivers. Roundtable panelists will discuss the joys and challenges of caregiving and offer advice for navigating the cancer journey. Lunch will be provided. Seating is limited; register at (252) 449-7350. * On Monday, August 1, Jennifer Thompson-Cannino, author of the book Picking Cotton will be in Avon to discuss and sign her books. The book is the true story of how Jennifer picked Ronald Cotton out of a lineup as the man who raped her. Cotton was convicted and spent 11 years in prison before DNA tests showed he was innocent. Call for info about this event, (252) 202-8985. * The Nellie Myrtle Pridgen Beachcomber Collection in Nags Head - one of my favorite places on the Outer Banks - is holding an open house this Friday from 10 a.m. to 4 p.m. This museum is the collection of a lifelong beachcomber, and this month they're featuring all the many messages in bottles found by Nellie Myrtle and her mother, Mattie Midgett. The museum is on the Beach Road in Nags Head, behind Mulligan's Restaurant. Admission is free...
Runners: There are still spaces available in the 10th Annual OBX Bank Sandbar 5K. The race is set for Sunday, August 7 at 7:30 a.m. If you register before Saturday, you'll save 5 bucks. This is a fun race on the beach, and this year it's supposed to be low tide. The race benefits the Outer Banks Relief Foundation. Go to www.active.com to register or call (252) 480-3990. * And speaking of races, the Outer Banks Triathlon weekend is coming up on September 10 and 11. That means you still have SIX weeks to train for one of the three triathlon distances - sprint, Olympic or half. Go to www.obxmarathon.org for details and to register. While you're there you might as well register for the Outer Banks Marathon or Half-Marathon. You've still got more than three months to train for one of those!
Thanks to photographer Ray Matthews for the photo this week. This photo was taken of Oregon Inlet from 3,000 feet up. An exhibition of Ray's work can be seen at Glenn Eure's Ghost Fleet Gallery in Nags Head for the remainder of July. Definitely check it out...
Keep checking around our site. There is so much going on this week, and it's listed here...