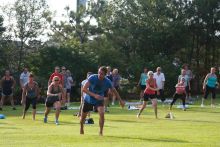 Whether you're on vacation or live here part-time or year round, the Outer Banks offers endless opportunities for being active. Traditional (running, weights at the gym) or trendy (SUP yoga or hooping), indoors or outside, there is no reason why you shouldn't be able to fit a workout into your days on the Outer Banks.
Try some of these suggestions and you'll feel like a million bucks as you sail through your days on the Outer Banks.
Photo: DL Althoff teaching Dynamic Flow Fitness on the Green, Town of Duck Facebook
Outdoor Fitness Classes
The Town of Duck offers free fitness classes in Duck Town Park. Yoga on the Green is offered on Tuesday mornings at 7:30 a.m., and Dynamic Flow Fitness on the Green is offered on Wednesdays at 7:30 a.m. Both classes are multi-level, and you need to bring your own mat or towel and water. The Town of Duck also offers a Hula Hoop and Play class on Thursdays at 10 a.m. All ages can learn a few hooping techniques and have a lot of fun.
Dan Althoff of Move Unbound, who teaches that Dynamic Flow class in Duck Town Park, offers super-fun, way outside of the box fitness classes on the beach in Kitty Hawk. Catch him on Mondays at 7 a.m. at Byrd Street beach access, Wednesdays at 5:30 a.m. at Lillian Street, Fridays at 7 a.m. at Byrd Street and Sundays at 3 p.m. at Byrd Street for a family class. 
Momentum Fitness offers beach bootcamp-style classes at 5:30 a.m. and/or 7 a.m. Monday through Saturday. The classes a can be a combo of indoor or outdoor. Meet at their gym at Farmdog Surf School in Nags Head. Drop-ins are welcome.
Outer Banks Bootcamps also offers group fitness classes Monday through Friday at 5:30 a.m. Classes can be indoors at The Gym in Kitty Hawk or on the beach. Always call ahead to find out where the class is meeting that day. Drop-ins are welcome.
The Studio offers a Women's Mind Body Sole Camp, a kinder/gentler but still challenging boot camp.
Yoga, Beach Yoga & SUP Yoga
Yoga is crazy popular on the Outer Banks right now. Yoga studios can be found in just about every town. Outer Banks Yoga has locations in Corolla and Kitty Hawk. Village Yoga offers two studio rooms, one traditional, one warm, in Duck. The Well Yoga Coop is in Kill Devil Hills. The Studio and Ashtanga Yoga Outer Banks and Outer Banks Family YMCA have classes in Nags Head. Spa Koru has classes in Avon. Hatteras Yoga has a studio in Frisco, and there are classes in Ocracoke at Angie's Gym.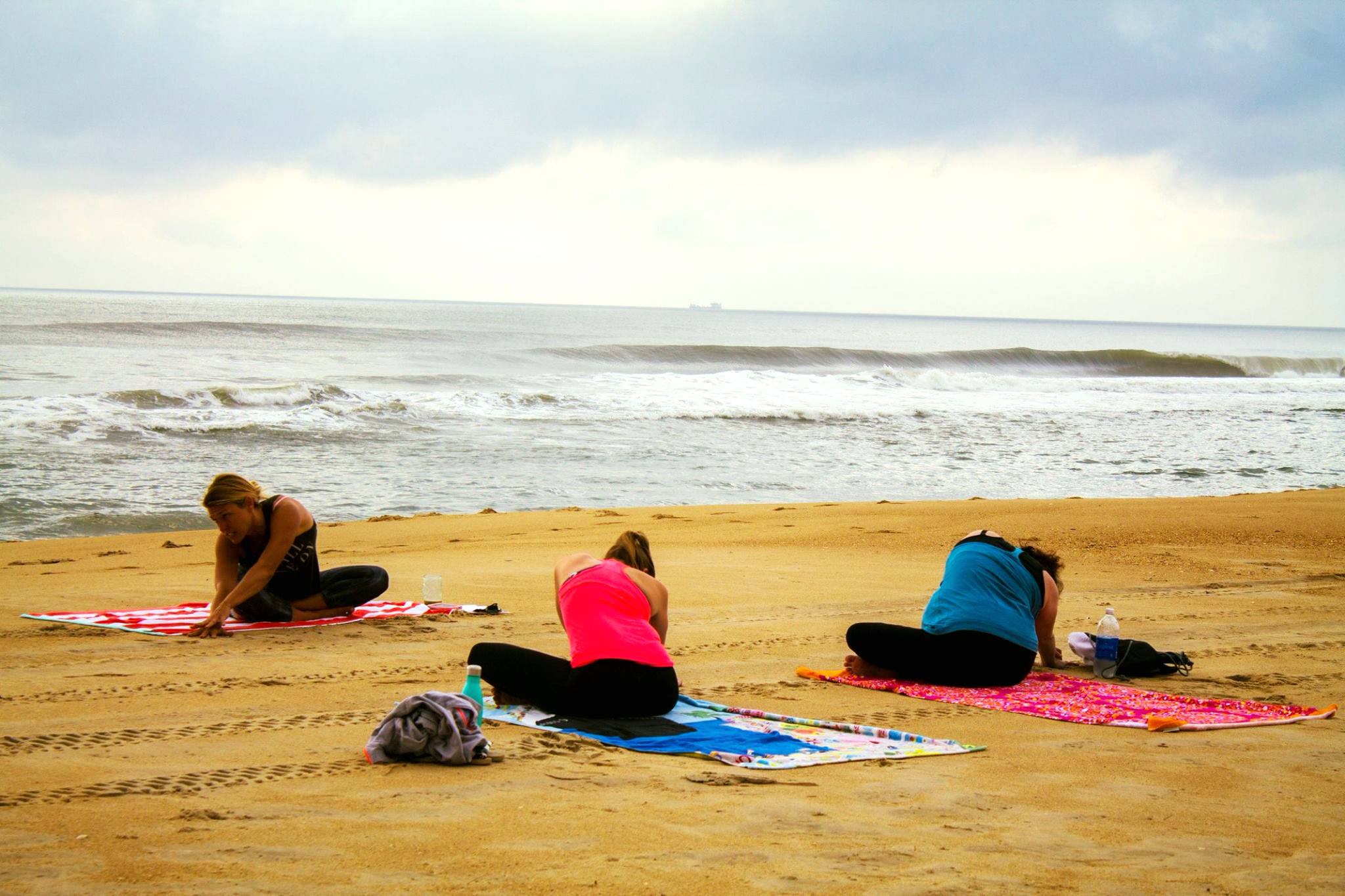 For beach yoga, check the schedules at Outer Banks Yoga, Asthanga Yoga Outer Banks, Farmdog Yoga and The Studio. On Wednesdays at 7:30 a.m. you can catch a yoga class at Jennette's Pier. For something a little different, try a yoga class at The Elizabethan Gardens on Wednesdays at 9:30 a.m.
Photo: Beach yoga, The Studio Facebook page
Want to try yoga on a standup paddleboard? It's not as hard as you might think. Special long, wide boards provide the stability you need, and anchors or anchor lines keep you from floating away from your instructor! Look to Farmdog Yoga in Nags Head, OceanAir Sports in Avon, Kitty Hawk Kayaks and Surf School in Kitty Hawk, Kitty Hawk Kites in various locations, Ride the Wind Surf Shop in Ocracoke or OBX Paddleboard Yoga on the northern beaches.
Running/Walking
Sometimes it's easiest just to head out the door with your running shoes. But may I suggest ditching the shoes in favor of a barefoot beach run? You'll be surprised at how much more challenging a beach run or walk can be and how differently it affects your muscles (hello, calves).
For those of you who love the smoother surfaces, most towns have multiuse paths that are perfect for this activity, but don't overlook the side streets, which are less crowded and can offer a chance for more diverse scenery. Most of your runs/walks on the Outer Banks will be on flat land, but if you want a few hills, go where the local runners go. A loop around the Wright Brothers National Memorial in Kill Devil Hills is 1.2 miles if you run up, over the hill and all the way around the loop path at the bottom of the hill. It is a killer workout running up the hill, and the view at the top is inspiring. Park on the backside of the monument near the airstrip. The back roads on the west sides of Kitty Hawk and Southern Shores also have some hills. Locals also love running along Bay Drive in Kill Devil Hills, in Nags Head Woods or Kitty Hawk Woods and on the multiuse path on Roanoke Island, which offers some nice, shady running.
For those of you who love to race, Outer Banks Running Company's Races start this week. The Sunrise 5K and Little Kids Crab Crawl will be held at 7:30 a.m. at Jennette's Pier in Nags Head. It's a beach run, followed by breakfast, and the cost is $38, $15 for kids.
Gyms
Itching to get into the gym? You've got a lot of options: Westside Athletic Club in Powells Point; The Gym, MMaxout Fitness and Hammerheads in Kitty Hawk; Outer Banks Sports Club, Outer Banks Family YMCA, Momentum Fitness in Nags Head; Spa Koru in Avon; and Angie's Gym in Ocracoke.
More Fitness Ideas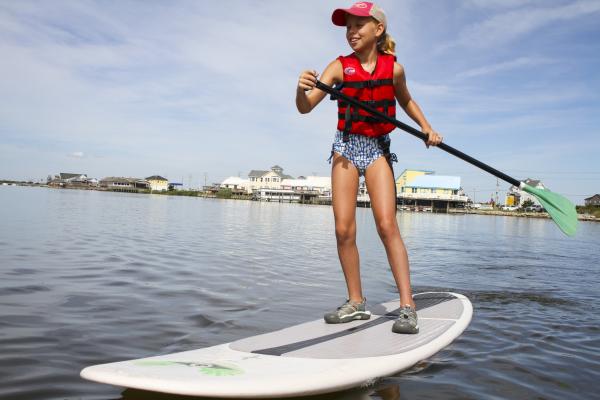 Beef up your guns by paddling in an SUP race. A BIC SUP One Design race will be held on Thursday, June 15, at Kitty Hawk Kites on the waterfront in Manteo. Featuring BIC's One Design race style SUP, the registration begins at 9 a.m., and the races begin at 10 a.m. This is a free event, and SUPs to use and a pre-race clinic will be available.
Photo: Kitty Hawk Kites
International Surfing Day is on Saturday, June 17, making it the perfect day to take a surfing lesson. Call just about any surf shop on the Outer Banks to inquire about surfing lessons or click here for our list of fun things to do on the Outer Banks (search for Surfing and Bodyboarding in the drop down in Categories).
The Outer Banks chapter of Surfrider Foundation is hosting and International Surfing Day Paddleout in honor of Mickey McCarthy on Saturday from 3 to 9 p.m. Mickey McCarthy was a legendary surf photographer on the Outer Banks, and since he passed away in December of 2016, the Outer Banks community has been in deep mourning. Surfers and others who knew and loved Mickey will meet at Bonnett Street beach access. The paddleout is a Hawaiian tradition in which the paddlers head out beyond the breakers and form a huge circle with their boards by joining hands. Extra boards, SUPs and kayaks will be on hand if anyone wants to join in. Surfrider will host a beach cleanup prior to the 6 p.m. paddleout, and people will hang around afterwards for a beer and grilling. 
Work Hard, Play Hard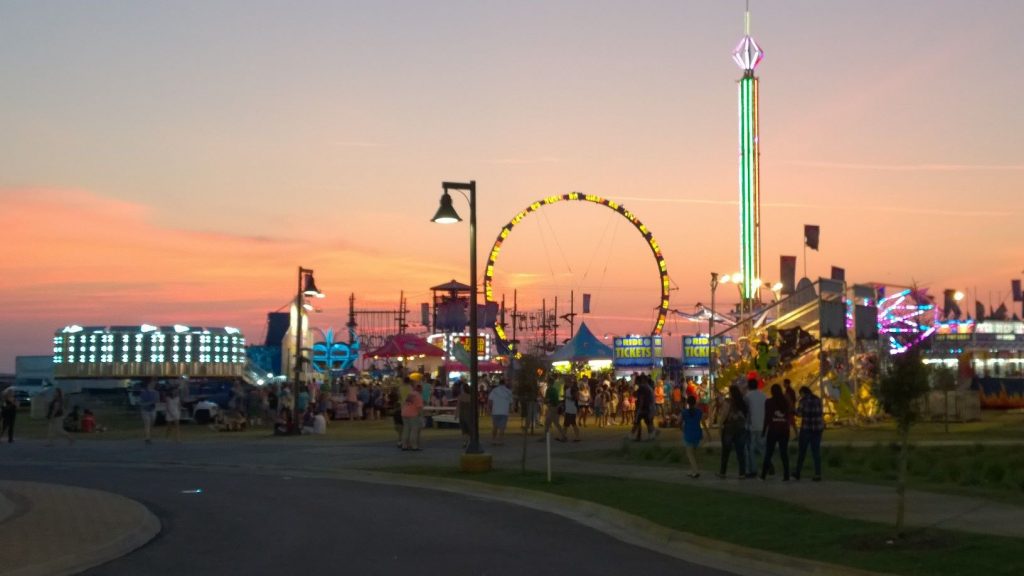 OK, you've had your workout, now it's time to play. Don't miss the Soundside Fun Fair this week at the Soundside Event Site in Nags Head. A traditional carnival-style fair with midway rides, concessions and games, it's a not-to-be-missed, family-friendly event. It will be held Thursday through Sunday, July 15 through 18, from 5 to 11 p.m. Ride tickets will cost $1 each, $45 for a book of 50, or $25 for an all-you-can-ride wristband. This is a benefit for Children and Youth Partnership of Dare County, which offers programs that help children, youth and families thrive.
Photo: Children and Youth Partnership
For many more ideas on things to do this week on the Outer Banks, click on our Daytime and Nightlife pages.