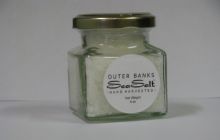 Want to soak up every bit of the Outer Banks? Besides deep-breathing salt air, absorbing the sun and imbibing a little ocean water on a wipe out now and then, you can indulge in even more Outer Banks by eating the locally made and locally grown food. Not only will you be fortifying yourself with the beachy goodness, but you'll also be helping out the community in a good way. Buying local benefits the Outer Banks-area economy and the people who live here.
The most obvious choice for local food is seafood. Shrimp, crabs, scallops, fish, oysters and clams are all harvested on and around the Outer Banks, and there is nothing like the taste of just-caught seafood. You can buy it at seafood markets, grocery stores and fish houses to cook yourself. Or you can have someone cook it for you in a restaurant. But be careful: Just because we're surrounded by water doesn't mean that all the seafood served or sold here is local. Imported seafood is more common than you think, and we're not just talking Alaskan crab legs and salmon! Some restaurants serve imported shrimp (gasp!), even in shrimp season. If you want to be sure that you're eating local seafood, look for the Outer Banks Catch logo on seafood market and restaurant doors or on the menu or website. Another way to ensure you're eating local seafood is to ask about what is fresh and in season. You're not going to get fresh oysters on the Outer Banks in July because they're not harvested in July, so in July you should stick to shrimp, crabs, clams and certain varieties of fish.
Produce is another great way to eat local. Most of the local produce found on the Outer Banks was grown a little ways inland. This time of year, Currituck County is well known for its sweet corn, peaches and melons, so be sure to pick up some. On the way down U.S. 158 from Virginia you'll find a dozen or so farm markets and produce stands selling fresh, locally grown produce. On the Outer Banks islands, nearly every community now has a produce stand or farm market where you can buy local and regionally grown produce, sometimes organic. The smaller, locally run grocery and specialty food stores tend to have more local produce and goods. If local produce is important to you, be sure to ask the vendor or grocer about it. This time of year, the produce stands are overflowing with locally grown goodies like tomatoes, cucumbers, peppers, squash, eggplant, corn, melons, blueberries and peaches, and you don' t have to buy those icky tomatoes from California.
Manteo and Hatteras Island have weekly Farmers Markets where you can buy local produce, fresh eggs and, sometimes, all-natural meats. The Manteo Farmers Market is on Saturday mornings from 8 a.m. to noon. The Hatteras Island Farmers Market is in Avon on Tuesdays from 9 a.m. to 1 p.m. Look for the market next to the Hatteras Realty building. Tip: Come with a wad of cash because you're going to find more than just produce here. (The Lemon-Lavender cookies from Sweater Box Confections at the Manteo Market get me every time!) Locally made chocolates and sweets, jams and jellies, infused oils and sauces are good finds as well.
Am I making you thirsty here with the thought of a seafood and veggie dinner? You can indulge in even more Outer Banks with locally made beer or wine. Three local breweries brew their own beer: The Weeping Radish in Currituck County, Outer Banks Brewing Station in Kill Devil Hills and Full Moon Café in Manteo. You can enjoy The Weeping Radish at the brewery and also take a tour of the brewery, but you can also find the beer in local grocery stores and beer shops. Outer Banks Brewing Station offers its varied beers for sale at the restaurant, but nothing beats a cold pint right at the bar. Full Moon Café is a nano-brewery making small batches of craft beers. You can meet brewer Paul Charron and hear about his craft at the Brew and Chew Tour on Tuesdays.
Local wine is made by Sanctuary Vineyards in Jarvisburg and Martin Vineyards on Knotts Island, both in Currituck County, and Vineyards on the Scuppernong in Columbia in Tyrrell County. It might be surprising given their coastal-region location, but these three wineries make wines that rival those of other great wine regions. You'll find the wines in local wine shops and some restaurants and grocery stores. Or you can buy them at the vineyards. Sanctuary's wines are sold at The Cotton Gin stores as well. Local wine shops offer frequent tastings. Bacchus Wine and Cheese in Corolla and The Wine Specialist in Kitty Hawk may pour local wines; call them and ask. Outer Banks Restaurant Tours offers a Wine Tour and a Brewery and Butchery Tour.
Obviously coffee is not grown here, but two local coffee shops roast their own beans and make some really good blends. Front Porch Café roasts its beans and sells them at their locations in KDH, Nags Head and Manteo. Morning View roasts and sells coffee at its shop in Nags Head.
One of my favorite local products is honey. When I was young my mother would give me a tablespoon full of local honey every day to cure allergies. Ever since then I've felt like it was important to eat local honey (and I don't have allergies). Outer Banks Bees honey comes from hives in Wanchese, and you can find it in various local stores and produce stands. Other brands of local honey are available too. Just ask at a produce stand or specialty food store.
Pickles, jams and jellies made from local produce can be found all around as well, mainly at produce stands but sometimes in stores. The pickled veggies at The Brine and Bottle in Nags Head are some of the best. Their dilled green beans and dilled okra are just too yummy. By the way, this restaurant is committed to serving locally and regionally grown seasonal produce and local seafood and meats. (And they really do it.)
Outer Banks Sea Salt wins the prize for the most inventive local product -- and it's really tasty too. Local chef Amy Huggins of Outer Banks Epicurean painstakingly harvests sea salt from the Atlantic Ocean - yes, right here - and sells the salt in local stores. This is the ultimate Outer Banks souvenir - a taste of summer you can enjoy all year long.
The list of Outer Banks foods goes on and on, but here are a few of my other favorites. Outer Banks Kettle Corn is a bag of locally made crunchy yumminess. Products by Brynn and Amie, especially their sweet and spicy Evil Nuts and their sesame-pistachio brittle, are worth seeking out in local food shops. I'm not a big doughnut eater, but, that said, Duck Donuts are pretty dang delicious. They are cake-like doughnuts that are made to order and served warm. Zen Pops, made from local ingredients, are all-natural, from-scratch ice pops and ice cream. The owner of Zen Pops uses organic cane syrup in her pops and ice creams instead of fructose and makes vegan varieties too. There's a shop in Kill Devil Hills, but you can also find Zen Pops at the Manteo Farmers Market and other shops. And it seems like every restaurant these days has its own bottled sauce or spice packet or something. My personal favorite hot sauce is from Food Dudes Kitchen in Kill Devil Hills. To sample a range of products, Tommy's Gourmet Market in Duck offers Taste It Tuesdays - and sometimes the tastings are Outer Banks products only. Ask about the schedule at the store. And one more thing: For your four-legged friend, Salty Paws in Nags Head makes homemade, healthy dog biscuits with human-grade ingredients. They bake their treats daily and have treats for dogs with special diets.
OK, so certainly I've overlooked many local products. (Sorry, all you Outer Banks Rum Cake fans - but I haven't tried it yet!) If you want to tell us about another locally made or locally grown product, click on Contribute Your Voice below. We want to hear from you!
So, besides eating, what are you going to do this week? We have got a LOT going on around here in the middle of July. Our Nightlife listings are brimming with bands. Just pick the night that you want to go out, then take a look at our listings.
If you're thinking of going to see The Lost Colony, they have a new deal on Saturday nights - a Buy One ticket, Get One ticket deal. And on Monday nights, a kid can get in free with a paying adult. While you're at it, you should take the Backstage Tour at The Lost Colony. It starts about an hour before the show, and you get to see the backstage areas and all the hustling and bustling to get ready for the show. You can see the Indians get spray painted and the queen getting her make up on. Plus the theater itself is just a historic marvel right on the Roanoke Sound.
This is the last week for Roanoke Island Festival Park's performance series. Be sure to catch Smokey Joe's Café on Wednesday and Thursday nights or the Rapunzel for children on Thursday morning.
In our By Day listings, we have everything from canoe tours to art exhibits to a kite shows. Have a look around. You can sort by day or by type of activity to help you narrow down the choices.
Also have a look at our Shopping page and Coupons page if you want to find some great deals out there!
Have a great week! Bon appetit.
Stay tuned next week for Keeping It Local Part II, when I'll let you know about a bunch of cool locally made products -- the inedible ones.

This week you have a chance to win a $50 gift certificate to Owens Restaurant and a $50 gift certificate to the Farmers Daughter!
For more information about Owens Restaurant, check out their website.
For more information about Farmer's Daughter, check out their website.
Last Week's Winner
Congratulations to Mandy Leblanc!!!

You won a dinner for two at 1587 Restaurant and a free night's stay at the Tranquil House Inn!
For more information about 1587 Restaurant, check out their website.
For more information about Tranquil House Inn, check out their website.